Review: HTC Arrive
Form Basics Extras Video Wrap-Up Comments 4
Is It Your Type? Body The Three S's
Mar 18, 2011, 4:16 PM by Eric M. Zeman
updated Mar 29, 2011, 2:17 PM
HTC knocks out the first Windows Phone 7 handset for Sprint in the Arrive, a sideways slider that has a full QWERTY keyboard and the latest software from Microsoft. Does anything set the Arrive apart from the crop of WP7 phones?
Advertisements article continues below...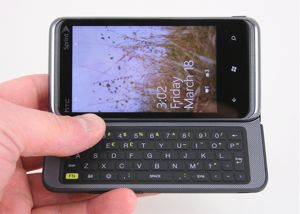 The HTC Arrive is the first Windows Phone 7 device hitting Sprint's network. The Arrive sets itself apart from the competition by offering a slide-out keyboard that tilts up for better viewing. If you're in the market for a business-focused smartphone and plan to do plenty of typing, the Arrive has a certain amount of appeal.
its not the phone that impressed me
its the car selection... nice bimmer you got there!
You're kidding me!
An HTC smartphone from Sprint with an all day battery life?! No way! 🤣
Seriously, though... who's the ri ri that didn't program the landscape switch correctly?
How dumb is that?
I've been using the phone for a few days now and I don't mind the orientation not changing when the keyboard comes out or the phone is rotated. I have the evo now and lock the orientation to portrait anyway. The only real gripe I have about it not cha...
(continues)