Review: HTC Freestyle
Article Comments 7
Mar 4, 2011, 11:39 AM by Eric M. Zeman @zeman_e
updated Mar 14, 2011, 8:30 AM
The HTC Freestyle is the first phone to hit U.S. shores running Qualcomm's BREW MP operating system. Thanks to HTC's tinkering, however, the Freestyle behaves more like a Sense-equipped smartphone...most of the time.
AD article continues below...
Form
Is It Your Type?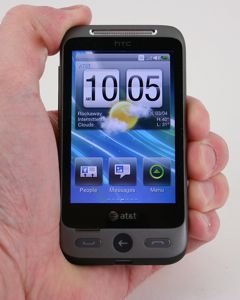 HTC has put its user interface and software development chops to good use on this little phone, which emulates the Sense smartphone experience on a device that's not a smartphone. The HTC Freestyle is one of the first to be based on Qualcomm's BREW MP. HTC proves that even non-smartphone operating systems can be simple and powerful.
Body
The HTC Freestyle does not look like a feature phone. It fact, from a distance, it would be hard to peg the Freestyle as anything other than one of HTC's bevy of Android smartphones, such as the Wildfire or Droid Eris. It is compact - dare I say cute? - and has the signature HTC brownish-gray and black styling cues. The Freestyle is easily one of the most comfortable phones I've used in a while. Its small size makes it fit easily in the hand (or pocket). The fit and finish is high quality, and the materials feel really good. It's dense, and has a nice weight to it.
The front face is mostly the touch display, but there are a few buttons tucked beneath it. Along the bottom edge of the Freestyle, there are three keys: Send, Back, and End. Each does what you'd expect. The Send/End keys are dashes that have minimal shape to them, and little travel and feedback. The Back button is a circle about the circumference of a pencil's eraser. It has a really good feel, and travel and feedback are perfect.
HTC could have done a better job with Menu key, which is positioned directly above the Send key. First, it's too close to the Send key; second, it's way too thin; third, it offers too little travel and feedback. It's far to easy to accidentally thumbing the Send and Menu keys at the same time.
The volume toggle is where HTC usually puts it: on the left side of the phone, closer to the top. In keeping with HTC design tradition, the volume toggle is a narrow strip of chrome. It, too, fails to deliver good travel and feedback. Thankfully, the Freestyle offers a dedicated one-stage camera button on the right side of the phone, a power/lock key on the top. Both are easy to find and use.
As for ports, there is a 3.5mm headset jack on the top of the Freestyle and a microUSB port is on the bottom. In order to get at the battery, SIM card and microSD slot, you have to pull the battery cover off. HTC has been getting creative with its battery covers of late. This time around, you have to pull the battery cover down to reveal the Freestyle's innards. Then there's a little hatch that needs to be flipped open. Only then can you get to the battery, SIM card and microSD card. The battery and microSD card come out easily enough, but I had to resort to tweezers in order to retrieve the SIM card.
The Three S's
Screen
The Freestyle has a 3.2-inch capacitive touch display that packs in 320 x 480 pixels (the same as the Droid Eris, Hero, and others). It isn't the sharpest or finest display available on a touch device, but it is far from the worst. The size and resolution together make for a good experience overall, and images and text elements look smooth most of the time. The Freestyle's display won't win any awards, but it does well enough both indoors and out.
Signal
At my home in northern New Jersey it barely managed to register one or two bars (where other AT&T phones can find five). On a trip into Manhattan, strength ranged a bit, but I never saw the Freestyle display a full five bars of signal strength. It always connected to AT&T's 3G network. The only time it dropped to EDGE was when the I took the phone into a basement. In terms of real-world performance, the Freestyle did not drop any calls while I tested it, nor did it miss any due to signal weirdness. Data sessions were consistent, though not as zippy as I would have liked.
Sound
Voice calls almost always had a persistent and noticeable hiss. Sometimes I felt like I was talking to someone on a submarine, as the hiss made conversations sound as if they were taking place under water. Aside from the hiss, I didn't notice any other problems. As for volume, the Freestyle isn't nearly loud enough. The earpiece speaker rates a pathetic "anemic" in my rating system. Even set to maximum volume, the Freestyle was not loud enough. The speakerphone's volume was better, but that really only means the nasty hiss is that much more in your face. Ringers and other alert tones were loud enough. Vibrate strength was good enough to make it dance across a tablet.
Battery
One place the Freestyle fails to emulate smartphones is with respect to battery life — and that's a darned good thing. The Freestyle easily made it through two full days of use and halfway into a third. Even with HTC's Friendstream software pinging Twitter and Facebook all day long, the battery held out much longer than today's high-end smartphones.
Basics
Menus
The Freestyle's main operating system may be Qualcomm's BREW MP, but you wouldn't know it. It's been fully customized by HTC and looks and acts just like any other HTC Sense phone. Almost.
It has seven customizable home screens that offer many of the same software options available to HTC's Android phones, including weather, Friendstream, photos, messages, and so on. All seven of the home screens can be customized, though it isn't as drag-and-drop friendly as on Android devices. Instead, users have to use a weird, text-menu-based system for adjusting what's on each of the screens. Also, the screens only support one type of content, so you can't put weather, Friendstream and messages on the same home screen.
The home screen also offers a pull-down shade a la Android, though it isn't used for system alerts. Instead, the shade offers links to the different themes on the Freestyle for quick theme changing.
The menu button is context aware, and offers different options for each of the seven home screens. For example, the full settings tools are available from the central home screen, but when pressed on the weather screen, the menu button only lets you interact with the weather application.
The main application listing is accessed via one of the software buttons on the central home screen. The apps are spread across three screens that users swipe left and right to access. Apps here look like they would an any normal feature phone.
Last, the settings menu steals its look directly from Android. It's white text on a black background and offers most of the same categories and controls for the Freestyle.
Bottom line: anyone who's used an HTC Sense device will feel right at home with the Freestyle.
Calls/Contacts
Calls
Here's where the Freestyle starts to betray its non-smartphone roots. The calling and contact applications are drastically simpler and less featuresome than any smartphone would be.
The software dialer works the same as any other. Once you start typing numbers and/or names into the keypad, the phone app will start to search your contact list for those that match. You have to use the menu key to find access to recent call history, favorites, and so on. In-call options include turning on the speakerphone, muting the microphone, and adding another line, etc.
Contacts
The Freestyle doesn't sync with Google, Yahoo, or other online accounts. Users of AT&T's contact back-up services will be able to port their contacts over, but otherwise, new contacts have to be added manually, one at a time . Each contact can hold at least four different phone numbers, two email addresses, a physical street address, as well as notes, birthdays, web sites and ring tones. There are no nifty press-and-hold moves or other fancy gestures to interact with the contacts. If you want to message someone, you have to open the contact card up and then select that option. Ditto for making phone calls.
Messaging
The Freestyle offers scaled down messaging support when compared to other Sense devices. It uses the same SMS/MMS application as found on HTC's smartphones, but email support isn't nearly as good.
The Messages application, which can be placed on one of the home screens, offers threaded, conversational text and picture/video messages. It looks good and works just as it would on an Android device.
Instant Messaging is limited to a weak third-party application that only offers AIM, Windows Live and Yahoo support. Google Talk and other IM clients are MIA. The generic IM app works, but is clunky.
Email addicts will have to be satisfied with AT&T's terrible POP3/IMAP4 software. It supports a wide range of webmail accounts, but interacting with your inbox is anything but fun. First, HTML emails are not supported at all, which takes all the visual flair out of your inbox. Second, the email program doesn't effectively pull email down to the device. You have to manually refresh your inbox if you really want to know what's going on. Third, emails need to be downloaded from the server each time you read them — and even then they are truncated. The email app (amazingly) supports all the folders you have available in your webmail account, but there's no support for attachments. Last, and worst, you have to pay $5 per month to use the application.
Also, the typing experience on the Freestyle is miserable. The software keyboard is simply too small, at least for my fingers. I could barely type two words without accidentally pressing a wrong key. Additionally, the predictive software is too slow. If you type too fast, it will get confused and eventually just give up. You may lose half a sentence if you go too quickly. The only solution is to use the software QWERTY in landscape mode, which gives it a lot more breathing room. Rather than simply rotate the phone onto its side, however, you have to press a button to get the landscape QWERTY to appear.
Social Networking
The only social networking option available on the Freestyle is HTC's Friendstream software. It offers about the same experience as what's available to HTC's Android devices. Users can sign into their Twitter and/or Facebook accounts, and Friendstream will pull down status updates.
Users can easily send off their own status updates to one or both services, as well as send replies and direct messages to Twitter contacts. You can also view (in a limited fashion) other users' Twitter and Facebook profiles. The application looks good, but still manages to be a bit on the slow side. it offers just enough Twitter features, but definitely falls flat with the Facebook portion. For example, it doesn't support Facebook messaging, only status/wall posts.
As far as catch-all social networking options go, Friendstream is one of the more pleasant to interact with.
Extras
Media
Music
The Freestyle has a number of music-related applications on board. First, there's the AT&T Radio application. This app streams music over a data connection. It's not very good. Second, there's AT&T Music. This software allows you to browse for and purchase music tracks, as well as stream music stations and listen to your own music. It's not a best-of-kind piece of software. There's also the FM radio, which was my favorite. Why? It's free to use. You can also sideload your own non-copy-protected content.
Video
On the video side of the equation, there are three choices on the Freestyle. First, there's MobiTV. This is a known entity. It offers streaming video content and generally works well. The Freestyle also packs AT&T Video, which is a different streaming service that offers shorter, snack-sized video clips rather than entire shows. Last, there's Music Videos, which is run by MobiTV, but is focused on only music videos. You cannot sideload your own video content.
Based on my experiences with the music and video options, it's clear we're in feature phone territory.
Camera
Camera
The Freestyle's camera software is simple and straight-forward. It borrows heavily from Android. Pressing the dedicated camera button launches the camera in about two seconds. There are only two software controls visible on the screen. One switches the camera between still and video camera modes, and the other opens the photo gallery. In order to adjust the bulk of the camera's settings, you have to press the menu button on the phone. The camera menu lets you make a wide range of adjustments to the camera, including resolution, quality, metering, white balance, effects and so on.
There is no auto-focus, so when you press the shutter button, it captures the image almost immediately. It then takes you to a review screen for a few seconds, and eventually back to camera itself.
The behavior, look and feel of the camera application and its settings is nearly identical to what you see on Android phones.
Gallery
The Freestyle's gallery is a simple affair. It can be set to list or grid views, and lets photos be attached to contacts, set as the wallpaper, or shared. Sharing options include Facebook, MMS, or Twitter. You can't email images. There are no editing features at all. You can't even crop or rotate images. You can, however, set up slide shows.
Photos/Video
Photos
The Freestyle's camera captures a maximum of 3 megapixels. Without auto-focus, I tempered my expectations and the Freestyle just about matched them. Focus is all over the place. Some times it is spot on, but more often than not it was a bit soft. The Freestyle produced few images with razor-clean clarity. Almost every image I captured was chock full of grain/noise. On the plus side, white balance was typically accurate, as was color representation. Low-light performance was definitely lacking. Almost any shot I took indoors was a grainy disaster, out-of-focus, and generally useless. I'd rate these photos as MMS worthy, but not much beyond that.
Video
The Freestyle offers a maximum video capture resolution of HVGA (320 x 480). Amazingly, the video camera allows users to pick which file format the Freestyle saves videos in. The choices are MPEG-4, H.263 and H.264.
Set to the maximum resolution and quality, the Freestyle did a poor job of capturing video. It adjusted to light changes well, but movement is blurred all over the place and there's far more grain than I like to see. Colors are about right, as is white balance, but the overall results are definitely lacking. MMS worthy? Maybe. YouTube worthy? No.
Browse/Customize
Browser
Disappointingly, the Freestyle does not include a capable browser. It's a no-name, feature phone browser that barely manages to work with HTML sites. The browser's tools are limited in scope, and pages load so slowly that it is best to stick with mobile-optimized web sites that you know are bare bones and slow-network friendly. The browsing performance is so poor, that I wonder why Opera Mini isn't included on this device. I attempted to download Opera Mini, but it wouldn't work. At least the included browser supports pinch-to-zoom.
Customize
The Freestyle can be customized perhaps more than any other feature phone on the planet. This is all thanks to HTC's Sense user interface and the options it allows. Themes, scenes, wallpapers, ringtones, home screens, menus — all of it can be adjusted to better suit individual tastes.
Extras
Apps
The Freestyle can access AT&T's AppCenter for BREW-based applications. The AppCenter looks a heck of a lot better than the disastrous app repositories that are available to AT&T's other feature phones. Once it loads, the user interface is fairly attractive and easy to navigate. The AppCenter is mostly icon-driven, rather than the lousy text menus available on other AT&T feature phones. The categories make sense, and the AppCenter performs quickly. The paid applications are billed to your monthly account, according to the disclaimers that jumped up at me on the screen. Some of the titles I saw available included familiar ones such as iSkoot, Loopt, Where, Shazam and so on. Disturbingly, many of the paid apps cost $2.99 and $3.99. I didn't see any apps that cost only $0.99 or $1.99. There were only a handful of free apps.
Bluetooth
The Freestyle runs Bluetooth 2.1+EDR and it supports stereo Bluetooth. Pairing with mono and stereo headsets was a breeze. Phone call quality through a headset was pretty bad. The headset amplified that intrusive hissing sound nearly to the point of pain. Listening to music via stereo Bluetooth wasn't a terrible experience, but you're much better off using your favorite pair of wired headphones.
Clock
The Freestyle doesn't have quite the same awesome clock support that HTC's Android phones enjoy, but it's still good enough to replace a watch. A quick press of the lock key, and the phone lights up with that good, old, huge clock that we're all familiar with. It can't be customized.
GPS
The Freestyle has AT&T Navigator, AT&T Maps, and AT&T FamilyMaps on board ('cause, you know, three apps are better than one). Navigator and FamilyMaps require monthly fees to use. Thankfully, the basic Maps application can be used for free. Maps is powered by TeleNav, and it functions just like the Navigator app, minus turn-by-turn directions. The Navigator app offers turn-by-turn for $10 per month.
Video
Wrap-Up
The Freestyle is a fine little phone. The hardware looks good and functions mostly as expected. It's a bit of a shame that call quality and data speeds were so spotty given the solid battery life. The HTC-derived Sense user interface is the Freestyle's best feature. It functions mostly like a smartphone would when doing basic tasks such as jumping about the home screens.
The feature phone status of the Freestyle makes itself plainly visible, however, when you dig deep and start using some of the real applications. The email program is obnoxiously expensive, but Friendstream works well on a device such as this. The camera and video camera applications are very user-friendly, so it's a bummer that photos and videos don't turn out that well. The browser is pathetic. Media support is also lacking, with lame AT&T services the bulk of what's available.
Would I recommend this phone? Well, to those who want a phone that looks and (mostly) acts like a smartphone, but doesn't require a smartphone data plan, then the Freestyle has some appeal. Adding in services such as the email application and navigation will quickly inflate your monthly bill, however, so that appeal is limited.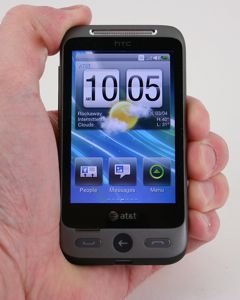 Why would anyone buy this phone?
I am an owner of an HTC Inspire 4G. I pay $15.00 a month for data. If I had bought the HTC Freestyle, I'd still pay $15.00 a month for data. I realize it doesn't require a data plan, but realistically, you'll want to have one. Otherwise, you might as well get a simple flip phone and be done with it.

As for the phone price, I bought my Inspire at the no commitment price, so the Freestyle would be $100.00 less. The huge decrease in functionality, in my opinion, wouldn't be worth saving $100.00.

Nice feature phone (HTC's Sense UI rocks), but ultimately not worth it.
unlimited internet on a feature phone is only $10 as long as you have family messaging unlimited, or unlimited messaging....most people who buy this phone are gonna have unlimited messaging, or they wouldn't be considering it as an option. not everyon...
(continues)
what a GENIUS first post. you must be sooo proud.
opera mini
the reason why Opera Mini doesn't work is simple: this phone is based on Brew, which is like the enemy of Java. Opera Mini is written in Java and requires a good JVM (except for a couple of native ports).

personally, I would not buy ANY phone that did not support Java... particularly a dumbphone... you got to have Java on a dumbphone -- no other way you'll get decent apps. Brew is too limited...