Review: HTC Freestyle
Form Basics Extras Video Wrap-Up Comments 11
Is It Your Type? Body The Three S's
Mar 4, 2011, 11:39 AM by Eric M. Zeman @zeman_e
updated Mar 14, 2011, 8:30 AM
The HTC Freestyle is the first phone to hit U.S. shores running Qualcomm's BREW MP operating system. Thanks to HTC's tinkering, however, the Freestyle behaves more like a Sense-equipped smartphone...most of the time.
AD article continues below...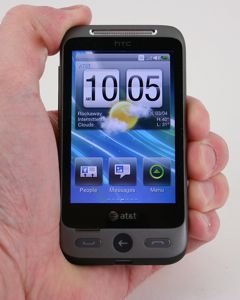 HTC has put its user interface and software development chops to good use on this little phone, which emulates the Sense smartphone experience on a device that's not a smartphone. The HTC Freestyle is one of the first to be based on Qualcomm's BREW MP. HTC proves that even non-smartphone operating systems can be simple and powerful.
Why would anyone buy this phone?
I am an owner of an HTC Inspire 4G. I pay $15.00 a month for data. If I had bought the HTC Freestyle, I'd still pay $15.00 a month for data. I realize it doesn't require a data plan, but realistically, you'll want to have one. Otherwise, you might as well get a simple flip phone and be done with it.

As for the phone price, I bought my Inspire at the no commitment price, so the Freestyle would be $100.00 less. The huge decrease in functionality, in my opinion, wouldn't be worth saving $100.00.

Nice feature phone (HTC's Sense UI rocks), but ultimately not worth it.
unlimited internet on a feature phone is only $10 as long as you have family messaging unlimited, or unlimited messaging....most people who buy this phone are gonna have unlimited messaging, or they wouldn't be considering it as an option. not everyon...
(continues)
what a GENIUS first post. you must be sooo proud.
opera mini
the reason why Opera Mini doesn't work is simple: this phone is based on Brew, which is like the enemy of Java. Opera Mini is written in Java and requires a good JVM (except for a couple of native ports).

personally, I would not buy ANY phone that did not support Java... particularly a dumbphone... you got to have Java on a dumbphone -- no other way you'll get decent apps. Brew is too limited...