Review: Sanyo Taho
Article Comments 3
Dec 19, 2010, 4:30 PM by Eric M. Zeman @phonescooper
Sanyo kicks out a ruggedized flip phone for Sprint in the Taho. It boasts mil-spec toughness, but entry-level features. Find out if this is the phone for you in Phone Scoop's full review.
AD article continues below...
Form
Is It Your Type?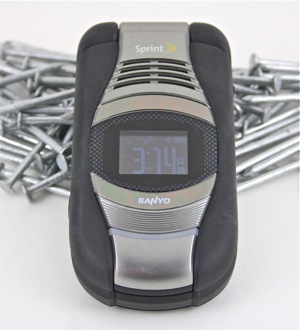 The Sanyo Taho is a rough-and-tumble clamshell made for Sprint. It doesn't offer the push-to-talk capability normally found on Sprint's rugged phones, and it aims low with a basic feature set. If you're looking for a simple voice phone that can survive the daily wear-and-tear of an outdoor work environment or active lifestyle, then the Taho may fit the bill.
Body
Ruggedized clamshells are never subtle phones. Quite often, they're monstrous blocks of hardened plastic and rubber. The Taho follows in that vein. For its blocky shape, it still manages to pack in a modern design with a curved watch face on the outer surface (seriously, it looks like a wrist watch draped across the phone). There's nothing feminine about this phone; the Taho is all masculinity and machismo. The Taho has plenty of right angles forming its edges and sides, which amplify the brick effect. It's a thick phone, not too heavy, but tough to wrap your hand all the way around. It's just a hair under one inch thick. It will not be comfortable to pocket in a pair of tight jeans. No, the Taho wants a holster, hombre, and badly.
One thing that surprised me was how loose the clamshell was. When closed, there was way too much side-to-side play between the two halves of the phone. The hinge didn't feel solid at all. It was rock solid once open, though, due to high shoulders that hug the hinge.
The microUSB port is situated on the left edge of the Taho, and is covered by a sturdy rubber hatch. The hatch seals snugly so the Taho can be submerged without danger. The volume toggle is below the hatch, and it protrudes nicely from the side of the phone. The button works well, though it might be difficult to use when wearing gloves because it is a bit on the small side. The function key is below it. It has the same nice feel, and is easier to find with gloves on. The 2.5mm headset jack is on the right side of the Taho. It, too, is protected by a sturdy hatch, which seals tight when pushed back into place.
The buttons making up the Taho's keypad are fairly large and well spaced, but, again, it's hard to find the right buttons with gloves on. The keys have a rubber feel to them, and good travel and feedback. The navigation cluster centers around a large d-pad, with a golf-ball-dimpled center button. The d-pad feels great to use when navigating menus and options across the screen. The soft keys and send/end keys are a good size and shape, but the camera and back keys are a bit on the small side. Sanyo also tossed in a dedicated speakerphone key for good measure.
In order to achieve its mil-spec rating, the Taho's battery cover needs to be water tight. There's a large switch positioned close to the bottom of the battery cover. Slide it over to unlock the cover. Only then will you be able to pry it off. Unfortunately, you'll also have to remove the battery itself if you want to get at the microSD card slot, which is hidden beneath.
The Taho doesn't break any new ground in terms of design or ruggedization, instead it treads the same well-worn path.
The Three S's
Screen
The Taho's diminutive 2-inch display left me wanting more. It packs in 240 x 320 pixels, which means that text, graphics and icons look pretty good, for such a small screen. There's no screen door effect at all. Brightness is also very good. No need to use a flashlight app; this inner screen easily lit up a dark hallway in my house, making it good for sneaking back in late at night. The one problem is that the text and menus on the Taho are extremely small. The indicators at the top of the screen are so small as to be nearly invisible. I had to position the Taho mere inches from my eyeballs in order to read the signal strength meter and battery life indicator. The screen is readable outdoors, though.
The external display is a monochrome affair that offers only alerts, the time, and basic indicators. It, too, is fairly bright, but it's not quite as easy to read outdoors as the inner display.
Signal
Running on Sprint's CDMA network, the Taho performed on par with other Sprint devices tested in the NYC metro region. It held onto two bars in my office, but lost the network completely in my basement. Outdoors, the Taho mostly displayed four bars. In practical terms, the Taho connected all but one of my calls on the first try, and it did drop a small handful, as well. As for data, it was consistently slow. Web pages loaded at a snail's pace, and sometimes timed out, forcing me to reload. The Taho didn't offer the strongest signal performance around, but it was far from awful.
Sound
Call quality with the Taho was surprisingly good. I thought most conversations sounded clean and were free of hiss or static. There was a slight "digital" effect present during some (but not all) calls, but it was not intrusive. As for volume, you might think for a moment that Taho is intended for police officers. It could be mounted to a patrol car and used to clear traffic, it's so loud (the flashing blue alert light doesn't hurt, either). This is a seriously loud phone. The default ringer sounds like a space-aged machine gun, and at full volume will blast your ears off. The same goes for the earpiece speaker; in fact, it's too loud. Pushed all the way, the sound distorts and gets all flubby, though set at about 60% it sounds great. The vibrate alert is strong enough to deliver a muscle-relaxing massage, capable of untangling the thorniest of knots.
Battery
The Taho's battery does a pretty good job. It easily lasted through two whole days, with some life left to spare the third morning. Turning on the GPS did reduce battery life a bit, but otherwise nothing seemed to phase it. Weekend adventurers can probably count on the Taho to deliver the performance they need when out and about.
Basics
Menus
The Taho uses one of Sprint's most basic user interfaces, and it has been around for years. The home screen has links to your favorites and contacts via the soft keys. If you want to get at the main menu, press the center of the D-pad. The main menu is a 12-icon grid that can also be viewed in list form. Rather than make you jump through hoops to change the way the main menu looks, the left soft key does the trick. For my money, the grid view is easier to use on a day-to-day basis.
The 12 icons don't offer any surprises and are composed of the requisite mixture of phone tools and Sprint service offerings. Similar to other Sprint phones, it uses the My Stuff folder to centralize all your media and apps and games. The "Shopping" icon doesn't take you to an on-board apps store. Instead, it fires up the browser and loads Sprint's content portal.
Once you move deeper into the menu system, the default view of the menus switches to a list.
Calls/Contacts
Calls
The Taho doesn't offer any surprises in the phone call department. Press the green send key to get at a list of all your calls. The most recent call in the log is highlighted with enlarged text, so it stands out nicely. Use the left soft key or text key to automatically send the highlighted number a message.
The in-call options range from the typical phone book access to 3-way calls. You can also set up to 98 speed dials if you wish.
Contacts
The contacts applications is simple and straight forward. A search bar at the top of the contact list searches in real time, and sorts as you type. I always like phones that do this, as it cuts down on the time it takes to find a particular contact.
From the contact list, the left soft key automatically initiates a text message. The right soft key brings up a short list of options, such as edit, pre-pend, delete, etc. The one feature I really like is the "set as secret" feature. When enabled, this feature will show the name of the contact, but not the number associated with it. In other words, if someone grabs your phone, they won't be able to steal the number from you very easily.
The problem here is that there's no real way to protect this setting. Anyone who knows how the Taho works can simply go into the contacts program and turn off the "set as secret" feature, which will then reveal the number. This should be a password-protected feature.
Messaging
If you want to send messages from the Taho, you're going to have to work for it. The text messaging app is basic and straight forward. There are 20 pre-loaded messages, as well as an easy way to insert "web shortcuts", which are standard Internet phrases such as "http://", "www", or ".com". You can also control the behavior of the predictive text software and add custom words to the phone's dictionary. What I don't like is that you can't insert media into a text message. If you want to compose a "picture mail", as Sprint calls it, you have to choose that option first. At least messages are threaded.
Want more than SMS? Well, then you've got some extra work to do. There are no email nor IM clients pre-loaded on the Taho. Instead, you have to download them from Sprint's content store. The apps themselves are (thankfully) free, and if you have a data plan, it doesn't cost anything additional to use them.
Once you download the email app, you see that it is pre-loaded with a number of webmail clients: AOL Mail, AIM Mail, Hotmail, Yahoo, Gmail, Work, PCS Mail, and the ability to configure your own IMAP or POP3 accounts. Setup is a snap. Once you're signed in, you have access to a mobile version of your email, complete with options that let you call the sender (if a number is embedded in the email), see your full email contacts list and manage folders. Every so often I found the email system wanted me to sign back in, but most of the time it remembered my credentials. Notifications, on the other hand, were few and far between. You can't rely on the Taho to let you know when there's new email that needs attention, you have to seek it out yourself.
On the IM side of the table, you have AIM, Windows Live and Yahoo clients bundled into the one app that's available in the Sprint content store. The IM client is identical to that of other Sprint feature phones. Seeing your online buddies and sending them messages is no more difficult than on any other phone.
Where's the social networking integration? Facebook, MySpace and Twitter are conspicuously absent, as is any sort of catch-all social networking app.
Extras
Media
There is no music client on the Taho. If you're looking to rock out while you get your messaging action on, move along. It ain't happening with the Taho.
Same goes for video. You may watch the videos captured with the Taho's camcorder on the device, but that's it. No Sprint TV, no MobiTV, no video player of any kind.
Camera
Camera
The Taho has a 2 megapixel camera. It's not auto-focus, but it does have a flash. Press the dedicated camera key once to open a short list of camera-related options, or press it twice quickly to open the camera itself. The camera launches quickly (~1 to 2 seconds), and it takes a second or so to shoot and process an image. It's certainly not bad in the speed department.
You can adjust all the exposure controls you'd expect with a cameraphone, such as brightness, contrast, color, and so on. I'd guess most users won't bother with these controls, however. There are some fun frames, some image tools, such as making photos black and white or sepia tone. The camera software is pretty basic.
The camcorder software behaves in exactly the same way.
Gallery
The gallery app is pretty good. You have the album that's in the phone itself, plus a separate album for what's on the memory card. The gallery shows a simple grid of thumbnails. The D-pad lets you add a "check" to whatever image is highlighted. This lets you perform edits and/or other actions en masse if you wish. You have to press the left soft key to expand/open the picture.
The options menu lets you set the images as a picture ID or wallpaper and even edit. The editing features include the ability to add text captions, which I think is cool, as as well as add special effects, re-size, crop, or trim the photo. You also have the ability to adjust how the slide show works.
There are no social networking services built into the Taho at all, and you can't even send images via Picture Mail from the Gallery app. You have to go to the messaging app for that.
Photo/Video
Photos
Images I captured with the Taho are Picture Mail worthy, but not worth much beyond that. Colors looked good, and images were sharp...enough. Shots taken inside were full of grain and digital artifacts, though. The flash was fairly bright, but it didn't help images much. Outdoors the Taho fared better, but not by much. In bright sunlight, the Taho had a hard time adjusting to brightness levels appropriately, and often overexposed images.
Video
The Taho's camcorder app didn't deliver. Video is spectacularly digitized, with stuttering motions and color smearing all over the place. Basically, the phone can't be moved while shooting video if you want anything to remain even moderately in focus. Panning about seems to confuse the Taho, and the camcorder appears to react to things seconds after they happen. You might be able to get results that are worth sharing, but I highly doubt it.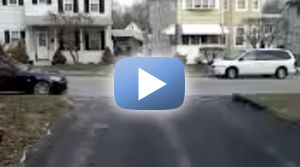 3GPP2 / MPEG-4 format (viewable with QuickTime)
File size: 685 KB
Browse/Customize
Browser
The Taho has EV-DO Rev 0 connectivity, but you wouldn't know it based on the browser's performance. It has a WAP browser on board that takes its sweet time to load pretty much any web site that you might wish to view. The default home page is Sprint's portal, which is a disaster of links to content that costs you money. Beware this minefield. You can choose to visit other web sites, but it's a serious pain with the 12-key keypad.
The browser will render HTML pages when asked, but it does a poor job of it. HTML web sites are so slow to load, you may as well forget it and stick with WAP pages. We're talking minutes for HTML pages to load, not seconds. Scrolling through content-rich web sites is beyond painful, as the web page stutters its way across the display.
The one thing I really like is a toolbar that the web browser has. Press the right soft key, and you get a small little controller module. It lets you jump back and forward, as well as to your home page, a Google search page, a list of your recently visited pages and some very limited options. The options do let you increase or decrease the size of the font within the browser, to help make web pages easier to read. I like that you can choose to automatically generate an SMS from within the browser and insert the current URL into that message.
The Taho's browser gets the job done, but it does so slowly, and with little flair.
Customize
The Taho only allows you to customize some of the really basic things, such as ringtones, ringer IDs, screen savers, etc. As noted, you can alter the main menu between grid and list views, but further customization to the way apps and folders are organized is not available.
You can also change the input font (what you type with) between normal and large. The size increase is just enough to make a difference, but it doesn't go far enough for those who need very large fonts.
Extras
Apps
The Taho can download the simplest applications via Sprint's online portal. The apps available include things such as games, organizers, etc. Discoverability is a mess, and every step requires a page refresh — which takes anywhere from 10 to 30 seconds. It's more infuriating than anything else. The categories don't generally match their contents, and there's a lot of redundancy. For example, one ringtone appeared under "What's Hot," "What's New," and "Ringtones." How is that helpful?
Bluetooth
The Taho supports mono Bluetooth headsets and a few other profiles. Pairing was no problem, and call quality via mono headsets was good. Pairing with other phones to push contact data or photos was also a snap. I had no issues in testing out the Bluetooth at all.
Clock
The clock on the external display is great for checking the time. It fills almost the entire display with a large digital clock that's viewable even out in the sun. This clock can't be changed. The clock that appears on the homescreen can be customized in a number of different ways, including large/small digital, large/small analog, world clock, and several different calendar views. The clock is always white, so choose your wallpaper carefully.
GPS
The Taho has aGPS on board and Sprint's free mapping and navigation software. It works, but just barely. Because the device is so slow to connect to the cellular network, maps took ages to load, and using it as a real-time turn-by-turn navigation device could be problematic, especially in a dense city where blocks take but a few seconds to drive down. I would say that the Taho's aGPS capabilities will be best put to use out on the trail, where "turns" come at you more slowly.
Wrap-Up
The Taho's feature set is about as basic as it gets. Sanyo and Sprint are obviously aiming at a particular market segment with this device: those who need a durable phone that makes good voice calls and does little else.
The hardware is mostly good, though I wish the dialpad buttons were a little easier to differentiate. The menu system and feature set are as basic as it gets, with little in the way of extras that could make using the phone enjoyable. Making calls is a snap, as is pecking out text messages, but it's criminal that users have to search for and download email and IM clients from Sprint's crummy portal. Lacking even the most basic social networking features leaves this phone out of the modern era. It's a device straight from 2004.
There is no multimedia playback available on this device, and the camera and camcorder perform so badly, they are hardly worth using.
Would I recommend the Taho? Only to the outdoorsy types who use a phone for nothing but phone calls. Anyone else would be better served by one of Sprint's less-featureless flip phones.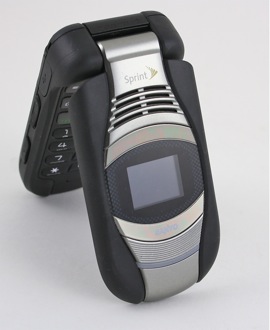 No messages