Review: Sanyo Taho
Form Basics Extras Wrap-Up Comments
Is It Your Type? Body The Three S's
Dec 19, 2010, 4:30 PM by Eric M. Zeman @zeman_e
Sanyo kicks out a ruggedized flip phone for Sprint in the Taho. It boasts mil-spec toughness, but entry-level features. Find out if this is the phone for you in Phone Scoop's full review.
AD article continues below...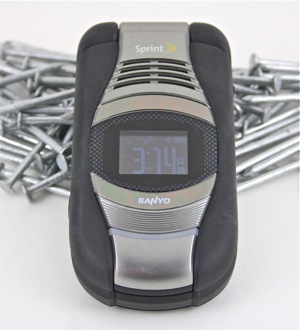 The Sanyo Taho is a rough-and-tumble clamshell made for Sprint. It doesn't offer the push-to-talk capability normally found on Sprint's rugged phones, and it aims low with a basic feature set. If you're looking for a simple voice phone that can survive the daily wear-and-tear of an outdoor work environment or active lifestyle, then the Taho may fit the bill.
No messages