Review: Casio G'zOne Ravine
Form Basics Extras Video Tour Wrap-Up Comments 16
Music Camera Image Quality Browse / Customize Extras
Photos
Casio makes a good, waterproof cameraphone for Verizon Wireless that takes impressive pictures. Unfortunately, that phone is the Casio Exilim, and not the Ravine. Image quality from the 3-megapixel camera on the Casio G'zOne Ravine was very poor. Indoors, with or without the flash, I saw plenty of color noise, a speckling of random color spots that make the image look noisy and cartoonish. Outdoors, almost all of my images were very blurry, with no fine details whatsoever. A few landscape pictures looked a bit better, but on closer inspection, these too fell apart. Images would be fine for tiny picture messages, but I wouldn't share these on a social networking site or in an email. The idea of printing these pics using the Bluetooth print option in the gallery is laughable.
This is an even bigger missed opportunity than the music player. Outdoor enthusiasts would love to have a solid camera on a rugged, waterproof phone like the Ravine. I would give up most of the phone's extraneous features to have a nice camera. I would even give up the 3G data connection to have a camera on par with the Casio Exilim. That phone is waterproof, but not as rugged as the Ravine.
Advertisements article continues below...
Video
The videos I shot with the Casio G'zOne Ravine were among the worst camcorder phone videos I've ever seen. The video image was divided into huge blocks of color that seemed to shimmy and waver, with little resemblance to their actual subject. Colors seemed to drip in long lines down the screen. And details? We don't need no stinking details. The sound was also absent from all of my videos, though I'm sure this is a bug and not an intentional choice on Casio's part.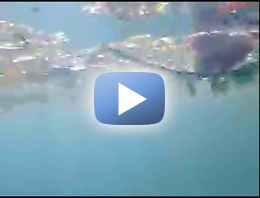 3GPP2 / MPEG-4 format (viewable with QuickTime)
File size: 661 KB