Review: Casio G'zOne Ravine
Form Basics Extras Video Tour Wrap-Up Comments 3
Is It Your Type? Body The Three S's
Nov 30, 2010, 5:36 PM by Philip Berne
The Casio G'zOne Ravine is a slick, thick and rugged phone that you can drop in a swamp or off of a moving Jeep. Is it up for adventure, or does it wear out quickly?
Advertisements article continues below...
Is It Your Type?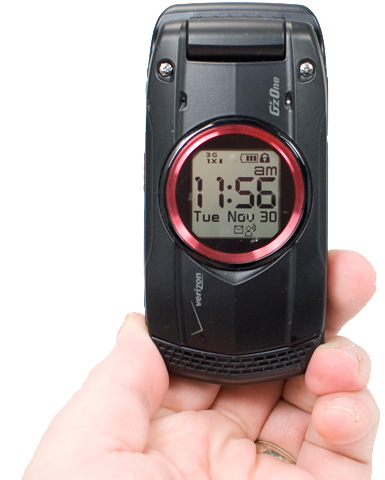 The Casio G'zOne Ravine is the newest and most sleek member of the venerable, waterproof G'zOne family. It combines rugged construction and some outdoor features with feature phone looks and even some basic multimedia and Web browsing prowess. Is this the phone you'll want to carry on your next trek?
The phone DOES have a mass storage mode!
On the phone, go to Menu > Settings and Tools > Tools > USB Mass Storage. Please correct the artical.
His entire review really sucked in my opinion.
Casio Ravine
🙂 Just went from a very satisfactory experience with the older GZ-1 to the Casio Brigade. I actually went down on my motorcycle with the GZ-1 hanging exposed from my belt. It took my full weight and the front of it ground along the blacktop under me. It still worked fine, although it didn't looks so nice (pix on my fb page ttommyunger). I wanted the QWERTY keyboard the Brigade offers and I love it. I text more than I call and almost never use it to browse. I don't do music or games, being a geezer, so the phone is great for me. I am a klutz, a motorcyclist and an outdoors-man, so the ruggedness is a super plus for me. The camera is good enough for me and has some nice pluses like shutter delay and flash. ps. Other cell phones feel like chea...
(continues)