Review: Casio G'zOne Ravine
Article Comments 3
Nov 30, 2010, 5:36 PM by Philip Berne
The Casio G'zOne Ravine is a slick, thick and rugged phone that you can drop in a swamp or off of a moving Jeep. Is it up for adventure, or does it wear out quickly?
Advertisements article continues below...
Form
Is It Your Type?
Is It Your Type?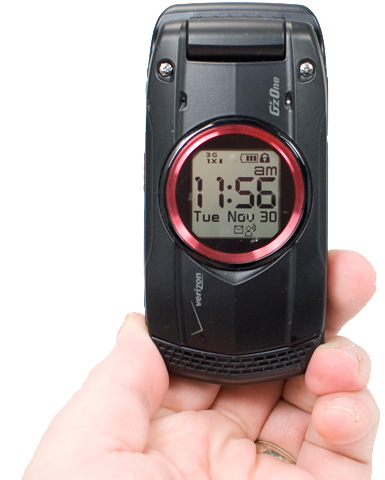 The Casio G'zOne Ravine is the newest and most sleek member of the venerable, waterproof G'zOne family. It combines rugged construction and some outdoor features with feature phone looks and even some basic multimedia and Web browsing prowess. Is this the phone you'll want to carry on your next trek?
Body
There was a time when rugged, water-resistant phones were clunky and goofy looking. The original G'zOne designs had huge loops for strapping it to a carabiner, with thick rubber and exposed screws. The G'zOne Boulder was a bit more stylish, but the Ravine is downright sleek. If the Boulder was A-Team, the Ravine is Knight Rider. The all-black phone is highlighted with a few shiny, red metal accents, but the long, straight lines and tight-fitting clamshell design help this phone blend in better with modern flip designs. You still get classic G'zOne design features, like the huge, circular window around the monochrome external screen, a couple exposed screws and a grippy, rubber coating on the back of the phone. I do miss the carabiner loop, but the Ravine is still the best looking G'zOne design so far.
The G'zOne Ravine is very rugged, meeting the military 810G standards for water, shock and dust resistance. The phone will also withstand vibrations, salt fog, solar radiation, and low or high temperature climates. I'm thankful every day that I don't live somewhere salt fog is a problem, but if you need to take this phone into a desert or a swamp, it should live up to the challenge. There are only a few phones available from major carriers that can make this claim.
I beat this phone like an industrial-strength punching bag. I threw it out of a second story window onto concrete and it barely suffered a scratch. I left it in a chilly pool for an hour, then stuck it in the freezer for another hour. I stopped short of running it over with my car, since it is a loaner, after all, but I have no doubt it can withstand a great deal of punishment.
Open the flip, and you'll find a keypad with large buttons that are nicely spaced. You could easily make calls with gloves on, whether you're dialing the number or scrolling through your contact list, thanks to the big navigation circle in the middle. The push-to-talk button on the side was also nice and large, with ridges that make it easy find by touch. But some of the keys are a bit small. The volume keys were slim and flush with the side of the phone. The screen unlock key, which lets you use some features on the external display without opening the phone, was also too small, especially for a gloved hand.
There are some nice shortcut choices on the G'zOne Ravine. When the phone is opened, that screen lock key becomes a voice dialing key, with voice commands by Nuance. The Ravine did a fine job recognizing my voice input. Inside the flip, there is a camera / camcorder shortcut button. Unfortunately, it only opens the camera app; it doesn't act as a shutter button to take a picture. Even better is the dedicated speakerphone / flashlight button. A short press turns on the speaker. Hold it down and the LED light on the back turns on to act as a small flashlight. This is a great feature held over from previous G'zOne phones.
The G'zOne Ravine is waterproof, and the external ports are protected by large, plastic covers with rubber gaskets strapped to them. These covers seemed a bit flimsy to me. They certainly provided protection from water, but the tiny strip of plastic attaching them to the phone seems like it might rip after a few months of intense use. There is a microUSB port on the right side, and the phone can charge over USB. There's also a 2.5mm headset port on the left. If you want to use your regular set of stereo music earbuds, you'll need to find an adapter. Verizon does not include any headphones or handsfree mic in the box.
The back battery cover is stiff and secure, but it wasn't as difficult to remove as most waterproof phones I've used, and it was easy to seal the cover tight into place. Unfortunately, the microSD card is hidden under that cover, beneath the battery. That means you'll have to power down the phone to transfer photos and some music files, especially since the phone lacks a mass storage mode for transferring over USB. There seem to be contacts for a charging cradle on right side of the phone, but unlike previous G'zOne phones, the Ravine does not come with a charging dock, and Verizon Wireless strangely does not offer one as an accessory.
The Three S's
Screen
The internal display is a 2.2-inch, QVGA screen. It wasn't remarkable, but it did a fine job with the phone's interface and the apps provided. Pictures looked a bit grainy, with a noticeable screen door effect, but text was legible and sharp enough to make the menus easy to navigate. The screen held up fine in outdoor light, but it could have been better. Reading text was okay, but viewing angle was poor, so it was difficult to see colors in the camera viewfinder unless I was looking at the screen head-on. That's not especially convenient for taking outdoor shots down low or above my head.
The external display is a 1.4-inch square in the middle of a circular window. The 96 by 96 pixel screen is monochrome, and you can switch from light text on a dark background to dark text on a light backing. Even with such a low resolution, Casio puts it to good use as a clock or compass, among other features. The external display was very easy to read on a sunny day.
Sound
Sound quality from the Casio G'zOne Ravine is surprisingly good for a phone that needs to use waterproof speakers. Call quality was good, a definite improvement from the last generation of G'zOne flip phones. There was a slightly digitized, muffled quality to my calls, but no problems that scream "waterproof phone." My callers said I came through sounding nice and clean.
The phone has an awesome speaker. It was loud enough that I could use it in a car driving down the highway with the windows cracked open. Voices and music both sounded very clear on the speakerphone. Even though it lacked a strong bass kick, I could easily fill a room with sound playing tunes on the Ravine. This also translated to a very loud ring. With the ringer turned off, the Ravine had a very strong vibration, as well.
Signal
Signal strength on the Casio Ravine was okay, but not exemplary. In my house, a notorious Verizon Wireless dead zone, the phone usually reported a weaker signal than other Verizon phones I have on hand. This translated to some calls that did not go through after dialing. Once I had connected, I never experienced a dropped call, but I did have a few non-starters.
Data speeds were even worse than I imagined. The phone uses Verizon's faster EV-DO Rev. A network for data, but pages in the Mobile Web browser were very slow to load. Even the simple Verizon Wireless launch page took a very long time to load.
Battery
The Casio Ravine had solid battery life. After a full day's use, I still had power to spare. With plenty of camera use and navigation, the phone drained more quickly, but still managed to last through a full day. I wouldn't count on this phone to make it through a weekend of camping, at least not if you're going to be using it for directions and nature photography. But if you'll only be making phone calls, the phone should do fine. In standby mode, the phone easily held onto a charge for more than a week without draining completely. Verizon Wireless notes that using the phone as a push-to-talk (PTT) device will drain the battery much faster, and I did not test the PTT features, so depending on whether you'll be using the walkie-talkie features, your mileage will vary.
Basics
Menus
I used the first G'zOne phone, the Type-V, back in 2006, and I'm sad to say the menus and interface have not changed significantly since then. You still get the same icon grid on the main menu, with the same confusing menu titles. For instance, where do you find the Web browser? It's under the "Media Center" option. But is it the "Mobile Web" or is it "Browse and Download." The former, of course, but I only learned that through trial and error. The worst part about the G'zOne Ravine's interface is that it simply is not suited to the user who is going to take this phone outdoors to the work site or on the trail. It's a Verizon Wireless multimedia feature phone interface slapped onto a rugged device.
At least you can now customize some of that main menu, but Verizon doesn't let the user go far enough. You can only change 4 out of 9 slots in the menu. You an add the useful G'zOne Gears app to the main menu, but you can't add the individual features that Gears contains. Gears is where you'll find all of the outdoors apps you need, from the compass to the pedometer, with a few eclectic options thrown in.
My biggest problem with the G'zOne Ravine's menu structure is that these features are not front and center. The G'zOne is made for people who want to use the compass and the pedometer, not people who want to use the music player and download new mobile games. I should be able to fill 7 out of 9 slots with the cool outdoor tools, and leave a slot each for the settings menu and a general app menu, where I can hide all of the junk I won't be using while I'm hiking up Mt. Monadnock.
Calls / Contacts
There's nothing unusual about making calls with the Casio G'zOne Ravine. You can start dialing on the keypad, or press the Send key to jump to the call log. Find the number you want in the log, and just press Send to start a call. The Contacts list is also a shortcut on the standby screen by default. Just press the right soft key under the screen to jump to the address book.
Once you're in a call, you can activate the speaker by hitting the speakerphone button. I like that closing the phone does not hang up on a call. With such a loud speaker situated on the lower lip of the clamshell, it's convenient to talk with the phone closed, walkie-talkie style, even when you're not making a PTT call.
There are plenty of options available if you dig through the menus during a call. You can send the call to Bluetooth, take notes on a notepad, or start recording the call. The Ravine can place three-way conference calls, too, but the phone doesn't offer any options or visual cues to help with the process. But it's the standard Verizon procedure: dial the second number, press Send, and when the party answers, press Send again to join the conference. Once you've connected a third party, there is no indication on screen of the conference, and no way to manage or split the two calls again.
The contact list is just a bit smarter than the standard feature phone affair. You get room for four phone numbers, two email addresses, two postal addresses and some other categorizing fields. All of those fields are tied to other functions on the phone. So, you can hit Send on a phone number to start a call, or you can start a new email from the contact card. You can even start navigating to one of the postal addresses, using VZ Navigator for turn-by-turn directions. That last is a rarity on feature phones, though it's a common feature on more advanced smartphones.
There are no sync options available for the contact list. You can't synchronize with popular online services. I'm not sure why carriers neglect feature phones for contact sync options. It would seem that sync is more important on phones without a QWERTY keyboard.
Messaging
The Casio G'zOne Ravine has plenty of messaging options for a feature phone, though most of these options haven't changed much in the four years I've been looking at G'zOne phones. Basic text messaging has gotten better looking, and messages are now presented in a threaded, conversational format. But the phone does a poor job indicating from which side of the conversation the message is coming, and it only shows the first dozen or so characters of a 160-character SMS message. My picture messages came through, but I had to click through two screens to see the picture, and it was not obvious when a picture was attached.
The Ravine uses the same instant messaging app Verizon Wireless has been using since the telegraph was invented. It's stodgy and dated looking, but if you want to connect to AIM, Windows Live or Yahoo, it gets the job done. There are a trio of email options available, but none of them are very good. There is a mobile email client that connects through the phone's horrible Web browser. This will, of course, require the addition of a data plan. There is a standalone client to which you can subscribe for $5, though this option is also free if you have a data plan that includes email. Finally, there is a basic Exchange client for corporate users, but this option costs another $10 on top of a data plan. None of these options are very good. The phone did a poor job notifying me of incoming emails promptly, and the interface on the two standalone products was sluggish and feature-poor.
The phone comes with the new iSkoot Social Beat app that is showing up on more and more feature phones these days. Social Beat lets you check status updates on Twitter, MySpace, and Facebook. It also lets you check your Gmail, and offers another IM client for Google Talk. If you're a social networking fan, Social Beat is definitely the best all around messaging option on the Ravine. But there are so few good Internet and data-intensive apps on the phone that it's hardly worth paying for the extra data plan that Social Beat requires. If you don't subscribe to a data plan, Verizon Wireless charges a near-criminal $1.99 per megabyte.
When a new message arrives, the phone will notify you on the external screen. Though that screen is incapable of showing fancy images and menus, it should be good enough to display a few lines of a text message, so I was disappointed to find that you don't even get a preview of a new message without opening the clamshell.
Outdoor Gear
The Caso G'zOne Ravine offers an interesting selection of outdoor apps, all collected under a single G'zOne Gear menu. Some of these are old standbys from G'zOne phones, like the compass and the pedometer. The compass will display very precise heading information with the clamshell open, or you can get a less accurate heading using the external screen with the flip closed.
In addition to the compass and pedometer, the G'zOne includes a built-in thermometer. It isn't very useful in a hurry. Casio's tutorial suggests that the thermometer might take up to a half hour to get an accurate reading, and it can be easily thrown off by body temperature, the temperature of the phone, or other distractions, like a warm, charging battery. Indeed, in my 70-degree office, the thermometer registered a sweltering 82-degrees. But if you turn it on when you wake up and leave it outside your tent, you might know the air temperature by the time you're ready to start cooking breakfast.
The G'zOne Gear apps also offer a few informational features. You can check the lunar phases for any date. You can get tides and sunrise or sunset times. There is even a star map based on your GPS coordinates. It won't automatically change as you move the phone, as you'll find with Google Sky Map on more advanced Android smartphones. But you can slowly rotate the star map to match the sky above you, then point out constellations like a true expert.
Most of these apps can be used while the phone is closed, as well. You have to open the apps with the shell open, then close the lid, but once the G'zOne Gear apps are running, you can switch between the various features using the volume keys. With the clamshell open, you can even switch between the apps by waving the phone in the air, which is a completely useless option.
Extras
Music
Between the smaller, 2.5mm headphone port, the microSD card slot hidden under the battery (with only a paltry 1GB card pre-installed), the lack of a mass storage mode and the lousy, aging V Cast music software, it's clear that Verizon Wireless and Casio are not aiming this phone at music lovers. That's a missed opportunity, I think. While I prefer listening to the sounds of nature when I'm out and about, I know plenty of people who prefer their own tunes while running through the woods or biking down a mountain. I can understand the lack of an advanced email client on this phone, but I don't understand why Casio skimped on the music features, like external controls or a better player. The V Cast player does a fine job with simple playback, but it offers no advanced sound or playback controls. It is literally the same software Verizon was using on the first G'zOne phone.
It would have been easy to make this phone a more impressive music player. The speaker already does a great job with music playback, and the phone has stereo Bluetooth on board. Just adding better software and a couple extra hardware keys is all it would take. Throw in a waterproof headphone port and you would have a superlative all-in-one exercise device, in addition to a rugged walkie talkie phone.
Camera
Camera
The camera experience on the Casio G'zOne Ravine is pretty lousy. The viewfinder for the 3-megapixel camera is a tiny window on the main display. You cannot see the preview image full screen. Instead, you get a useless set of settings indicators, like a readout of the resolution of the current image, or a digital zoom bar. There are a bunch of options hidden under the Options menu, including controls for white balance and exposure, and the phone offers some basic color filter options, like black and white or sepia-toned shots. But there's nothing fancy; no panorama mode or scene mode controls.
You can use the external display as a viewfinder, but only with the phone open. This is more for self-portrait shots, and you can hardly tell what you're looking at with that low-res, monochrome display active. In fact, under darker lighting conditions, the external display showed only a black square. I couldn't see my own face at all.
There is no camera button on the Ravine; the center navigation button snaps the picture. That's acceptable, especially since the camera doesn't use auto focus, so there's no need for a two-stage button. After you've taken a shot, you can review the picture. Pressing the center button again on the review screen opens the Send menu for images, which is counterintuitive. I want the center button to take me back to the camera for more shooting, but instead I had to press the left Save key before I could see the viewfinder again. There is no way to skip the review screen or even have the camera automatically save every image.
Image Gallery
The image gallery is a basic, utilitarian view of all of your pictures. You can see your images first as thumbnails, then zoom in for a look at each image in a partial window. You can also select a full view of the image to see your images full screen in landscape mode. There are only a few basic editing tools for images. You can crop, rotate or resize an image, but that's all. You cannot tweak the exposure or color settings once you've snapped a shot. You can't even convert an image to black and white.
The image gallery also offers a few basic sending options. You can send an image as a picture message, or as an email attachment. You can also send photos to a computer over Bluetooth. There is even a print option on the phone, where you can send images to a Bluetooth-enabled printer. But there is no slideshow option, which seems like a strange omission.
Image Quality
Photos
Casio makes a good, waterproof cameraphone for Verizon Wireless that takes impressive pictures. Unfortunately, that phone is the Casio Exilim, and not the Ravine. Image quality from the 3-megapixel camera on the Casio G'zOne Ravine was very poor. Indoors, with or without the flash, I saw plenty of color noise, a speckling of random color spots that make the image look noisy and cartoonish. Outdoors, almost all of my images were very blurry, with no fine details whatsoever. A few landscape pictures looked a bit better, but on closer inspection, these too fell apart. Images would be fine for tiny picture messages, but I wouldn't share these on a social networking site or in an email. The idea of printing these pics using the Bluetooth print option in the gallery is laughable.
This is an even bigger missed opportunity than the music player. Outdoor enthusiasts would love to have a solid camera on a rugged, waterproof phone like the Ravine. I would give up most of the phone's extraneous features to have a nice camera. I would even give up the 3G data connection to have a camera on par with the Casio Exilim. That phone is waterproof, but not as rugged as the Ravine.
Video
The videos I shot with the Casio G'zOne Ravine were among the worst camcorder phone videos I've ever seen. The video image was divided into huge blocks of color that seemed to shimmy and waver, with little resemblance to their actual subject. Colors seemed to drip in long lines down the screen. And details? We don't need no stinking details. The sound was also absent from all of my videos, though I'm sure this is a bug and not an intentional choice on Casio's part.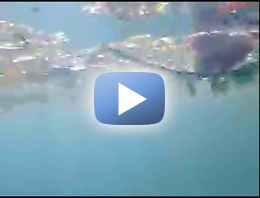 3GPP2 / MPEG-4 format (viewable with QuickTime)
File size: 661 KB
Browse / Customize
Browse
The Web browser on the Casio G'zOne Ravine is a simple WAP browser. It is sluggish and rendering quality is poor. The browser had trouble even loading the simple Verizon Wireless launch page, let alone more complicated HTML sites like our own PhoneScoop homepage. In extreme emergencies (finding a cure for a snake bite, perhaps?) you could use the Bing search app, or try the mobile browser. But I would not rely on this phone for any kind of regular Web browsing habit.
Customize
There are a number of ways that you can customize the menus on the Ravine. There are three preset themes to choose from, each with their own look and color scheme. You can use a small or a large font for the menus. You can choose from a few different clock styles, both for the interior clock display and the external screen.
You can customize the large PTT button on the side of the phone. If you're not a PTT user, you can assign any app on the phone to that side button. You can also customize the menu and some of the shortcuts on the phone. Like I said, you can replace four of the main menu items with your own picks, and you can rearrange the order of the 3 by 3 icon grid on the main menu screen. From the standby screen, the direction pad offers a shortcut depending on which way you press it, and you can customize these. Press the pad to the right, and you get a second shortcut menu with four slots that you can customize. There are layers upon layers of shortcut options.
Extras
Bluetooth
Bluetooth quality from the Casio G'zOne was just fine, but not great. I was able to connect my headset for calls, but reception dipped frequently, and voices cut in and out during calls. The phone worked fine with my stereo Bluetooth speakers, and reception was much better for music than it was for calling. I was also able to send a file to my laptop using the Bluetooth connection with no trouble.
Clock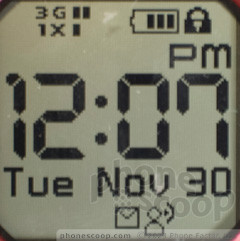 The external display does some of its best work when it's telling the time. It's fast and easy to check the hour on the monochrome screen. Flip open the phone and you'll find a clock on the standby screen, with a few different style options and sizes available. One of these is sure to fit your needs.
GPS
Navigation on the Casio G'zOne Ravine is provided by VZ Navigator. I was pleased to find a recent build of the navigation software on this phone. VZ Navigator did a fine job guiding me through my treks on the unnamed country roads around my town. The phone found my position quickly, even when I started my trip indoors. The GPS also worked well with the G'zOne Gear apps, like the star map.
I was disappointed that VZ Navigator did not take advantage of the external display. The display indicated that VZ Navigator was open, but it did not offer even simple turn arrows. At least the phone could blare the spoken directions over the blisteringly loud speaker. One problem, though, was that the VZ Navigator app did not turn down the volume when I pressed the volume keys. Instead, it opened a navigation volume menu, adding unnecessary steps. If you're trying not to disturb the baby sleeping in the back seat, this is a real hassle.
Video Tour
Wrap-Up
The Casio G'zOne Ravine is in some ways a very impressive, rugged device; and in other ways a collection of missed opportunities. The phone can take a serious beating, including a dunk in the pool or a drop into a dirty puddle. Some of the outdoors features are pretty cool, like the compass and pedometer, the star map and the convenient flashlight feature. It also has better call quality than previous G'zOne phones I've tried, and the speakerphone is disturbingly loud, which is exactly how I want it to be.
My only problem is that Verizon has confused this outdoor enthusiast phone with a 3G feature phone. Instead of using a high-quality camera, the phone features "fast" networking that couldn't even deliver in the simple Web browser. Instead of some music for exercising outdoors (or perhaps while taking a swim), the phone tries for corporate email and sub-par messaging. In other words, instead of focusing on a few key features that buyers would appreciate, the phone tries to do everything, and ends up failing miserably at the tasks that don't fit its outdoor lifestyle.
Still, it's hard not to like a phone that is equally comfortable hiking through a saltwater bog as it is working hard in a desert war zone. There are just enough customization options to keep your favorite features close at hand, and the rugged design has been refined to an attractive clamshell that feels more polished than durable, even though it's both.
The phone DOES have a mass storage mode!
On the phone, go to Menu > Settings and Tools > Tools > USB Mass Storage. Please correct the artical.
His entire review really sucked in my opinion.
Casio Ravine
🙂 Just went from a very satisfactory experience with the older GZ-1 to the Casio Brigade. I actually went down on my motorcycle with the GZ-1 hanging exposed from my belt. It took my full weight and the front of it ground along the blacktop under me. It still worked fine, although it didn't looks so nice (pix on my fb page ttommyunger). I wanted the QWERTY keyboard the Brigade offers and I love it. I text more than I call and almost never use it to browse. I don't do music or games, being a geezer, so the phone is great for me. I am a klutz, a motorcyclist and an outdoors-man, so the ruggedness is a super plus for me. The camera is good enough for me and has some nice pluses like shutter delay and flash. ps. Other cell phones feel like chea...
(continues)