LG Spins a Vortex for Verizon Wireless
Article Comments 5
Nov 15, 2010, 9:05 AM by Eric M. Zeman @zeman_e
updated Nov 15, 2010, 2:08 PM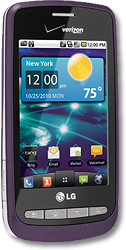 Verizon Wireless today announced the LG Vortex, a new, inexpensive Android smartphone that is a re-badged Optimus T/S. The Vortex runs Android 2.2 and features a 3.2 inch touch screen with haptic feedback, Wi-Fi with mobile hotspot, Bluetooth 2.1+EDR, GPS and support for microSD cards up to 32GB. The Vortex has a 3.2 megapixel camera with autofocus that offers a number of capture modes, including Macro. Other features include Skype, Swype, LG Apps, and Bing Search/Maps. The Vortex costs $80 after a mail-in rebate with new contact. It will be available online and in stores November 18.
Sorry Eric but...
There is NO flash on the Vortex. It is however very responsive to the touch and pretty slick.
Thanks!
The press release says it does. I am checking with Verizon and LG to verify. Will update post if/when I hear back from them.
$80.00 AFTER rebate??????
Wow, that doesn't sound low-priced at all.

T-Mobile is $80.00 BEFORE a $50.00 mail in rebate.