HTC myTouch 3G Fender Edition Launching Jan. 20
Article Comments 67
Jan 14, 2010, 1:05 PM by Eric M. Zeman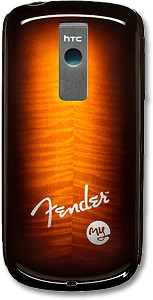 Today T-Mobile announced that it will begin offering the HTC myTouch 3G Fender Edition on January 20. The updated version of the myTouch has several new features, including a custom-designed back plate, 3.5mm headset jack, a 16GB memory card, free access to doubleTwist music sync software, and preloaded content from Eric Clapton, Avril Lavigne, Brad Paisley and Wyclef Jean. It also comes with a new media player application developed by HTC that lets users toggle between different views or change a song or album by touching the album art. The HTC myTouch 3G Fender Edition will ship with Android 1.6, but will be able to update to Android 2.1 later this spring. The limited edition device will cost $180 with new contract and goes on sale January 20 at select T-Mobile stores. It will be sold while supplies last.
rawr
I've been waiting for this phone since phonescoop posted about it back in.... october?

Got sick of waiting and just bought my nexus one....

fml.
i'm on your ship buddy. i also got the Nexus One because i got tired of waiting for this phone to hit markets.

the funny thing is that this phone will be updated to 2.1 later this spring. 😡 GREAT! ☹️ i love my Nexus One 😁 . tough luck fender...
(continues)
Not right at all, Clapton's famous ax is a black Strat..
not sunburst.
but sunburst is very fender...srv anyone?
really it says it has content from him hot anything else about clapton quit trying to impress everyone by postin non relevent info because NO ONE IS IMPRESSED 🤨
Gorgeous
Man that is beautiful.
It's probably a waste of money but if I were a T-mobile customer I would be planning on getting my hands on one.
now THAT'S
100% me...to bad I'm loyal to my pre 🤨