Review: Pantech Laser
Article Comments
Nov 7, 2010, 1:30 PM by Eric M. Zeman
Pantech fields one of the thinnest QWERTY sliders out there for AT&T in the new Laser. Did Pantech sacrifice too much to make it so thin, or did it strike the right balance?
Advertisements article continues below...
Form
Is It Your Type?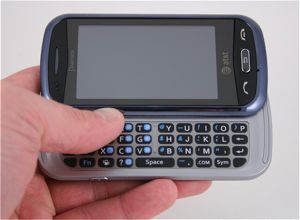 If quick messaging devices are your form factor of choice, but the added bulk of the QWERTY keyboard turns you off, the Pantech Laser just might turn you back on. It is incredibly thin, yet still offers a touch screen and full QWERTY for messaging. Were AT&T and Pantech able to get the critical messaging features and user interface right on this inexpensive, missive-minded messager?
Body
At first glance, you might not think the Laser is a slider. It comes off as a slab-style phone, with the top and bottom halves of the phone meeting in a hidden seam that is barely noticeable. Besides, a slider can't possibly be as thin as the Laser's scant 9.9mm, can it? Pantech proves that indeed it can.
The Laser is thin, light weight, and feels comfortable in the hand with respect to the overall size of the phone. Pantech makes use of plastic materials in its design, however, which lends a slightly cheap feeling to the Laser. The back and side surfaces have an odd pattern on them that gives it a slightly rough feel. It's not abusively rough, but your skin notices the texture. Even though there's texture, it is still slightly slippery. This is one of the more pocket-friendly devices out there. The combination of the size, shape and weight make it easy to carry anywhere.
There are three physical keys placed at the bottom of the Laser's face. They are Send, Back and Call/Power. The Back key is the one you'll use most, and it is raised nicely from the surface of the Laser. All three buttons have excellent travel and feedback. A dedicated lock/unlock button is situated on the left side of the Laser, close to the top. It is diminutive, and has a mushy feel to it that I didn't care for. The volume toggle is placed on the right edge of the Laser. It, too, is small, but travel and feedback are better than the lock button. The microUSB port is on the top of the Laser and is protected by a hatch that peels off easily with the help of a fingernail. Looking for a 3.5mm headset jack? There isn't one. You'll be stuck using an adapter or stereo Bluetooth for music playback.
The slider mechanism has a little bit of spring assistance to it. It's not the best slider mechanism I've encountered, nor is it the worst. This is one area where the Laser's thin profile hurts it. There's little area to push against to get the halves apart. Also, the semi-slippery feel of the back surface reduces the friction needed to help pop it open.
As you might expect, a device as thin as the Laser has to make a trade-off somewhere and unfortunately it comes at the expense of the keyboard. The keys are well spaced, but have minimal shape. Travel and feedback are also minimal. I didn't find typing on the Laser to be very satisfactory, but it does work. The keyboard has four rows. I was expecting to see some messaging-friendly keys, but the only one of note is a ".com" key. No "www", but thankfully the period, question mark, and comma each have their own key and don't require users to hit the function button to reach them.
In order to swap out the microSD card, you have to remove both the battery cover and the battery. I hate that.
The Three S's
Screen
The Laser has a 3.1-inch resistive touch display with 480 x 800 pixels (yeah, I was surprised by the high resolution, too). Colors look warm and sharp, but the display comes off a little dull looking. There's no problem using it indoors, but outdoor viewability drops to pretty much zero. Even on a completely overcast day, I was forced to seek out shadows in order to read the display. Still, it's nice to have all those pixels. It made text, web images, and other graphics look really nice.
Signal
The Pantech Laser didn't do quite as well as other phones on AT&T's network in side-by-side tests. Most of the time, it latched onto 3G, but I saw it drop to EDGE fairly often when coverage was spotty. Even so, calls connected regularly, and I didn't miss any calls with the Laser. Data was consistently average. It wasn't hell-yeah! fast, but it wasn't terribly slow, either.
Sound
Call quality on the Laser was good, but not great. Some calls exhibited mild noise and echo, while others were clear. Those who I called often noted that I sounded like I was talking through a computer. Volume was a big problem. Even set all the way up, the Laser was far too quiet. It was acceptable for a calm home environment, but outdoors on a city street or in a noisy coffee shop the Laser failed. The same goes for the speakerphone. It works in a quiet room, but even a TV can overpower the Laser's anemic amplification powers. The vibrate alert was solid, though I'd have preferred a bit more strength to it.
Battery
The Laser easily lasted more than two days on a single charge with basic messaging and light web browsing. With its 3.1-inch display, you might expect it to chew through a charge quickly, but it doesn't. Up the web usage a little or turn on the Bluetooth and you'll probably lose a half day of use.
Touch
The Laser has a resistive touch display. It's behavior was somewhat inconsistent. I'd say 80% of the time, it performed perfectly. No delays, no mistaken taps or swipes, no goof-ups. The other 20% it seemed to have a mind of its own. It wouldn't register taps or swipes. It would delay and then skip through three screens at a time.
The problems seemed to occur most often on the home screen. The display behaved normally on the menu screens, and within applications and/or services.
Basics
Menus
The Laser has two basic menu modes: One for when the device is closed, and one for when the device is open.
When closed, the Laser uses a menu system similar, but not identical, to the Pantech Pursuit. There are three home screens, each of which appears to be constrained to a specific set of tasks. The central home screen displays a giant clock and will show missed message alerts. That seems to be about it. One of the secondary screens is for application/setting shortcuts. The shortcut icons are of a predetermined shape and size, and a maximum of twelve will fit into two columns. These can be added and deleted at will. Take the same concept and apply it to contacts for the third home screen. Users can add a shortcut to their favorite contacts on this last screen. The three basic ideas here are: Apps, Alerts, and Contacts.
At the bottom of the screen, a dock persists on all three home screens that allows for access to the dial pad, the full contact app, messages and the main menu. The main menu is a standard grid, though there are also three side-by-side menu screens. What I like about this is that AT&T has almost eliminated the use of folders. There are only two: MyStuff, and Pictures. Every other application and service on the phone gets its own spot in the main menu. This really cuts down on the time it takes to find things. But that doesn't mean the main menu is organized. It's not.
Apps, tools, and settings are tossed in there completely at random. They are not in alphabetical order, can't be rearranged, and can't even be sorted into a list view. The menu appears to be stuck just the way it is when you first pull it out of the box. Any apps added to the phone land either in the Apps Center or the MyStuff folder (AT&T's catch-all for user content).
The user interface elements within most of the apps themselves make sense. Having the physical Back key also goes a long way toward digging back out if you've wandered deep into the phone's systems.
With the slider up, the three home screens vanish completely and are replaced by shortcuts to the Laser's messaging apps, such as IM, email, Facebook, Twitter, etc. There remains an on-screen button for the main menu and home screens, but access to the phone goes away. This makes sense, as the only reason to open the Laser up is to access the QWERTY for messaging. The one bummer, perhaps, is that users can't access their contact shortcuts any more. They can still open the full contact app, but losing access to the shortcuts stings a little.
Calls/Contacts
Calls
If you press the physical Send key on the front of the Laser, it opens the recent calls list. This can be sorted, thanks to software tabs at the top, into: all, missed, received, dialed, and favorites. Press on a call log and it provides detailed information about that call. Press the number, and it dials. It's pretty straight forward. There are also options on the call info page to send a text message to the number instead.
Need to dial a new number? Press the software Dial key on the home screen. That brings up a software dial pad on the screen. The Laser was very responsive when I dialed numbers quickly. The dial pad also provides access to recent calls, contacts, and speed dial.
In-call options allow you to switch on the speakerphone, mute the line, put the line on hold, or record the call. The controls for these tools are simple and easy to use.
Contacts
The Laser's contact app is fairly basic. I was able to add a total of four phone numbers, two email addresses, as well as assign ringtones and add contacts to groups. There are no fields for street addresses, birthdays, notes, web sites, etc. Just phone numbers and email addresses. That's kind of weak.
From the main contact screen, pressing a key will jump to names starting with that particular letter. For example, if I type just a "B", both Rich Brome and Philip Berne show up.
Each contact has a green call button so you can place a call from the main contact screen without opening the full contact details. I'd prefer to see an option to send a text message, especially when the Laser is held sideways with the keyboard open.
Messaging
This should be the Laser's bread and butter, right? Well, there are certainly a lot of options. The Laser offers threaded SMS, AT&T Social Net, email, Facebook, Twitter, IM and MySpace.
Starting with SMS, the threaded messaging app works well. Text appears in bubbles and visually helps keep a conversation easy to read. Inserting images, graphics, or templates is a breeze, and the Laser successfully sent/received all the MMS messages it attempted.
The mobile email is a rip-off. In order to use the crummy email client, users will have to cough up $5 per month. For a messaging device, this is an inexcusable offense. AT&T may as well start charging per text message again. That said, the client has built-in support for AOL Mail, AIM Mail, Windows Live Hotmail, AT&T Mail, Yahoo, and Gmail. It's the same client that AT&T has used for years. It is clunky, and grabs email only intermittently.
If you're seriously in need of an email fix, I'd recommend biting the bullet and using the browser-based version of your favorite web-mail service. It's not perfect, but it's better than paying AT&T $5 per month to access your messages.
IM options include a single software client for AIM, Yahoo and Windows Live chats. It is similar to most other all-encompassing chat programs. It gets the job done, but it isn't visually appealing. Where's support for Google Talk? Nowhere, I am afraid.
On the social networking front, the Laser offers plenty. The AT&T Social Net application is a catch-all for social networking status updates. It's easier to scan friends' posts from Twitter, MySpace and Facebook all at once through Social Net, as well as post to all or some of your own networks. If you want to do more than simply read, it is better to use the full applications. Did I say that the Laser offers Twitter, Facebook and MySpace? Oh, drat. What I meant to say was that the Laser has shortcuts to the mobile versions of Facebook.com, Twitter.com, and MySpace.com. That's very lame. The mobile web versions of Twitter, MySpace and Facebook work fine on smartphones, but not on feature phones. The browser is barely able to manage the torrent of info that passes through users' news feeds, and the experience feels cramped and unrewarding. In other words, don't count on the Laser to be useful for anything more than browsing your friend's status updates and posting your own. Advanced features are not offered.
Extras
Music
The Laser offers limited music features, as if we didn't get the hint with its lack of a 3.5mm headset jack. First, there is the AT&T Music application. This is a subscription service that offers access to tracks, streams and other features. The Laser has AT&T Radio, which also requires a monthly subscription in order to access and stream radio stations. It also has a stand-alone music player, which is buried about as far into the Laser's menus as possible.
The player itself is a no-frills affair that has the same basic functionality seen across the board. Users can sort through albums, genres, artists, and songs. Users can set songs for shuffle and/or repeat. The one surprise is that the Laser offers a graphical equalizer for adjusting the tone of music playback. That's not a feature I expected to see on a phone that screams "not-really-meant-for-music."
If you want to listen to music, you'll need to provide your own microUSB-to-3.5mm adapter, or use stereo Bluetooth headphones. Neither is ideal. I tried stereo Bluetooth headphones, and they sounded OK.
You're better off just using an iPod.
Camera
Camera
The Laser has a 3 megapixel camera with a fixed focus lens and no flash. There is no dedicated hardware key for the camera, which means users have to resort to digging for it in the menu. Luckily, it can be added as a shortcut to one of the three home screens.
It takes perhaps 3 seconds to launch, which is too slow in my book. Again, since there is no physical camera key, users have to rely on the touch screen to make adjustments and actually shoot images. There is a column on each side of the display providing access to tools to control the camera. The brightness can be adjusted without diving into any special menus. Anything beyond that, however, and users need to wade through a number of options. White balance, effects, resolution and storage location may all be fine-tuned. Users can turn geo-tagging on or off and dial in the picture quality that suits them most.
The Laser offers some genuinely fun picture shooting tools. There are different shooting modes, including Normal, Smile Shot, Self, Wink, Face Effect, and Panorama. The Face Effect one is worth exploring, as it can be used to distort the image as it is taken. My favorite effect? Bighead.
Taking pictures requires concentration. You have to press and hold the on-screen shutter button. This is one place, other than the three home screens, where the screen seems to have trouble reacting to input. I'd press the shutter button and often get nothing. It requires a firm tap and you have to keep your finger on the screen until you hear the shutter sound. It takes the Laser about 1 second to prepare the camera to shoot, and then another second or two to shoot and process the image before returning you to a review screen.
Gallery
The Laser's photo gallery isn't half bad. It can be opened from the camera or the main menu. Images can be arranged in list or grid form, and users can create folders for managing their image library. Pressing an image opens it up, swiping left or right cycles through all the images in a given folder. It doesn't matter if the phone is open or closed, the gallery behaves the same either way.
While basic navigation is fine, it is somewhat lacking in features. Images can be renamed, moved, sorted and sent, but not edited in any way, shape or form. Not even basic rotate or crop is on board.
Photos/Video
Photos
Image quality ranged all over. Focus was soft as often as it was sharp. White balance was right most of the time, as were color tones. Details were lost here and there when the sensor was overloaded — especially on whites. The real problem was noise and grain. Nearly every image was saturated with digital artifacts. It was almost as if a filter were placed in front of the camera before I fired my shots. Even with the megapixel and quality settings ramped all the way up, it was impossible to avoid graininess, even outdoors on bright, sunny days.
Would I share these? Well, some will surely be MMS worthy, and some might even be Facebook worthy. I doubt you're going to want to share any of these images on Picasa, Flickr, or even via email.
Video
Video quality wasn't as bad as I was expecting it to be. That's not to say it's great, but it's better than the camera — on average. Video clips exhibited some waviness and odd motion as the Laser was panned around, but it wasn't nausea-inducing. There was less grain than I expected to see, and clarity was pretty good. The biggest problem I saw with the video camera was exposure. It couldn't handle whites at all, and would completely blow them out. It reacted slowly to drastic changes in lighting, and then would mistakenly overcompensate. I would say the Laser captures MMS-quality video, but nothing more than that.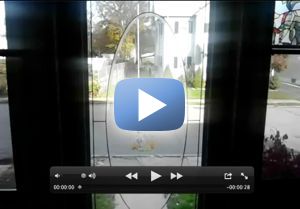 MPEG-4 format (viewable with QuickTime)
File size: 3.6 MB
Browse/Customize
Browser
AT&T and Pantech have clearly stuffed a browser not optimized for touch handsets in to the Laser. The on-screen buttons and controls are microscopic. They are far too small for fingers to find accurately. The URL bar, for example, can't be more than 5 pixels wide. The AT&T.net home page has a number of built-in shortcuts, such as weather, sports, CNN, etc. Four out of 11 of these shortcuts are to sports-related content. These all route the user to the mobile versions of these web sites. The browser can't handle HTML. Even the WAP version of Phone Scoop looked terrible in the browser.
The browser's tools allow users to perform searches both across the web and on the current live web page. Users can also add and manage bookmarks, set behaviors for images and text size, and so on. The browser certainly works, and lets users skate around the mobile web, but it's barely user friendly.
Customize
Users can make the typical adjustments to the Laser for personalization. There are five different themes on board, which really only adjust the wallpaper settings in the main menu. Users can choose between about eight different fonts, and even control the size for some of them.
Two of the home screens can be completely customized with application and contact shortcuts. There are five ringer profiles for controlling the sound of the Laser for different settings. It's a shame that users can't take more control of how the main menu is laid out, nor make any adjustments to the central home screen.
Extras
Apps
The Laser has access to AT&T's library of Java-based applications. These are lightweight apps, but AT&T has quite a number of them. Most of them cost between $1 and $3, if they don't require a subscription to use.
Bluetooth
The Laser offers Bluetooth support for mono and stereo headsets. I had no problem connecting to either type of headset. Call quality through a mono headset was god awful. It sounded like someone was trying to call me from 1935. The sound was terrible. Music fared better through stereo headphones. The Laser can also connect to other devices, such as PCs, and I passed photo files back and forth with ease.
Clock
Press the lock key quickly and the Laser displays a large, digital clock. It is easy to read. Once unlocked, the default behavior of the central home screen is to display a large analog clock. This clock looks great, but if you don't like it, you can switch to a digital clock.
GPS
The Laser offers AT&T's $10-per-month navigation service. Google also offers a basic Java version of Maps for feature phones, but downloading and using it is a chore. It's not preloaded on the Laser AT&T Navigator works fine, and is a capable piece of software at routing and determining directions. However, given that stand-alone GPS units can be purchased for $100, you're much better off going that route or downloading Google Maps.
Wrap-Up
The Laser is somewhat polarizing to me. Pantech has done a wonderful job at reducing the girth of what is a traditionally larger type of handset. The hardware isn't top-notch, but it is very good, and many will appreciate the small footprint it offers with the large, high-res screen. The keyboard is less than awesome, however, and that's a key feature on a phone such as this.
It gets only some of the basics entirely right. Call quality was pretty good, despite varied signal performance, and battery life was above average. But the messaging features felt only half-realized, with email and social networking shortchanged with weak applications. AT&T's $5 monthly fee for email access on a device such as this is usury, plain and simple.
The media features are an afterthought at best. The music features are weak and require users to make the effort to get an adapter or a pair of Bluetooth headphones. Even though the camera has a 3-megapixel sensor, image quality was below average. The browser was handicapped by a user interface that is difficult for fingers to interact with on a touch screen.
What is the Laser good for? Well, it's a heck of a good text messaging phone, and since it is a QMD, I suppose AT&T and Pantech can say, "Mission Accomplished!" Would I recommend it? If texting is all you really want to do, then sure. If you're looking for anything more, then you'll need to see elsewhere.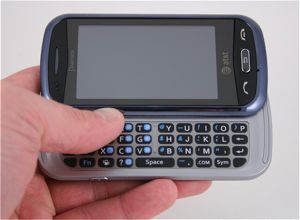 No messages