Review: Pantech Laser
Form Basics Extras Wrap-Up Comments
Is It Your Type? Body The Three S's Touch
Nov 7, 2010, 1:30 PM by Eric M. Zeman
Pantech fields one of the thinnest QWERTY sliders out there for AT&T in the new Laser. Did Pantech sacrifice too much to make it so thin, or did it strike the right balance?
Advertisements article continues below...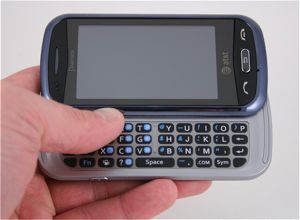 If quick messaging devices are your form factor of choice, but the added bulk of the QWERTY keyboard turns you off, the Pantech Laser just might turn you back on. It is incredibly thin, yet still offers a touch screen and full QWERTY for messaging. Were AT&T and Pantech able to get the critical messaging features and user interface right on this inexpensive, missive-minded messager?
No messages