Review: HTC Surround with Windows Phone 7
Form Basics Extras Video Wrap-Up Comments 19
Is It Your Type? Body The Three S's Touch
Oct 20, 2010, 6:00 PM by Eric M. Zeman
HTC's Surround smartphone packs stereo speakers and Microsoft's brand new Windows Phone 7 operating system. Read Phone Scoop's in-depth report on Microsoft's comeback platform.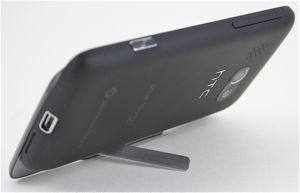 The HTC Surround is one of several Windows Phone 7 devices hitting AT&T's network this fall. The Surround sets itself apart from the competition by offering pop-up stereo speakers and a kick-stand. If you're in the market for a media-focused smartphone and plan to watch plenty of movies, the Surround has a certain amount of appeal.
Memory
This phone offers 512MB of ROM and about the same for RAM.

What's interesting about the 16GB of available memory is that only 8GB's are built into the phone. The other 8GB's are in a removable microSD card.

The problem here is that the phone views the microSD card as built-in memory. What that means for you is the "expandable" memory is only to be removed if you want to format the card and lose everything. The only way to transfer media files from phone to computer is with a data cable (the phonescoop review mentions how painful syncing can be, especially with video). It definitely feels like a design flaw, especially when I can get a Samsung Captivate with 16GB and get an expandable memory card with 32GB. Just like the Aria, HTC comes...
(continues)
Couldn't have said it better myself. It feels like Windows was onto something, they were just about to figure it all out, but then realized Glee was on and they'd already missed the first 10 minutes. So, all of their phones now have a HUGE flaw that...
(continues)
I want to try one so so so bad.
It's a good thing I work for T-Mobile... hopefully I'll be able to mess around with these things to no end!

Pretty excited about the new OS!

A little less excited about it not syncing with my soon-to-be new Macbook Air. (which I ordered today!)
You do know that this is going to be a AT&T phone not tmo right? 😲
size
in comparison to the tilt 2 is it smaller, larger or simular in size?
Visual Voicemail?
The article mentioned a specific icon for voicemail on the call list, but didn't specify what happens when clicked. Does it direct call your voicemail or pull up a visual voicemail application?
Thats a good question. I'd like to know if WP7 has VVM.
Camera Concerns!
With all the new Windows 7 phones, the camera can be supposedly accessed by just clicking the camera key... no unlock required. I've seen similar functions in flip phones that not only waste the battery, but fill your memory with pocket-pictures.