Sony Ericsson's CS8 Vaults FCC with T-Mobile 3G
Article Comments 10
Apr 21, 2009, 11:20 AM by Eric M. Zeman
updated Apr 21, 2009, 1:05 PM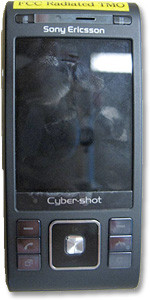 Documents seen on the FCC web site reveal details about the Sony Ericsson CS8. The CS8, which appears to be a re-badged C905, is a slider with an 8.1 megapixel camera. The FCC confirms that it has quad-band GSM/EDGE radios, as well as 1700 UMTS, which supports T-Mobile's 3G network. Other radios include Wi-Fi, GPS and Bluetooth. The draft user manual includes references to T-Mobile services, such as MyFaves and T-zones. T-Mobile has not confirmed that it will carry this device.
Uhh...
They couldn't wipe the screen down before taking this picture? Ha! 🤣
FCC pix are notoriously awful.
That's how crappy at&t gave it to them when the decided not to pick it up themselves.
I think it'll be like TM506, with black and silver
but hopefully SE will sell a few unlocked one (I don't want branding, please)
incorrect FCC ID
the correct one is
PY7
a3152021