Sony Ericsson Shows Off Two Camera Phones
Article Comments 19
Jun 17, 2008, 5:51 AM by Eric M. Zeman
updated Jun 25, 2008, 11:24 PM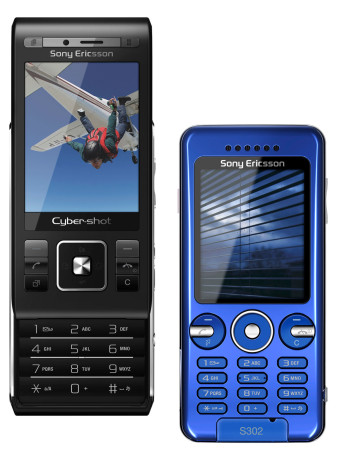 Today Sony Ericsson introduced two new camera phones. Shared features of the C905 and S302 include nearly identical multimedia playback options, including stereo Bluetooth and FM radios. Both are quad-band GSM/EDGE, with the C905a adding tri-band 850/1900/2100 UMTS/HSDPA for 3G services. They will be available in select markets beginning in the fourth quarter.
C905: This addition to the Cyber-Shot lineup is SE's first slider to bear that name and packs an 8.1 megapixel camera with autofocus, Xenon flash, face detection, image stabilizer, red-eye reduction, video stabilizer and video light. Because the C905 comes with GPS, you can also geo-tag photos with location information. The C905 also has Wi-Fi, the NetFront Access HTML browser, and supports video calling and Microsoft Exchange ActiveSync. The screen measures 2.4 inches, and will auto-rotate between landscape and portrait modes when the camera is rotated. It will come with a 2GB Memory Stick Micro expansion card in the box.
S302: This bar-style phones drops the camera down to 2 megapixels and has fixed focus. It does share the C905's video and picture light. The screen measures 2 inches, and it supports Memory Stick Micro expansion cards, but does not come with one.
T-Mobile USA left out again
Deja vu again.
SE and TMo USA don't like each other.

If you want SE you need to switch to at&t ☹️
SEs can be used on T-Mobile they just need to be unlocked.
8.1 MP?!?!
Is that a record on a phone?
no actually theres the samsung B600 that has a 10 MP. Yea i know its crazy
Who will carry these?
These phones are freaking WILD!