Windows Phone 7: Hands-On
Article Comments 33
Oct 11, 2010, 8:40 AM by Eric M. Zeman & Rich Brome
updated Oct 11, 2010, 1:53 PM
Hands-on with the full range of Microsoft Windows Phone 7 devices announced this week, including the HTC HD7 and Surround, LG Quantum, Samsung Focus, and Dell Venue Pro.
Advertisements article continues below...
Interface
Windows Phone 7 is a wholly new user interface from Microsoft. It is based on tiles, hubs, and constantly-adjusting content that makes up the home screen. Users can change the layout of the home screen to suit their needs, and populate it with any number of tiles, each with its own application, shortcut or live information. In fact, Microsoft calls them "Live Tiles."
The tiles are laid out two-by-two in a lengthy column that stretches down the screen. Flicking up or down sends the home screen zipping in either direction. Swiping the main menu to the left opens a single-file list view of all the applications and settings. It is a long list, but you can scroll up and down quickly.
Pressing any of the tiles, and the whole UI folds over to the left and offers rich images/graphics, usually with a large-font text list. It's animation heavy; not everyone will like it.
Some of the apps let you continue to swipe sideways to access more content and menus.
The Hubs are the major organizational themes of WP7, such as People, Office, Pictures, Music & Video. Each of these is a department unto itself wherein lies all the associated apps, settings, and content related to that feature.
The bottom bar contains up to three icons with your primary controls / option buttons. These could be key actions like "reply" or "new". Sometimes the icons are cyptic. In some apps, there will be also be three little dots that appear in the bottom right corner, for additional options.
One really odd thing we noticed is that the screen only rotates to landscape view in some of the applications, but not nearly all. For example, the home screen works in portrait orientation only. Sometimes, apps will rotate only on the deepest screen, but not at the top level. For example, lists of media work only in portrait, but viewing photos and video can rotate. That's somewhat expects. However, oddly, this applies to apps like People as well. The contact list works only in portrait, although individual contact cards can rotate to landscape. It's a bit inconsistent and weird. This is something I hope Microsoft fixes.
The browser (based IE 7) performed well enough. Double-tap to zoom in or zoom out, and multi-touch (pinch-to-zoom) is supported. Scrolling, zooming, and animations are all smooth. However, if you reorient the phone from portrait to landscape, you lose the all the navigation controls for the browser, which makes it less functional.
The Windows Phone Marketplace was active on the devices, but the pre-launch offerings were bare. Microsoft has said that there will be apps when the platform becomes available to general consumers. Navigating the games, apps, utilities, etc, though, was easy enough.
Native apps - the Tiles and Hubs - all worked and loaded almost instantly. They were extremely quick to jump to life and there were no delays. Third-party apps, however, were a lot slower. The demo Twitter client, and demo Fandago apps, for example, took nearly 30 seconds to open. Things were fast once the app started, but the launch delay was painful.
In sum, the new UI feels slick and polished. The architecture and layout is completely different from the old Windows Mobile, and that's a good thing. What's most absent is list after list after list of folders, and files to interact with. It's based heavily on graphics, and larger, easy-to-digest groupings. That's all good.
Will it be a good competitor to iOS and Android? Well, it easily surpasses the usability of Symbian, though webOS and RIM OS users might have enough available to them to prevent them from switching.
T-Mobile
HTC HD7
The HD7 is perhaps the most impressive of the crop of Windows Phone 7 devices headed to carriers later this year. It stands out with the largest display, at 4.3 inches, and closely resembles the popular HD2. It is large and sophisticated, but has less metal in the build than the HD2 did. The plastics are of solid quality, and the rounded edges mean it will easily slip into and out of a pocket.
There's no mistaking that it is a large device, but that's becoming more commonplace.
As with the others, the buttons on the front work well, and I had no trouble navigating the UI with the three keys. The volume toggle and dedicated camera key all have good travel and feedback. Most agree that the instant-un-lock-to-take-a-picture could be really helpful in instances when you need to wake the phone up in a hurry to catch a shot.
There's a nice design touch where a silver speaker grill peeks out from the top and bottom of the front glass. It's such a thin sliver you might not notice it at first, but it adds class to the design.
Of course, we have to mention the kick stand. The HD7 has a trick kick stand on the back that frames the camera and folds out to support the HD7 for media viewing. Think of the kickstand on the EVO 4G, and you're in the right ballpark. I worry about it's strength. The kick stand is made of metal, as is its hinge, but it still fees like it could be easily snapped off.
In sum, the HD7 is a really good entry for Windows Phone 7.
Dell Venue Pro
The Dell Venue Pro is the only vertical slider in the bunch of new Windows Phone 7 devices. It offers a similar screen size and resolution to the competition, but pops up to reveal a compact QWERTY keyboard underneath.
The overal fit and feel of the Dell Venue Pro is pretty good, though the form factor increases the thickness of it somewhat. It was probably the thickest of the WP7 devices announced today. The materials felt good, and the rounded edges make it feel good in the hand.
All WP7 devices have the same three buttons on the front: Back, Home and Search. Each does what it says, and mimics the buttons' behavior on Android devices. The controls on the outer edge all felt good, though they are a little bit on the small side.
As for the keyboard, the buttons were a wee bit cramped, but typing on it didn't feel bad at all. I would have preferred to see some more specialized keys, such as "www" and ".com" but it wasn't difficult to interact with the function keys or shift keys, which are key.
The display looked great. Dell didn't spell out too many details about the display's specs, but in person is dazzles. The glass over the front is unique in that it's a curved surface. This could lead to glare issues, although we didn't have enough time with it to verify this. Dell claims it's ultra-tough Gorilla glass, which makes it the only curved example of that material we're aware of.
The Dell Venue Pro will be available direct from Dell later this year. It's compatible with T-Mobile and you'll be able to get a T-Mobile contract discount, but T-Mobile won't be selling it through their own channels.
AT&T
HTC Surround
The HTC 7 Surround is one of the more interesting form factors to launch with Windows Phone 7. It looks and feels similar to the HD7, but it thicker to accommodate the slider mechanism. Rather than offer up a QWERTY keyboard under the slider, the Surround offers two stereo speakers for media playback and a kick stand. It's not many phones that ship with stereo speakers, and even fewer that hide them under a slider, but that's exactly what the Surround does.
The slider mechanism felt a bit stiff. It was work to get it to open. It only slides about 1 or 1.5cm, and the two speakers are teensy. The kickstand on the back and the speakers on the front, mean you can sit and watch movies with no problem.
Given the thicker form factor, it is a little bit less pocket friendly, though it is still thinner than the LG Quantum. The rounded and smooth surfaces still make it easy to slip into and out of a pocket.
It has the same three buttons on the front, each of which worked well. The camera button and volume toggle also had a good feel to them. The lock key and 3.5mm headset jack were on top, and the camera and flash were on the back.
It has an excellent display, but it doesn't quite match the 4.3-inch monster on the HD7.
I can't say if the video-centric form factor will appeal to everyone, but it will definitely appeal to some. Look for it on AT&T soon.
LG Quantum
The LG Quantum is the only sideways slider Windows Phone 7 device that offers a full QWERTY keyboard. It is probably the thickest of the Windows Phone 7 devices being displayed by U.S. carriers. Despite the thickness, it has a small-ish footprint due to the smaller screen.
It has a nice, rounded feel to it, and feels like a bar of soap, a trend I've noticed among phones of late. It won't be a problem to put in a pocket.
The buttons on the front work well, but I didn't think the slider had a good feel to it. It was a bit rough, and it felt as though there might be some sand or grit in the slider mechanism somewhere.
Underneath, the keyboard felt roomy and easy to work with. The keys were a bit on the flat side, making them somewhat difficult to tell apart, but they had good travel and feedback. It was a four-row keyboard, and had navigation keys, but not specialized buttons for internet characters.
The buttons along the right side of the device worked fine, and the 3.5mm headset jack on top rounds out the hardware features.
Samsung Focus
The Samsung Focus is a tight, little slab-style WP7 coming to AT&T. The Focus feels very much like one of Samsung's Galaxy line of Android devices. The plastics have the same, er, plastic-y quality, although it felt solidly built. It was thin, compact, and light, making it comfortable to hold and use. It will fit in pockets no problem, and has rounded surfaces.
It was responsive to the touch, and the three main WP7 buttons on the front worked well. I experience no delay in jumping back a screen, or to the home screen, or to the Bing search tool.
The volume and dedicated camera buttons were small, but worked well. I like that Samsung has been putting a tiny, sliding door over the microUSB ports rather than a peel-off hatches. It's easier to deal with than the peel-offs.
The camera and flash are on the back, and the 3.5mm headset jack is mandatory.
What's most striking about the Focus, of course, is the Super AMOLED display. It looks just as stunning as it does on Samsung's Android devices. It is bright, sharp, colorful, and a joy to look at.
This one lands at AT&T later this fall.
HTC 7 Pro
Another Windows Phone 7... phone... we got a sneak peak at is the HTC "7 Pro" for Sprint. This won't hit the market until the first half of 2011. It's too early in development for HTC to demo it powered on.
The 7 Pro has a unique hinge that lets the screen slide almost the entire width of the phone, then tilt up. It's a great idea, although it look fragile. Trying it hands-on, it's more solid than it looks, but still feel fragile enough to make us nervous. No doubt HTC has done their homework with engineering and testing, but confidence can be a selling point. Regardless of its strength, the hinge isn't the easiest to use. It takes some effort to slide open, upon which the screen flips up automatically on a spring. That means closing it requires some effort and dexterity, as you first have to hold the spring-loaded screen flat, then slide it closed. It's enough of a chore that you may think twice before opening it, opting for the on-screen keyboard more often than you would otherwise.
The phone otherwise feels solid... very solid; t's neither light nor thin. It feels good, though, and the keyboard feels excellent (though we couldn't verify typing accuracy without power.)
Liveblog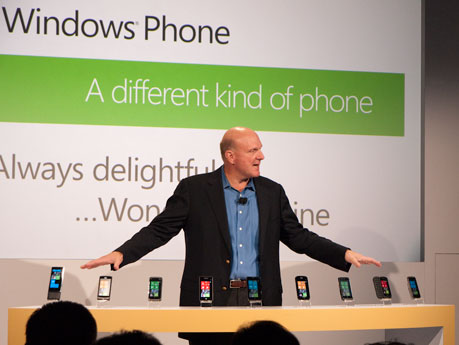 11:11 AM:
That's a wrap. Hang tight for hands-on in a few minutes.
9:35 AM:
Big news: copy and paste WILL come to Windows Phone 7 in early 2011.
9:35 AM:
Update mechanism: ALL phones will get software updates, regardless of carrier, manufacturer.
9:34 AM:
Demo-ing 3D games (impressive), Sims.
9:31 AM:
3D animated avatars dance around... literally... on your Windows Phone screen.
9:31 AM:
Really, really in-depth interface for game avatar editing.
9:29 AM:
Dedicated Games hub. Multi-player games on XBox Live.
9:29 AM:
Showing third-party apps: IMDB, U-Verse... Next... games.
9:23 AM:
Third-party music/media integration with API (for YouTube, Slacker, etc.)
9:23 AM:
Zune music experience: has dedicated screen for "new" stuff.
9:22 AM:
Office hub: OneNote is the up-front first app. Syncs with free web version if you don't have OneNote on the desktop.
9:19 AM:
...plus of course, easy access to all of *your* photos on Facebook and Windows Live.
9:19 AM:
Photos hub: recent activity screen includes all photos from your contacts posted to Windows Live and Facebook.
9:18 AM:
People hub has one social networking screen for all of your contacts, too.
9:17 AM:
People hub: recent and favorites, of course. Hub for each person gives you quick link to call, text, email, write on Facebook wall... Also social networking page with all social updates for that person collected on one screen.
9:15 AM:
System-wide voice search. Press and hold home key to activate. Say search (stock quotes, flight status, etc.) and it sends audio to TellMe servers, which returns visual results like Bing search.
9:12 AM:
Bing search switches easily between local (map) results, web results, news, etc.
9:10 AM:
Maps uses both GPS and Wi-Fi to determine location.
9:10 AM:
Maps includes walking and driving directions, traffic, satellite views, automatically defaults to whichever mode will be faster (walking or driving.)
9:08 AM:
Calendar event screen includes an "I'll be late" button.
9:07 AM:
Email integrates maps and calendar. A meeting invite email automatically shows schedule conflicts and link to venue map.
9:05 AM:
Demo-ing email and text entry. Predictive text and auto-correction works well (much like iPhone, really.)
9:03 AM:
Demonstrating photo taking. Very fast to pull out of pocket and snap photo without unlocking. Also very fast to upload to Facebook, with slick uploading animation across top.
9:01 AM:
Demonstrating home screen customization. Can arrange contact shortcuts anywhere, with slick animation. Like iPhone, but opposite (non-active tiles get smaller and jiggle, while active tile being dragged stays same size.)
8:53 AM:
Only one model available at launch on Nov. 8, other two available "a few weeks later."
8:53 AM:
AT&T launching U-Verse TV for Windows Phone, plus TV streaming option for non-U-Verse customers for a low monthly fee.
8:52 AM:
Samsung Focus has 9.9mm body, 1 GHz processor, best screen. Also $199.99.
8:51 AM:
HTC Surround has 1 GHz Snapdragon processor, 5-megapixel camera, surround sound, capacitive touch screen, and kickstand. $199.99
8:50 AM:
LG Quantum has 1 GHz processor, 16 GB of memory, DLNA, and slide-out keyboard. $199.99.
8:49 AM:
Ralph de la Vega on stage. AT&T will launch devices on Nov 8th.
8:47 AM:
AT&T, Orange, T-Mobile, Telstra, Telus, Vodafone, SFR are among launch carriers.
8:46 AM:
Dell, HTC, LG, Samsung are first hardware partners.
8:45 AM:
Some have keyboards, some are ruggedized.
8:45 AM:
Lineup of nine phones just literally slid onto stage (in rather slick sci-fi way.)
8:43 AM:
Windows Phone 7 will be "always delightful" and "wonderfully mine."
8:42 AM:
Steve Ballmer on stage.
Tune in for live coverage of the Windows Phone 7 launch event, and later today, in-depth hands-on with the phones.
Data Plans
With this phone constantly updating and AT&T not having unlimited internet, I wonder how they are going to handle this phone. I think it will be better on TMO or Sprint.
I can't take Windows Phone 7 Seriously.....Yet
No multitasking, and no copy and paste? What year is this again? Didn't we already have to go through that kind of crap with the Iphone since 2007? And here it is, the end of 2010, and you do this?
Copy and paste is coming in early 2011.

This is a whole new OS from the ground up. Frankly, it has more features than I expected. Android was not this well-rounded and feature-complete in version 1.0, or even 1.5, for that matter.

I'm not saying...
(continues)
bkw79 said:
No multitasking, and no copy and paste? What year is this again? Didn't we already have to go through that kind of crap with the Iphone since 2007? And here it is, the end of 2010, and you do this?
I ...
(continues)
Yes, copy paste is important, but it's also on the way. Android has copy paste but it's hardly the best implementation of it. (I wouldn't say apple's is either.. it asks me to copy things FAR too often)

More important (at least when it comes to a...
(continues)
Didn't we already have to go through that kind of crap with the Iphone since 2007
#correction;
We had to go through that crap IN 2007, not SINCE 2007. Using the word "since" implies that the iPhone still does not have co...
(continues)
Windows Phone 7 on T-Mobile HD2
Does anyone know if 7 will be available for HD2? I am thinking about putting Android on it, but want to wait to see what 7 brings to the HD2.
Thanks.
I dont believe they are going to put it on the HD2.
Well, yes and no. The Windows Phone 7 version of the HD2 is called the HD7. You'll have to buy a new phone.

(Although if you're feeling adventurous and want to void your warranty & risk bricking your phone... the hacking community may whip up some ...
(continues)
HTC 7 Pro = Yuck!!
OK so I have Sprint and want to try a Win 7 Phone, and from reports the HTC 7 Pro goes to Sprint. Not only do I have to wait till sometime next year, but it does not look that appealing to me. Now I'm leaning toward jumping ship to att for the Samsung Focus. 😢
no video?
i need to see the UI in a video
What is up with this information??????
16 gb internal for the HTC surround, what about the other 2 ATT phones? no info on that?

No front facing camera on any ATT phone, really?
Carpe_Everything_baby said:
16 gb internal for the HTC surround, what about the other 2 ATT phones? no info on that?

No front facing camera on any ATT phone, really?
iPhone 4
Carpe_Everything_baby said:
16 gb internal for the HTC surround, what about the other 2 ATT phones? no info on that?

No front facing camera on any ATT phone, really?
They have the iPhone 4
Wow!
Dynamite coverage, guys.

My contract can't end fast enough...
muchdrama said:
Dynamite coverage, guys.

My contract can't end fast enough...
Yeah, I was thinking about an Epic when my upgrade comes around, but I'm impressed with WinMo7. Depending on how it turns out, I may ...
(continues)
The Way I see it
Windows is trying. For that I tip my hat ... problem is I'm not wearing a hat. This entire idea of another market to compete with Android and Apple ... nobody needs it. Maybe it'll be a contender in the future, but considering their choice to not include "cut and paste" (though it will arrive shortly) seems like a red flag at the business they're running.

Before I can totally bash this, however, I will need to play around with the different phones, see if I like them or if I'm going to stick with Android.

Anyways, that's my two cents.
Samsung Focus w/QSD8250??
This appears to be a fantastic device and I would purchase it in a heartbeat, if it weren't for one thing; a QSD8250 Snapdragon processor? WTH? Not that a 1ghz processor is anything to scoff at, but come on, a first gen. Snapdragon that was released in late 2008! This would also mean that the GPU would be the Adreno 200, which if I understand correctly, has only a fraction of be processing power of the SGX535 found in the iPhone 3GS for example. The Galaxy S Captivate running Samsung's Hummingbird has the SGX540 GPU which out performs even the iPhone 4. The fact that Samsung would use a relatively antiquated processor/gpu in a device with so much potential, running such a highly anticipated spanking new OS, is just mind boggling and for me ...
(continues)
I agree that they COULD put a better processor in it, but from what I've seen of these phones the 1GHZ processor works very very well with this OS, as well as keeping a processor that works well, rather than one that may be overkill will keep the pric...
(continues)
love iphone
Far more phones in the market I would like to choos iPhone, I love my iPhone, I think no one can exceed it, and many are after Apple, design, time...As so many ones have got the iPhones, and totally sucked in it(at least Im sucked in its movies and videos watching on the go with the help of iFunia Video Converter, and Facetime with my friends), the others come into the market one by one.
And no one cares. If you're not going to comment on the story at hand, don't bother posting.

I'm glad you have a device you like, but keep it to the iphone news topics