Windows Phone 7: Hands-On
Interface T-Mobile AT&T HTC 7 Pro Liveblog Comments 33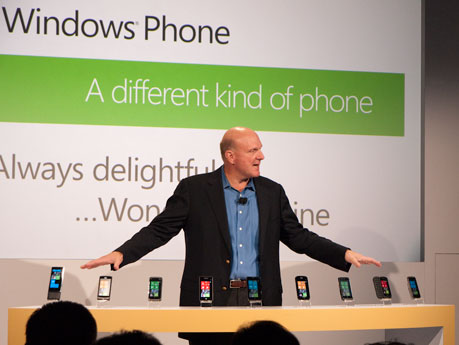 11:11 AM:
That's a wrap. Hang tight for hands-on in a few minutes.
9:35 AM:
Big news: copy and paste WILL come to Windows Phone 7 in early 2011.
9:35 AM:
Update mechanism: ALL phones will get software updates, regardless of carrier, manufacturer.
9:34 AM:
Demo-ing 3D games (impressive), Sims.
9:31 AM:
3D animated avatars dance around... literally... on your Windows Phone screen.
9:31 AM:
Really, really in-depth interface for game avatar editing.
9:29 AM:
Dedicated Games hub. Multi-player games on XBox Live.
9:29 AM:
Showing third-party apps: IMDB, U-Verse... Next... games.
9:23 AM:
Third-party music/media integration with API (for YouTube, Slacker, etc.)
9:23 AM:
Zune music experience: has dedicated screen for "new" stuff.
9:22 AM:
Office hub: OneNote is the up-front first app. Syncs with free web version if you don't have OneNote on the desktop.
9:19 AM:
...plus of course, easy access to all of *your* photos on Facebook and Windows Live.
9:19 AM:
Photos hub: recent activity screen includes all photos from your contacts posted to Windows Live and Facebook.
9:18 AM:
People hub has one social networking screen for all of your contacts, too.
9:17 AM:
People hub: recent and favorites, of course. Hub for each person gives you quick link to call, text, email, write on Facebook wall... Also social networking page with all social updates for that person collected on one screen.
9:15 AM:
System-wide voice search. Press and hold home key to activate. Say search (stock quotes, flight status, etc.) and it sends audio to TellMe servers, which returns visual results like Bing search.
9:12 AM:
Bing search switches easily between local (map) results, web results, news, etc.
9:10 AM:
Maps uses both GPS and Wi-Fi to determine location.
9:10 AM:
Maps includes walking and driving directions, traffic, satellite views, automatically defaults to whichever mode will be faster (walking or driving.)
9:08 AM:
Calendar event screen includes an "I'll be late" button.
9:07 AM:
Email integrates maps and calendar. A meeting invite email automatically shows schedule conflicts and link to venue map.
9:05 AM:
Demo-ing email and text entry. Predictive text and auto-correction works well (much like iPhone, really.)
9:03 AM:
Demonstrating photo taking. Very fast to pull out of pocket and snap photo without unlocking. Also very fast to upload to Facebook, with slick uploading animation across top.
9:01 AM:
Demonstrating home screen customization. Can arrange contact shortcuts anywhere, with slick animation. Like iPhone, but opposite (non-active tiles get smaller and jiggle, while active tile being dragged stays same size.)
8:53 AM:
Only one model available at launch on Nov. 8, other two available "a few weeks later."
8:53 AM:
AT&T launching U-Verse TV for Windows Phone, plus TV streaming option for non-U-Verse customers for a low monthly fee.
8:52 AM:
Samsung Focus has 9.9mm body, 1 GHz processor, best screen. Also $199.99.
8:51 AM:
HTC Surround has 1 GHz Snapdragon processor, 5-megapixel camera, surround sound, capacitive touch screen, and kickstand. $199.99
8:50 AM:
LG Quantum has 1 GHz processor, 16 GB of memory, DLNA, and slide-out keyboard. $199.99.
8:49 AM:
Ralph de la Vega on stage. AT&T will launch devices on Nov 8th.
8:47 AM:
AT&T, Orange, T-Mobile, Telstra, Telus, Vodafone, SFR are among launch carriers.
8:46 AM:
Dell, HTC, LG, Samsung are first hardware partners.
8:45 AM:
Some have keyboards, some are ruggedized.
8:45 AM:
Lineup of nine phones just literally slid onto stage (in rather slick sci-fi way.)
8:43 AM:
Windows Phone 7 will be "always delightful" and "wonderfully mine."
8:42 AM:
Steve Ballmer on stage.
Tune in for live coverage of the Windows Phone 7 launch event, and later today, in-depth hands-on with the phones.