Review: Samsung Fascinate
Form Basics Extras Video Tour Wrap-up Comments 94
Is It Your Type? Body The Three S's Touch
Screen
The large Super AMOLED screen on the Samsung Fascinate, and on all the Samsung Galaxy S phones, is really a sight to behold. The color is so vibrant and the contrast so dark and inky that interface just pops in a way that no other phone can. The iPhone's retina display may look more sharp, but Samsung's Super AMOLED beats you over the head with bright color. Outdoors, the Fascinate holds up. It isn't as bright and it loses most of that great color, but it's still quite visible when navigating the interface or taking photographs.
Signal
I was not terribly impressed by the signal performance I saw on the phone. Calling worked much better than the data network. In the vault (my parents somewhat rural Maryland home), the network flickered from 3G and digital 3G roaming to 1xRTT to no signal at all. But no matter what the bars said, I was unable to use the data features on the phone. Phone calls from the vault mostly did not go through, though a few found their way and these held on and did not drop. Even when I was out and about, I was usually disappointed by the data signal. It seemed slower than I expected from Verizon, and data performance was usually behind other phones I'm testing on other 3G networks. Wi-Fi worked just fine on my home network and at my local coffee spot.
Sound
Sound quality on the Samsung Fascinate was good but it could use some improvement all around. During calls, voices were a bit low and bass-heavy, with some muffled moments. There were some dropped voices during the worst moments of bad reception, but I didn't have a problem with completely dropped calls. The speakerphone could stand improving. It sounds tinny and weak, with a volume to match. It can get screechy loud during some poorly mixed songs, but it's not a good sound, and it wasn't great for speaker phone calls in a fast moving car. The phone comes with a wide selection of ringtones, and if the jangly pop beats don't appeal to you, there is an assortment of more standardized tones that actually sound like a phone ringing.
AD article continues below...
Battery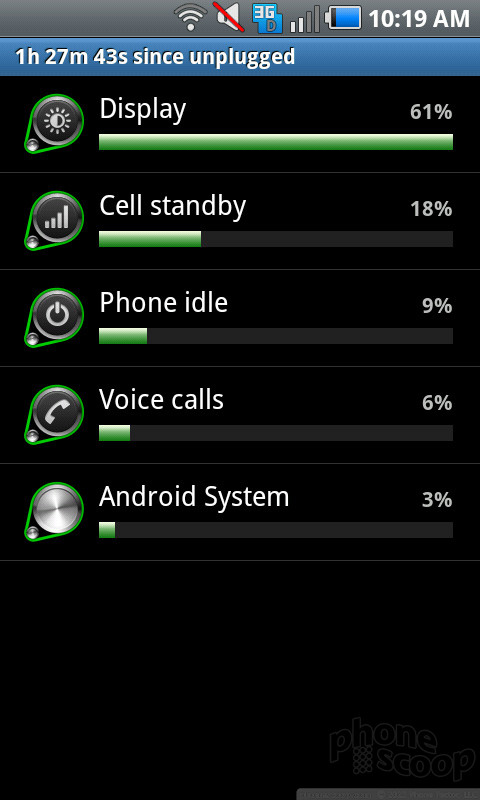 Battery life for the Fascinate was adequate, though not impressive. For the fast performance and huge screen you'll have to charge your phone every night, but it should last through a day's use if you aren't relying on it for navigation or more than a few seconds of HD video recording. I might have chosen a bit more weight or another millimeter of thickness to eke out some serious camera time.