LG's Versa Vaults Onto Verizon's Network
Article Comments 68
Feb 26, 2009, 12:00 AM by Eric M. Zeman @zeman_e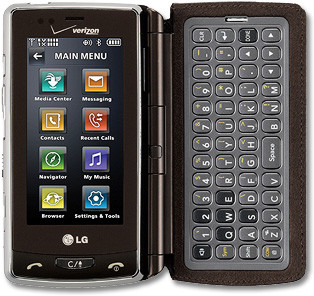 Today Verizon Wireless and LG announced the LG Versa - short for versatility. The Versa's stand-out feature is its combination of a 3-inch touch display with a QWERTY keyboard that can be attached or removed at will to suit the user's needs. The Versa has a customizable 3D user interface and provides haptic feedback when touched. Other features include an accelerometer, GPS, 2 megapixel camera with autofocus, flash and video capture, Bluetooth 2.1+EDR, and visual voicemail. The Versa has a full HTML browser that supports RSS and multiple windows, and it supports microSD cards up to 16GB. The Versa will be available beginning March 1 for $200 after rebate with new agreement.
source: Verizon Wireless
I wonder....
How long before it takes for customers to pile back into the stores because they lost their detachable keyboard? 😕
mandi72886 said:
How long before it takes for customers to pile back into the stores because they lost their detachable keyboard? 😕
I see you have teenage daughters too!
Versa now on the Verizon's site
Just went to the Verizon's site and it's listed with the other touch screens.
some stores in the Bay Area have it too...
In some ways yes, and in other ways no, VZW has these teenager chix phones in one form or another way before the G1.
Agree!

That and a Nokia E90 copy.
I don't think it stands up to the G1, but if it were a G1 knock off would that be a problem considering there is no way to purcase a G1 on CDMA...yet?
Not really, no. I mean, I can see why you would say that...sure. This though, is a VERY typical type of phone Vzw would release. They took 2 things everyone wants right now and made it so that you can have both or one at will (touch + keyboard). You k...
(continues)

G1 knock off

Did I miss something? Since when did the G1 come with a removable keyboard?
And isn't the G1 considered a smartphone? This is just an LG Dare with a keyboard. And considering how popular the Dare is, throw a...
(continues)
Wait . . . what now? Did I miss the memo that says all touch screen phones with a physical QWERTY are now G1 rip offs? Even if they do not run Android? Ugh, and I'm still on the page that says all touch screen phones are iPhone rip offs.
Yes, it is a G1 knockoff being a smartphone integrated with a mobile searchengine... wait...

It's essentially a Dare with a real keyboard because people like me and others would shatter an onscreen keyboard from use.

I'm a huge fan of the G1/...
(continues)
How is this a G1 Knock off. This is an updated version of the lg Voyager which released almost 10 months before the G1 was released.
Another flavor of Dare!
WooHoooooo!
I'm excited, the detachable keyboard and threaded text messaging make this device perfect for me. I can't wait to see one.
Skeptical
The fact that this phone has a add-on keyboard doesn't call my attention so much. I'd rather have a phone with built-in keyboard like voyager or env2.

Also full html? will it have java and flash? i don't think so which is a cons against these phones.

But I guess we'll wait and see to redeem my NE2 and hopefully that rule of having to pay for VCast like it or not like with the PDA/Smartphone doesn't come on effect any time soon.
There is no such rule requiring the $15 Vcast feature and hopefully there never will be. Someone needs to go ahead and make a phone which has full HTML and a great calendar for the folks who complain about not needing a data plan. I don't know if th...
(continues)
Yes it has Adobe Flash support.
I think my biggest concern is how often these things are going to break. Anything that is detachable can hurt by customers doing it too fast or dropping it. I wouldn't be so excited about buying this phone at all...
Seriously - who cares?
I'm sure it will be full of Verizon's crappy nickel and dime software and non-customizable options which is why I won't buy another Verizon phone. I switched to a smartphone and couldn't be happier (esp with the options and software available).

What's with all these cheesy teenager phones being released these days anyway?
Because cheesy teenagers buy these phones in the millions.

Just because a PDA works for you does not mean the rest of the world needs to configure to your needs. Not everyone wants or needs a PDA phone.
Nickel and Dime software? Pretty sure I don't have any of that on my phone. Only thing I can think of is data, but I have the Vpack so that's taken care of. (you have that with smartphones too if you have one of the old models and refuse getting a ...
(continues)
Even though this phone will be able to perform a lot of the same functions pda's and smartphones do, it is not either one. This phone has plenty of customizable options. The interface was made for versatility.
Another article, more detail
Thanks for the arcticle! 🙂
video formats
One thing making me want one (as an upgrade from nothing, I don't currently have a cell phone) is support for playing back mp4's and wmv's along with m4a audio.

Haven't been able to find anything about resolution restrictions, or whether it requires specific encoding options though...
I would prefer to encode it in a screen resolution that is proper to the phone, 480x240 (that's a little better than the Dare's 400x240) or in 320x240 if it's a 4:3 rez video.
touchscreen and os.....
Does anyone know if the touch is pressure sensitive? Also will this be running the new os lg was showing of at ces?

Any help

Thanks
It's most likely going to be like the Dare in terms of Touch Screen (off of touch/heat).

As for the OS, it won't be the dare's because it supports multi-window browsing and a few other things that make it a new os... as for that cool "cube" interf...
(continues)
Picture looks good but...
... but will wait till i see it in person and get to play with it at a store...