Review: Motorola i1
Article Comments 64
Aug 2, 2010, 1:21 PM by Eric M. Zeman
Motorola's i1 brings Android to Sprint Nextel's iDEN network. For iDEN and PTT lovers, it's a dream come true. For anyone else, it's a backward step.
Form
Is It Your Type?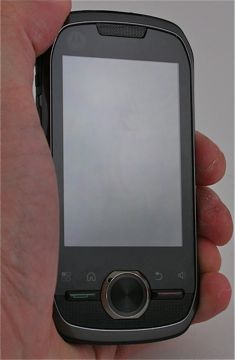 The Motorola i1, from Sprint Nextel, is the first semi-ruggedized push-to-talk Android device. It marries classic Motorola design with Google's smartphone platform and gives the iDEN crowd a nice alternative if you're tired of the tried-and-true clamshells that Motorola has been pushing forever. But there are some drawbacks, the biggest of which is the out-dated Android software on board the i1. Is anything else holding it back? Phone Scoop finds out.
Body
The Motorola i1 is a semi-ruggedized Android device that has appealing looks and a reasonably good set of features. It is solid in the hand though a little bit on the weighty side. Overall it feels good. There are rubber bumpers on the top and bottom corners of the device that give it a little bit of toughness. There's a soft-touch paint job on the back that makes the i1 feel grippy. It's one of Motorola's better designs of late. Its size presents no problems when shoving it into a pocket, but the rubber top and bottom edges slow down the process of pressing it in and pulling it out.
The front of the i1 has a large touchscreen and below the screen are four capacitive buttons: Menu, Home, Back and, oddly, Speakerphone. There are physical Send and End keys, which are placed on either side of a circular D-pad. It is nice to have these physical buttons. They are useful if you want to quickly jump to the phone application. The travel and feedback of these keys is quite good and the D-pad has a nice feel to it. I really like the way Motorola designed it.
On the top left side of the i1 there is a volume toggle. It's a little on the small side, problematic if you're wearing gloves, but it's covered in rubber and is easily found there. There are two distinct buttons for the volume up and volume down functions and they work well.
Below that is the large direct connect button used for push-to-talk calls. It is easily found even if you are wearing gloves. It has excellent travel and feedback, with a clearly defined "click."
On the right side we have the microUSB port hiding under a rubber flap and above that we have a two-stage camera key. The camera key works quite well. Both stages are clearly defined for focusing and shooting a picture.
Above the camera key is a sliding switch that is used to lock the battery cover and back plate of the phone in place. You have to place the battery cover on the phone, press it firmly and then slide the switch that locks and seals it up pretty good. This helps prevent moisture and dust ingress into the phone.
The screen lock key is placed on the top edge of the i1 and it is covered in rubber. There also is a rubber hatch covering the headset jack, which disappointingly is 2.5mm instead of 3.5mm. This means you'll need to use an adapter with your regular set of stereo headphones.
Once unlocked, peeling the battery cover off is a little bit of a chore. You do have to slide your fingernails firmly underneath the edge of the battery plate and pull. Once you get that off, the battery is easily removed, as is the SIM card and microSD slot. The card can be removed while the phone is on, so hot swapping is possible and that's always nice.
In all, I like the design of the Motorola i1. It's not elegant nor refined, but that's OK. It's a phone that will survive the daily dose of abuse that cell phones are forced to live through.
The Three S's
Screen
The i1's display is identical to the screen used on the Motorola Cliq XT and Backflip. It measures 3.1 inches with 320 x 480 pixels. I wish the display were at least half an inch bigger. It is noticeably smaller than the screens the competition is delivering, which fall in the 3.5- to 4.3-inch range. It is bright enough indoors and is colorful, no doubt. Surprisingly it fared much better than its predecessors when outside. I was able to use it with little trouble, even in direct sunlight. Motorola knows a phone such as this is going to spend a lot of time outside.
Signal
The i1 performed excellently on all signal tests. If there was Sprint-Nextel iDEN signal nearby, the i1 found it and latched on tight. I had no missed calls, no delayed messages, and no other problems related to signal strength or quality. Nor did the i1 drop any calls. Data is a different story. The i1 is iDEN only, no EVDO on board at all. That means very slow browsing speeds. Thankfully it has Wi-Fi as backup, and I found Wi-Fi to be essential for mobile data.
Sound
True to Motorola form, the i1 has really good call quality. The earpiece was loud enough for me to hear callers in most everyday environments. Calls were free and clear of static, noise, hissing, echoes or other odd happenings. Those to whom I was speaking registered no problems, either. The speakerphone and ringtones were plenty loud. I can't say they'd overcome a noisy construction site, but the i1 could easily be used for a conference call in a busy office setting.
Battery
The i1 delivers acceptable battery performance for an iDEN-Android phone. I was able to consistently get about 36 hours of continuous use out of it. Meaning, if I unplugged it at 7 AM on Friday, it died at about 7PM on Saturday. Going out of town, even for one night? You should probably still bring a charger, just in case.
Touch
The i1's capacitive touch display felt more responsive when compared to its cousins, the Cliq XT and Backflip. I had only a few missed presses during my time with the i1. Most of the time it worked just fine with no issues whatsoever.
Basics
Menus
The i1 runs Android 1.5 without Motoblur. Motorola said that in the future, the i1 may be updated as far as Android 1.6. To me, with Android 2.2 devices already hitting the market, this is just inexcusable. Android 2.0 has been available for 9 months now, Android 2.1 has been available for 7 months. How is it possible that Motorola would skip either? It's the equivalent of releasing a brand new Windows Mobile 5 device, even though Window Phone 7 is almost ready.
Sigh.
Anyway. The i1's version of Android 1.5 is mostly stock, with only a few color changes to some buttons here and there. It has three home screens for customization and is loaded with plenty of Sprint Nextel bloatware. I like that Sprint Nextel decided to put huge widgets that control the Wi-Fi and Bluetooth radios on the main home screen (especially considering how critical the Wi-Fi is).
At the bottom of the screen you'll find three software buttons: Phone, Main Menu, and Contacts. These are self explanatory. The main menu looks like any other Android 1.5 device you may have seen, and the deeper menu pages are the same old Android we've seen since Day 1. They all take some time to get used to, but are certainly easy enough to figure out.
I wish there were more home screens for apps and widgets. I find three to be too few. That's probably my biggest complaint with the i1. Given how great some Android widgets are, the lack of real estate is a bit of a downer.
The i1 presents no challenges to use. Perhaps the one benefit of Android 1.5 is that there's a lot less to complicate how the phone is used.
Calls / Contacts
Calls
The dialer application can be launched from a dedicated software button on the i1's home screen. The main dialer has a large numeric keypad in the middle, with four tabs along the top and three buttons at the bottom.
The top tabs take you to the dialer, recent calls, frequently called numbers and your speed-dial/favorites list. The default action when you launch the dialer is to search through your contacts. The three buttons on the bottom let you open the contact list, call whatever number is on the screen, or open up the voice dialer.
If you press the dedicated Send key (from pretty much any screen or application), the i1 jumps straight to the call log. I like that the phone app on the home screen and Send key take you to different places in the calling system of the i1. If they both went to the dialer, that would be annoying.
The Direct Connect tools on the Motorola i1 are pretty much identical to any other PTT phone made by Motorola. Press and hold the PTT button on the right side, and the i1 takes you to the PTT calling menu, with Direct Connect contacts listed first. There is also a tab to see recent PTT sessions. Select a contact or a session, hit the PTT button and you're on your way.
PTT sessions were exactly as I expected. I couldn't find any differences between the i1 and any other stock PTT phone.
Contacts
Search is still the best way to sort through a large list of contacts and it is the default action when you open the Contacts application. You can choose to start typing a name and the i1 will automatically begin to search through the contact list and find who you're seeking. Alternately, if you're unpopular and don't have a lot of friends, you can swipe up and down through the contact list. Having the zoom bar on the right side of the contacts list is helpful for jumping from A to Z much faster than flicking up and up and up.
Each individual contact looks and works about the same when compared to other Motorola Android devices, but the i1 adds fields for Direct Connect information. This lets you reach out to your iDEN walkie-talkie buddies faster and perform some of the PTT-specific tasks (such as group PTT sessions) that the i1 offers.
Messaging
The i1 offers only the basics. The stand-alone Gmail Android application is your best bet for mobile email. It is the stock Gmail experience for an Android handset. It works well and I have no complaints with it. Gmail on Android is still the best native Gmail experience you can get on a mobile device.
Sprint has also provided its own, separate email client, which supports Exchange email, since Android 1.5 doesn't. Both the Sprint email app and Gmail will also sync contacts and calendar data.
On the instant messaging front, Google Talk is built in. If you're interested in AIM, Windows Live or Yahoo, you'll have to scout through the Android Market to see what's available. That's kind of weak, in my opinion.
The SMS/MMS application is the stock Android tool. It works fine for composing messages, and the threaded conversational format makes talking to friends less painful. It offers colored bubbles that makes reading conversations pretty easy.
I strongly dislike that Android 1.5 doesn't support some of the social networking features that Android 2.0+ does. For example, Android 2.0+ devices have ready access to your contacts' social networking profiles from the contacts app. This leads to a much more seamless experience across the handset when you're looking to perform some tasks — especially those of the social networking kind.
Beyond that, the i1 doesn't even come with any social networking applications pre-installed. You have to go out and find them yourself. Oh yeah, and downloading applications via iDEN? The very definition of agony. What takes most phones perhaps 10 seconds to do, the i1 does in 10 minutes. Surely Sprint Nextel and Motorola could have spared the time to pre-load Facebook and Twitter for its customers. Nope. Thankfully the i1 supports the native Facebook and Twitter apps. Once they are installed, they act as they do on other Android handsets, though with less integration and more standalone-ness.
Extras
Music
The i1 uses the stock Android music player. I am tired of this software, and I was hoping Motorola would dress the player up a little bit, as it has for other Android devices. It didn't.
The player on the i1 gave me all sorts of trouble. It crashed constantly. I didn't have trouble with any other application on the phone, just the music app. It crashed so often, I was barely able to get through a single song without experiencing a problem.
Other than the crashy-ness, the i1 is reasonably hassle-free to deal with. The i1 comes with no PC software to help with sideloading songs. That means you have to resort to USB mass storage mode (which works fine), or download a third-party client, such as doubleTwist. This is what I've been doing of late.
Once music is loaded, you can sort through Artists, Albums, Genres, and Songs. The i1 does one thing that infuriates me. It lists music within albums alphabetically and not in the order that the artist created. So if you have tracks starting with A, or B, or C, they will be the first, even if numerically they are tracks 7, or 8, or 9. Really maddening. This means if you listen to an album from start to finish, it will be all out of order. Just a pet peeve.
There are no advanced features that I could detect. Most — but not all — of the album art came through. The player itself is unchanged from Android 1.0. Music playback through the speakerphone was surprisingly awful. Distortion city. It sucked.
Since I don't have a 2.5mm-to-3.5mm adapter, I resorted to using stereo Bluetooth headphones. These actually worked pretty well.
Camera
Camera
The i1 has a 5 megapixel camera. It is painfully slow to open. You have to forcefully press the camera key all the way down to get the camera to launch. It's actually a tiny bit faster to use a shortcut on the home screen to launch the camera. Either way, it still takes way too long to open for a modern cameraphone.
Once open, there is a focusing box in the center. Press the camera button halfway, and it will focus. Press it the rest of the way to take a picture. The whole process takes longer than I'd like it to. Too long to focus, too long to take the picture, too long to process it. Thankfully, you can turn off the image review feature. This means you can get back to the camera and take another picture just a little bit faster.
As far as controls go, there is a panel on the right side of the viewfinder that provides access to all the settings. Users can choose from several different quality and resolution settings, as well as scene modes, and control the flash. I like that the i1 has a panorama shooting mode, which auto-stitches the pictures together after it helps you frame the shot. That's cool stuff right there. All your basic settings are reflected through some little icons on the bottom left side of the display. This lets you see at a glance what resolution the camera is set to, the flash, shooting mode, etc. The i1 can also tag location data to photos, but you have to manually enable that feature.
It would be a fine camera if it performed just a bit faster.
Gallery
The gallery isn't bad at all. When you first open it, it presents images in a decent coverflow (coverslow?)-style view. You can swipe through your image library and it will slide by with a 3D effect. Press any image to open it fully. With images filling the entire screen, you can still swipe left or right to see other images.
Each image has an "i" in the upper-left corner. Press it and it will show you all the specs and information about that photo. Press the menu button to get at the usual Android gallery tools. These let you send, share, delete, tag, etc. There are also some limited editing features. The i1 lets users crop or rotate photos, add effects, or use the "One-Click Optimize", which attempts to right any wrongs committed by the image sensor.
What ever happened to Motorola's big partnership with Kodak? Where's all the great software we saw on the ZINE ZN5? It would be great to see some of that software here.
Photos
Photos
With 5 megapixels and a flash, I was hoping for better. The images turn out mostly OK, but none were spectacular. They'll be fine for most people and everyday sharing situations such as Facebook or TwitPics, but recreational photographers will be disappointed with the results generated by the i1.
On average, the i1 gets white balance, color tones, and exposure right, but the lighting has to be good to begin with. If you're in a dimly lit spot, or have super bright conditions, details are easily lost or blown out. Grain shows up in some outdoor images, but it was almost always present in photos taken indoors. The flash does little more than cast a bluish pall across people's faces in places such as bars or dark restaurants.
Advanced users may know enough to help the i1's camera overcome its limitations, but they'll be frustrated with the inconsistency of the results. Regular users may be pleased as punch with the results.
Videos
The quality of videos captured with the i1 is neither stellar nor stinky. They're just, well, OK. You might get lucky and shoot something with little grain that's relatively bright and clear. If you're not lucky, you'll see some random waviness and speckles of grain all over. In between, there's a dull pastiche of videos that are almost good, but not bad.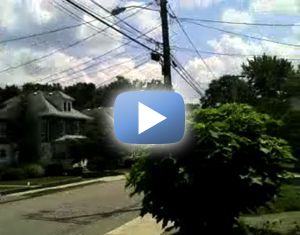 3GPP / MPEG-4 format (viewable with QuickTime)
File size: 1.8 MB
Browse/Customize
Browser
The i1 has the stock Android browser. I am pleased enough with the Android browser. It does a great job with most web sites, and has useful tools that help manage multiple open tabs, bookmarks, and more advanced settings for power users. With Wi-Fi on, it works just fine. It browses beautifully. If there's no Wi-Fi, well, that's a whole different story.
iDEN was just not meant for modern data use. There's no plainer way to state it. Browsing speeds are excruciatingly slow. When out and about (which is when I use my phone the most), the i1 is great at making voice calls and PTT calls, but it ain't so great at browsing the web. Sites just take forever to load. Thirty seconds is the fastest I was able to get a site to load, with most taking closer to two minutes.
The i1 also has Opera Mini on board. Opera Mini isn't as good a browser, in my opinion, but it is definitely faster to use via iDEN. Rather than taking 30 seconds for sites to load, it's more like 15 seconds. It's still a lot slower than most any real 3G phone.
Apps such as Facebook and Twitter, which are dodgy enough on some smartphones, were almost useless. Updating feeds was a nightmare at times.
Customize
The i1 is as customizable as pretty much any other Android device. The only real limitation is that there are three home screens rather than five or seven to make use of for apps, shortcuts, widgets and so on. However, those screens can be populated with whatever you want. Ringers, alerts, pictures IDs, all that stuff is old hat.
Extras
Apps
Using the Android Market to download apps over iDEN is worthless. Don't do it. If you need to get a new app, download it over Wi-Fi. Apps often take 10 or more minutes to download via iDEN. That's just no good. Android 1.5 may also mean that there are a number of apps in the Android Market that won't function properly on the i1. Many of the newest apps have been (or are being) optimized for Android 2.0+ devices.
Bluetooth
The i1 can tackle mono and stereo headsets with no problem. Bluetooth calls via mono headsets were not quite as spectacular as regular voice calls, but they were really good. No complaints from me. Really the only way to listen to music on the i1 is via stereo Bluetooth headphones. It sounds pretty good. I was unable to connect to my PCs or do anything such as transfer pictures to other devices because Android 1.5 doesn't support the necessary Bluetooth profiles.
Clock
Android phones have no end of options when it comes to clocks. The pre-installed clock apps are decent and work well. I like the stock analog clock that is on the home screen. You can easily tell the time from an arm's length. You can also download umpteen million clocks from the Android Market if you don't like the stock clocks.
GPS
The i1 offers Sprint's free navigation service, which is provided by TeleNav. It works great. I was easily able to map routes from Point A to Point B, get lost, let the GPS find me and re-route me. It all worked well. The voice-guidance works well, too. Compared head-to-head with Google Maps, TeleNav is the clear winner — but only because Google Maps on the i1 is hindered because it's stuck on Android 1.5. It doesn't offer the free voice-guidance that Google Maps does on Android 1.6+ devices.
Wrap-Up
The i1 is a solid phone. I expect nothing less from a Motorola-made iDEN device. It handles calls well, battery life is good, the PTT system works flawlessly and has been well integrated into Android. The hardware is good enough. It looks decent, holds up to some mild abuse, and can be rained on and/or taken to the beach if you want with no worries.
I wish the screen were bigger and had sharper resolution, but I suppose 3.1 inches isn't a dealbreaker. The software is mostly easy to use, and didn't have anything too tricky to deal with. The camera was a bit of a downer, as was the music application. They work, but could be better.
Android 1.5 is the biggest lynchpin holding the i1 back. Android 2.0 and up offers so much more and has much-needed features (native Exchange support, free Google Maps navigation, etc.) for a phone such as this. Being stuck with Android 1.5 when the premier Android handsets are all running Android 2.1 or 2.2 is just cruel.
The other problem is iDEN. It's perfectly serviceable for voice, PTT and basic telephony needs. It totally fails the i1 when it comes to web browsing and other mobile internet functions. The browser is beyond painful to use due to slow speeds, and the app market is useless without Wi-Fi. It's a shame the i1 doesn't have CDMA on board, even just for data support.
For Sprint Nextel addicts who absolutely have to have PTT functionality, the i1 is pretty much the only smartphone option at the moment. That means you're stuck with it. If PTT isn't necessary, I'd strongly recommend looking at some of the other Android handsets in Sprint's lineup.
I just don't understand the purpose of this phone--
--yes, it's 'ruggedized', but why buy it if you want an Android device? It's useless with iDen data.
muchdrama said:
--yes, it's 'ruggedized', but why buy it if you want an Android device? It's useless with iDen data.
I agree. It totally defeats the purpose. Would it be even possible to build a phone with iDEN and ...
(continues)
For those "stuck" with iDEN as a company requirement, who want a smartphone, this is a Godsend.

It's not for people with a choice of networks.
This phone is the answer to a lot of people's fervent prayers.

People who are already using Nextel know data is lousy. The fact that this phone has wifi is great.

And as soon as cdma/evdo/gsm can chirp as fast as Nextel, maybe y'all should just ...
(continues)
another fair and balanced review!
Thank you.

This phone has been anticipated for a long time, at least in a strong Nextel market like the one I live and work in.

Thanks for pointing out the pros and cons honestly!

~ miss chris
Boo To You To
I'm not one bit surprised it seems this phone will be outdated out of the box. It's Sprint & Motorola pretty much the things I hate & dread as a consumer. Buyer beware as this would only be worth free for a two year contract even if that.