Review: Motorola i1
Form Basics Extras Wrap-Up Comments 64
Is It Your Type? Body The Three S's Touch
Aug 2, 2010, 1:21 PM by Eric M. Zeman
Motorola's i1 brings Android to Sprint Nextel's iDEN network. For iDEN and PTT lovers, it's a dream come true. For anyone else, it's a backward step.
Advertisements article continues below...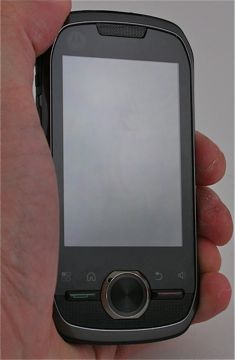 The Motorola i1, from Sprint Nextel, is the first semi-ruggedized push-to-talk Android device. It marries classic Motorola design with Google's smartphone platform and gives the iDEN crowd a nice alternative if you're tired of the tried-and-true clamshells that Motorola has been pushing forever. But there are some drawbacks, the biggest of which is the out-dated Android software on board the i1. Is anything else holding it back? Phone Scoop finds out.
I just don't understand the purpose of this phone--
--yes, it's 'ruggedized', but why buy it if you want an Android device? It's useless with iDen data.
muchdrama said:
--yes, it's 'ruggedized', but why buy it if you want an Android device? It's useless with iDen data.
I agree. It totally defeats the purpose. Would it be even possible to build a phone with iDEN and ...
(continues)
For those "stuck" with iDEN as a company requirement, who want a smartphone, this is a Godsend.

It's not for people with a choice of networks.
This phone is the answer to a lot of people's fervent prayers.

People who are already using Nextel know data is lousy. The fact that this phone has wifi is great.

And as soon as cdma/evdo/gsm can chirp as fast as Nextel, maybe y'all should just ...
(continues)
another fair and balanced review!
Thank you.

This phone has been anticipated for a long time, at least in a strong Nextel market like the one I live and work in.

Thanks for pointing out the pros and cons honestly!

~ miss chris
Boo To You To
I'm not one bit surprised it seems this phone will be outdated out of the box. It's Sprint & Motorola pretty much the things I hate & dread as a consumer. Buyer beware as this would only be worth free for a two year contract even if that.