Review: Pantech Ease
Article Comments 5
Jul 8, 2010, 4:10 PM by Philip Berne
The Pantech Ease is a simple messaging device with an interface and features that are easier to use for an older audience.
AD article continues below...
Form
Is It Your Type?
Is It Your Type?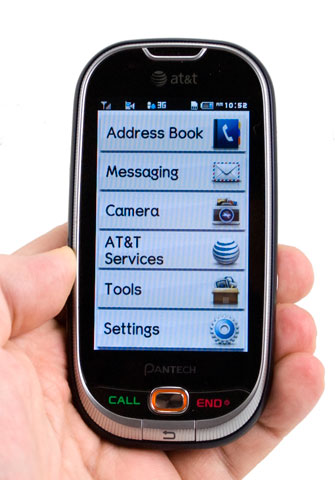 While AT&T offers plenty of quick messaging phones - feature phones with full QWERTY keyboards - the Pantech Ease tries to make things even simpler. Aimed at both older and much younger audiences who aren't interested in complex features and interface design, the Ease gives users a touchscreen experience with a full range of features hidden under larger icon buttons and easy-to-read text.
Body
It is not obvious just by looking at the Pantech Ease that it's meant as a simpler device, but a few intelligent design decisions do help make the phone easier to use. The phone is fairly thick, but not too thick to carry in your pants pocket. It wouldn't be comfortable in tight jeans, though. The back of the phone has a dimpled texture and a soft touch finish, which makes it easy to grip.
On the front of the phone, you'll find "Call," "End" and a back button, in addition to a centered select key. The keys aren't obnoxiously large, but they are plenty wide and easy to press. Keys don't overlap much or butt up against each other. I like that the Ease uses hardware keys beneath the screen instead of touch sensitive buttons, which have unfortunately become popular on inexpensive feature phones.
All around the phone, buttons are nicely raised and easy to spot. On the left you'll find two volume keys. There's also a microUSB port with no port cover. That's a plus, because those port covers can be difficult to pull open. On the right side, there is a basic camera button. There is also a button which triggers speaker-independent voice recognition software from Nuance. I'm a fan of Nuance software, it usually works very well, and the software on the Ease was no exception.
There's a sliding screen lock key at the top of the right side. This is the only key that bugged me. The spring-loaded key can be stiff to slide down. You have to hold it down for a moment to get the screen to unlock so you can access the menus. You can also hold your finger on a software lock button on the touch screen itself, but this also required a moment of hold time. I'd like to see a better lock mechanism or, better yet, a proximity sensor to avoid manually unlocking the phone altogether.
The sliding keyboard opens with a nice snap. Keys are large, but look like they have a bit of extra room, so they could have been even larger. The bigger the better on a phone like this. Printed letters are nice and big, but the keys are a bit flat. Larger, rounder keys would have made typing much easier. The keyboard is not fussy about special symbols. Some punctuation marks (, . ?) get their own keys, but there are no shortcuts, no ".com" or smiley key. There are two keys to zoom in and out, but they didn't work everywhere on the phone. They work to make text larger in the messaging apps, but not on Web pages in the browser. Zoom keys also don't work in the photo gallery, which is just silly.
The Three S's
Screen
The screen on the Pantech Ease is fairly average. It's fine indoors. Not especially bright, but colorful and easy to read. Text is always legible, especially the larger font used in the main menus. Outdoors, the Ease held up fine, but it could be hard to read in bright sunlight. It didn't disappear, like some OLED displays I've seen, just seemed much more dim on a sunny day.
Sound
Sound quality on the Pantech Ease was quite good. The phone uses noise suppression from Audience, so a second microphone helps the Ease filter out background noises. Through the phone's earpiece, calls sounded good, with no audio quality problems. Our callers did report reduced background noise and an overall clean sound on their end, as well.
The Ease has a very loud speaker, which will help this phone's mature target demographic. The speakerphone can scream across a large room or in a loud car on the highway. Ringtones were also quite loud, and I had no trouble hearing them from a different level in my house, or when the phone was buried in a backpack.
The Pantech Ease uses sound profiles, a rarity on most feature phones. This means you can set up the phone to ring or vibrate using different tones and volume settings depending on your situation. You can use the preset profiles for normal use or outdoor use, and there are vibrate only and silent modes. You can also adjust these settings to your liking and save your preferences.
The phone also has a "Readout Mode." This is a text-to-speech feature that lets the Ease tell you, in a very digitized sounding voice, when you have new messages or voice mail. It will also read text messages to you. The voice could be difficult to understand, but if you listen closely you can make out what it's saying.
Signal
Signal strength on the Pantech Ease could have been better, but I never had any trouble placing calls. A couple of calls did not come through, but that might not be the Ease's fault, it could be an AT&T issue. Outgoing calls always connected. For data, it was easy to hold onto a 3G connection, and data speeds were about average on this phone. Simple Web pages loaded quickly enough, but I've seen faster feature phones on AT&T's 3G network.
Battery
Battery life on the Pantech Ease was pretty good. I made it through two days of testing without needing to charge the phone. With very light use, you might even be able to squeeze another half day out of the device. I'm happy to see the Ease uses a microUSB port for charging, unlike previous Pantech phones I've reviewed recently. This makes it much easier to find charging accessories for the device.
Touch
The touch screen on the Pantech Ease was not the most responsive, not even as finger friendly as the Pantech Pursuit. However, Pantech has wisely played to the strengths of the resistive touch technology. Resistive screens are pressure sensitive, so they respond well to hard taps, not so much to light touches. There is no swiping required on the home screen or in the main menu. Most menu lists keep themselves limited to the screen size. The buttons are large and easy for poking. When I did have to swipe through a list, I noticed some lagging response times, and the phone could incorrectly register a swipe as a simple tap. But in a casual day's use, you might never come across such problems, especially if you won't be using the music player or the Web browser often.
Basics
Menus
The Pantech Ease comes with two menu designs. There is the Advanced Mode, which is identical to what you'll find on the Pantech Pursuit. I skipped this menu and stuck with the Easy Mode. The Easy Mode uses larger text, large menu items with wide buttons, and a simplified feature set.
There are features that you cannot access from the Easy Mode. You lose the three-panel home screen, with its customizable shortcuts for apps and contacts, as well as the more extensive, three-panel main menu. AT&T Social Net, a simple social networking app for sending and checking status updates on Facebook, MySpace and Twitter, is hidden in Easy Mode. Instant Messaging disappears, and so does AT&T Music. Apps like Mobile Video and Mobile Banking are also absent.
Most of these, I don't think the intended audience will miss. Social networking is probably not so popular, though I'm sure there are plenty of grandparents who might check in on Facebook from time to time (like my parents do). But I don't think the Ease's target will miss AT&T Music or Mobile Video, nor will they miss IM much. I wish you could customize what disappears when Easy Mode is activated, but that option might be more complicated than it's worth.
The menu in Easy Mode is much easier to use. On the home screen, there is a button to open the phone dialer, and another to open the main menu. The Call button jumps right to Recent Calls. The main menu only has six options. There's a button for Address Book, Messaging, Camera, AT&T Services, Tools and Settings. The layout and organization could have been better. For instance, the phone has a camera button, but the Camera menu also takes you to the photo gallery, so maybe it should be called Photos instead.
AT&T Services is too generic and confusing as a menu name. Sure, AT&T Navigator lives there, but how will my parents, who are in the prime audience for this device, remember that this is also where they find the weather app and the Web browser? Aren't those Tools? The menu could be organized and labeled better.
That said, even if my parents forgot where to find the AT&T Navigator app, there are really only two logical choices, instead of three panels worth of icons. I appreciate that Pantech has adapted the phone's menu for the target audience. It's rare to find phones these days that are so focused.
Calls / Contacts
Making phone calls on the Pantech Ease is fairly simple, but could be easier. The phone dialer uses nice, large number keys, and the touch screen did a fine job registering my taps while I dialed. The phone also searches your contact list as you dial a number. I wish the keyboard got more involved. I'd like to be able to start typing a name from the main screen to search my contact list, or even enter a name on the dialpad.
The search feature on the contact list is also somewhat dumb. From the main list, pressing a letter key will jump you to that letter in the address book. Type "P", then "H", for instance, and you end up at the "H" section. You can tap a button to search the address book. Instead of searching for names while you type, you have to enter a name first, then the phone will search for it. But it will only search names as they are displayed. Search for "Berne" and you'll find me, but search for "Philip," and I won't appear. That's a flaw that needs to be fixed.
Once you're in a call, the phone presents a few buttons for calling features. You can turn on the speaker, mute the call or put your caller on hold. By pressing the Keypad button, you can open the number keys and dial a third party. Then you can swap between calls or press a link button on screen to join them for a conference. All pretty easy stuff.
Messaging
Messaging on the Pantech Ease is adequate, but it could be much better. The phone is built to be a simple messaging device, and Pantech has taken the trouble to build a custom interface, so I'm wondering why the messaging features were not improved. Even worse, SMS messaging, which will easily be the most popular feature on the Ease, lags behind even AT&T's quick messaging phones.
To start, you open the keyboard and press the large "Create Message" button, one of only four buttons on screen in the landscape menu. When you want to enter a contact, you cannot perform a proper search from the recipient field. The phone presents a list of contacts, but you can only tap a letter to jump to the contact you want to select. This is even less useful than the main phonebook. Messages are shown individually, not in the threaded, conversational format that I prefer. It's not that the phone can't handle threaded messaging, but in Easy Mode, the feature is not available. It's the default in Advanced Mode, as if threaded messaging doesn't make reading text messages much easier and more simple. Easy Mode apparently means "Phone From 5 Years Ago Mode."
The Pantech Ease gets the standard AT&T Mobile Email app, so you can check your Gmail, Hotmail, AOL mail or mail from any other POP3 or IMAP4 provider. Unfortunately, this app costs an extra $5 per month to use on top of any data charges. Folks like my parents, saving for their retirement, are probably looking to avoid these extra charges, which is a good reason why they would choose a simpler device over a smartphone. For AT&T to bilk them out of extra cash for a service that should be free is ridiculous.
That's all for messaging. The phone supports IM for AOL, MSN and Yahoo, but only if you switch to Advanced Mode. There's also that Social Net app to check status updates on Facebook, MySpace and Twitter, but again, that's unavailable in Easy Mode. Perhaps this crowd doesn't use IM so much, but the Social Net app is a simple, convenient way to check updates, without too much fuss and frills. It should have been included on the Easy side.
Extras
Music
There is no music player in Easy Mode. If you switch to Advanced Mode, you can use AT&T's music apps, with an MP3 player on board. Frankly, I would avoid this phone if music is important to you. First, you have to dig through the more complex menus. Second, the phone doesn't come with a standard 3.5mm headphone jack. So, to use a pair of headphones, you'll need to find a microUSB adapter, or use stereo Bluetooth. I tried the phone with my stereo Bluetooth speaker and it works just fine. The phone has a microSD card slot, but it's hidden under the battery. The battery cover on the Pantech Ease is incredibly difficult to remove. All of this means the Ease is probably not worth the trouble if you're looking for an easy music player.
Camera
Camera
The camera on the Pantech Ease uses a clean interface, but still offers some image adjustment features. On the main screen, there is only a button to control the exposure level, and buttons at the bottom for more options and the photo album. The options menu is translucent, so you don't lose sight of the action. In that menu, you can tweak the white balance, use color filters for black and white or sepia pics, set a timer or change the resolution. The phone comes with some poor choices for defaults. Images are shot in medium quality by default. Because most users won't know to change this setting, I shot at medium quality for my sample images. The phone also defaults to save pictures on the internal memory, even if you have a microSD card inserted. The camcorder is smart enough to save to the external memory by default, so it's odd that the camera can't do the same.
Once you've taken a picture, you can send the image as an MMS message from the preview screen. The phone lets you dip into your contact list, or you can set a few recipients as "Quick Call" shortcuts, so it's easier to send pics to your favorite people in a hurry. You can also set a picture as a contact pic or wallpaper image, rename the picture or delete it. For some reason, there is also a Properties button on the preview screen, as if this phone's audience will want to check the image format or file size. I consider myself an expert user, and I never check that info on a phone. Why add unnecessary confusion?
Gallery
The photo album on the Pantech Ease worked fine, but lacked some necessary features. You can view pictures as a grid or a list. In the list view, you can bring up options for sending and manipulating photos by tapping a small arrow key next to the file name. It's the smallest button on the entire Easy Mode experience, and I often missed it when my aim wasn't precise. If you miss it, the photo opens full screen, and you can press the option button at the bottom of the screen.
There are no image editing options of any kind on the Pantech Ease. You can't even crop or rotate the photo. This causes some trouble. The phone has a people tagging feature, so when it detects a face in a photograph you can attach that person's name to the picture. In my tests, it wouldn't recognize pics that are turned sideways, which is how I take all of my self portraits. I was holding the phone upright, and the camera isn't smart enough to automatically rotate an image 90 degrees.
There are few options you get in the gallery that you don't already get in the image preview mode in the camera. You can send pics to your desktop via Bluetooth, or upload them, for a fee, to AT&T's Online Locker service. The Online Locker costs $0.35 per photo when you upload, or you can get a monthly package with 250MB of storage for $5. Online locker might be an acceptable service, but again, I think AT&T is wrong to nickel and dime buyers of the Pantech Ease. Better to offer a more common and convenient service like Snapfish or Flickr, which are not available on the Ease, or at least give these buyers an upload service that only charges for data, and not data plus an a la carte or monthly fee.
From the main gallery screen, you can also move photos from the internal memory to the memory card. Once you do this, the Ease isn't smart enough to search your card for photos. You have to find the small icon up top with a picture of a generic phone on it, and use the drop down menu to select the memory card. This process will not be intuitive to the phone's intended audience.
Image Quality
Photos
Images from the two megapixel camera on the Pantech Ease looked horrible. Once again, Pantech mistakes Easy for "Phone From 5 Years Ago." I'm guessing the camera, along with the text messaging, will be the most popular feature on this device. Too bad Pantech couldn't include a much better camera. Simple users don't deserve three to five megapixels?
Colors looked washed out. Bright spots completely blew out the details in the photos, leaving only overexposed and blurry patches. The fixed focus lens couldn't shoot any object within a few feet, so don't plan on any macro photography or close up shots. These pictures will be fine for MMS messages, which are usually only viewed on cell phone screens. But it's a blessing in disguise that the phone can't upload to Facebook, MySpace or Twitter, because these images aren't fit for mass distribution.
Video
Video quality was just as bad as still images. The phone was incapable of shooting on a bright sunny day, or under mixed light conditions. I saw plenty of lens flaring, and bright light washed out images with spooky, orange auras. Video looked wavy and pixelated. Sound was muffled, as well. Again, video might be appropriate for mobile sharing, but you wouldn't want to upload these movies, even if you could.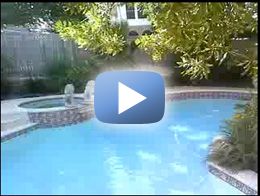 3GPP / MPEG-4 format (viewable with QuickTime)
File size: 826 KB
Browse / Customize
Browse
The Web browser on the Pantech Ease is a basic mobile browser from Opera. It's not the slowest I've seen, but it was slow enough that the screen would almost always lock itself before the page was loaded, which is an annoying problem with no solution in the settings menu. As one of the few apps in Easy Mode that relies on swiping gestures, the browser was difficult to navigate by finger. It was jerky and unresponsive to the touch. You can zoom out by pressing an on-screen button; the dedicated zoom keys don't work here. But you can only zoom out one step, which presents only a bit more of the Web page and renders all normal-sized text illegible. This phone is fine for browsing pages designed for mobile browsers, but though it can render full HTML pages, the experience isn't very good. If you want a real Web browser, buy a smartphone.
Customize
In the Easy Mode, there is little that you can customize. You can change the basic menu theme from white to black to gold. You can change the sound profiles depending on your situation. If the font is too big, you have three sizes to choose from. For the phone's Readout Mode, you can tell the phone for which types of alerts you'd like to hear it speak, and whether it should read texts aloud.
In Advanced Mode, there are far more options to customize. I imagine most buyers are considering this phone for its ease of use, so if you're interested in more options from the Pantech menu, the interface is exactly the same as the design on the Pantech Pursuit. You can read my Pursuit review to find out what you're missing if you want a more advanced experience from the Ease.
Extras
Bluetooth
The Pantech Ease connected flawlessly to my Bluetooth devices. I was able to pair a headset with the phone, as well as a set of Bluetooth stereo speakers for music. The menus were not too difficult to navigate, and the pairing process went smoothly. The phone will also push images to your desktop using a Bluetooth connection.
Clock
The Ease displays a huge clock on the lock screen and the home screen. If you dig deeper, the phone almost always shows the time in the menu bar, but that clock is quite small.
GPS
You can use the Pantech Ease for turn-by-turn directions with AT&T Navigator. AT&T Navigator is a TeleNav app, and it works well for GPS navigation and local search. Pantech hasn't changed the interface to make it easier to use, but it already provides a clean look and rather large buttons. Some of the text can be a little small, but that wasn't too much trouble. AT&T Navigator costs extra, but this is one time where I think the monthly fee might be worthwhile.
Other Extras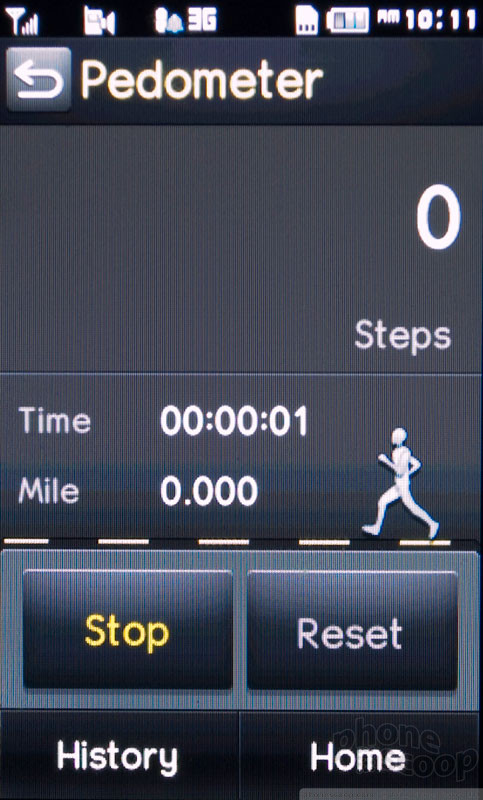 The Ease comes with a number of extra tools on board. There is a calculator, and a tip calculator. There is an alarm clock, and a pill reminder. You can even attach a photo to the pill reminder to remember what your daily dosage looks like. The phone has a pedometer, but it didn't work properly for me. A good pedometer measures your footstep first to calculate distance, but the Ease just tries to guess. I walked my dog for a mile with the pedometer on, and it claimed I had walked almost two miles. That's a huge disparity. There is also an app store on the Pantech Ease in the AT&T AppCenter. Most of these were simple games, wallpapers and ringtones, but you might find a useful app or two worth downloading.
Video Tour
Wrap-Up
Considering the Pantech Ease is admittedly designed for an older crowd looking for a simple device that is easy to use without squinting or precise aiming, Pantech gets a lot right, but misses a few key opportunities. The hardware is well designed without looking too much like a business phone. The hardware keys are easy to use without looking big and goofy. Many phones aimed at an older crowd can look like children's phones, like the Jitterbug devices. The Ease is equally appealing to any crowd looking for a simple messaging device.
The interface is also well designed in the Easy Mode. It's simpler, with large buttons and fewer, unnecessary options. It might be missing out on some key features, like the Social Net app and the music player, but most of the stuff that's important is available with a simple tap. I also like that the Easy Mode relies more on taps than swiping gestures, since the screen is better suited for this sort of interface navigation.
Still, some of the features that should be great fall flat. My mother, who is almost 60, takes loads of pictures with her phone, and often sends text messages. The camera on the Pantech Ease is lousy, with few options to upload pics or share them with friends. Text messaging, for some strange reason, is easier to use in Advanced Mode, which gets threaded messaging, while the Easy Mode makes you read messages one at a time.
I would trade almost every other feature on the phone to make the camera and messaging apps great. My mother never, ever uses her phone to listen to music, browse the Internet or navigate from place to place (her car has built-in GPS). Social networking and email might interest folks to whom I'm not related, but I'm guessing these other features are just extras cluttering the device. The Ease seems to ignore advances in technology in the Easy Mode, as if threaded messaging is complicated because it's new.
In the end, though, the Ease is the simplest phone I've used with a full QWERTY. I would have no trouble recommending the device to my own mother, and I imagine this phone could cut down on support calls so that we could focus on what's important . . . teaching her how to use her iMac.
The concept is GENIUS
I mean when you really think about it. The concept behind this is very, very smart. Attract the croud who doesn't get in to all that "technology crap" hahaha it will suck them right in!!!
first thing the old fart is gonna say...
what the hell are all those little buttons?
phatmanxxl said:
what the hell are all those little buttons?
Whoa! I'm not there, yet. Give me about 20 yrs.
Great review...
I like this device. So I guess I'm lumped with the old folks.