Review: Pantech Ease
Form Basics Extras Video Tour Wrap-Up Comments 5
Is It Your Type? Body The Three S's Touch
Jul 8, 2010, 4:10 PM by Philip Berne
The Pantech Ease is a simple messaging device with an interface and features that are easier to use for an older audience.
Advertisements article continues below...
Is It Your Type?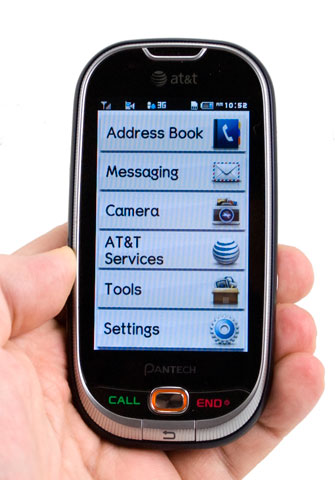 While AT&T offers plenty of quick messaging phones - feature phones with full QWERTY keyboards - the Pantech Ease tries to make things even simpler. Aimed at both older and much younger audiences who aren't interested in complex features and interface design, the Ease gives users a touchscreen experience with a full range of features hidden under larger icon buttons and easy-to-read text.
The concept is GENIUS
I mean when you really think about it. The concept behind this is very, very smart. Attract the croud who doesn't get in to all that "technology crap" hahaha it will suck them right in!!!
first thing the old fart is gonna say...
what the hell are all those little buttons?
phatmanxxl said:
what the hell are all those little buttons?
Whoa! I'm not there, yet. Give me about 20 yrs.
Great review...
I like this device. So I guess I'm lumped with the old folks.