Motorola Defy Satellite Link Now on Sale
Article Comments 4
Jun 29, 2023, 8:00 AM by Rich Brome
updated Jun 29, 2023, 2:11 PM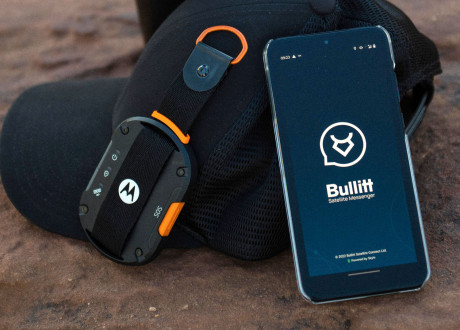 The motorola defy satellite link from Bullitt is now available in the US for $150. In North America, the price includes a free trial of the Premium messaging plan (300 non-emergency messages per month) until October 1st, and one year of the Essential plan (30 non-emergency messages per month) for free. The unique device adds satellite connectivity to any Android or iOS smartphone via Bluetooth. This allows that smartphone to send and receive text messages as well as provide location updates in places there is no cellular coverage. Messaging happens in the Bullitt Satellite Messenger app. Message recipients without that app receive a message as a simple SMS to their existing phone, and are invited to download the associated Android or iOS app to respond. Once the free trial(s) expire, there are various annual messaging plans available, starting at $5/month for 30 messages/month. All plans includes SOS Assist, with 24/7 access to emergency response centers. Retailers include AT&T, REI, Bass Pro.com, B&H Photo, Nomadic Supply, BlackOvis.com, and GoHunt.com.
source: Bullitt
Is This for Any Smartphone/Service?
Or is it for AT&T customers only?
Any service, because the link connects to the device via Bluetooth.