Review: Samsung Sunburst
Form Basics Extras Video Tour Wrap-Up Comments 3
Is It Your Type? Body The Three S's Touch
Jun 9, 2010, 11:09 PM by Philip Berne
The Samsung Sunburst is a happy little tablet phone on AT&T. It's features Samsung's TouchWIZ interface and loads of home screen widgets. Can it get by on a wink and a smile?
AD article continues below...
Is It Your Type?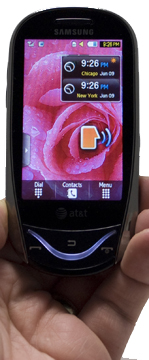 The Samsung Sunburst is a cute little tablet phone with a wide grin on its face. While it doesn't stand out in terms of features, AT&T and Samsung are relying on its style and small size to win fans. The Sunburst gets the full TouchWIZ treatment, using Samsung's touch-friendly interface, but lacks some of the skills of its big brother, the Samsung Solstice. Do you need faster networking to enjoy the touchscreen experience?
Seems...
...like a nice, basic touchscreen for those who don't need or want an EVO 4G.

No video on the browser?

(Oh, and I appreciate you telling us which browser was loaded.)
Not at ALL... this phone is crap. Straight up. Why would you even comapre it to the EVO4g? I MIGHT say, hey people get the DROID or get the IPHONE4 if they dont want or need the EVO4G..... but no. If you dont want a flip phone, get this, but its tstil...
(continues)