RIM's First Touch Device, the BlackBerry Storm, Emerges
Article Comments 100+
Oct 7, 2008, 11:00 PM by Eric M. Zeman
updated Oct 8, 2008, 8:43 AM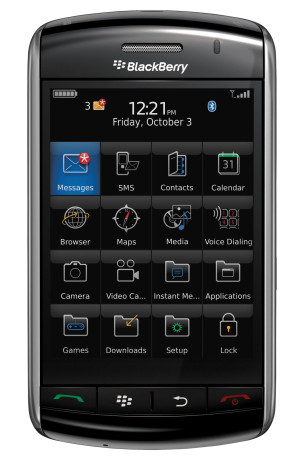 Today Verizon Wireless and Research In Motion announced the BlackBerry Storm, RIM's first touch-screen device. The Storm has dual-band CDMA radios for use on Verizon's EV-DO Rev. A 3G network in the U.S., as well as quad-band GSM/EDGE and HSPA 2100MHz for 3G coverage when roaming in Europe. It supports multiple Bluetooth profiles, including stereo playback, but it lacks Wi-Fi. The 3.26-inch display is touch sensitive and measures 480 x 360 pixels. The Storm has a 3.2 megapixel camera with flash and auto-focus, and it will record video for MMS and at half-VGA resolutions. The BlackBerry OS has been optimized for the touch screen, and includes a full QWERTY software keyboard when used in landscape mode and a SureType keyboard when held in the portrait orientation. The entire screen itself is a large button, and provides tactile feedback as you type. It has both standard GPS and a-GPS, and will include BlackBerry Maps and supports turn-by-turn directions. The Storm has a 3.5mm headset jack and media player for music and video, it also has a full HTML browser. It has 1GB of on-board memory and comes with an 8GB memory card. The Storm also harnesses the power of standard BlackBerry productivity applications such as email, Microsoft Docs viewing and editing, and messaging features. It will be preloaded with a mobile Facebook application. The device is being launched in conjunction with Vodafone, and will be available in the U.S., Europe and Australia in November.
STORM for tmobile?
is this new blackberry storm going to be available for tmobile?!


I need help I hate my sidekick lx , i want something touch screen , something cool!

But tmobile doesnt have nothing new!

I really like this phone .. is there anyway we can connect it to tmobile?
absolutely not will never happen
Verizon only just like the iphone is AT&T only
Question for Verizon users?
For any of you Verizon users out there I was curious to know if it's possible to be on a phone call and text message or browse the net at the same time? I'm really thinking about switching from AT&T and selling my iphone 😁
Not possible. It is a limitation of EV-DO technology and not the phone itself. In another note... don't jump ship from an iPhone. I am telling you... this is just one more iPhone clone in the long list... it won't match up when it comes to fluidity.
send text pics video or email while on call yes... browse the net no
you actually can do that on the blackberry storm tho. thats one of the reasons why i cant wait for this phone. if you look at the video that vodafone has put out they said that you can do net and phone at the same time.
well i have at&t and i have the blackjack 2. i can talk and text but like the other person said you cant be on the internet and talk at the sametime though.
I am a Verizon user and I have no reason to want to be on my phone, browse the Internet and text message at the same time. The most that I have done is text message while in a call.
If performing all that at once is important to you, then stay where you are. CDMA will not allow you internet access while on Voice calls. However, the new WiMax will. Wimax not only allows it, everything will be performed through internet. So the pri...
(continues)
So to PROPERLY answer your question, you can talk and text at the same time, but not utilize the data network ie., e-mail, web, etc while on a call.

I don't know how Skyfire got brought into the question? 🙄
I dont quite understand why people are saying you cant talk and browse at the same time on verizons network. I have a blackberry pearl and i can be on the phone and surf the web at the same time so why would the storm be any different?
You're wrong about this phone's ability to do simultaneous voice and data. You're also wrong about an inablility to do so being a limitation of the EVDO network. The reason this will work on the Blackberry 9530 is because it has 2 modems that are each...
(continues)
BlackBerry in 2009 + More for Verizon Wireless.
The next BlackBerry after the storm will be out in May of 09.

Be looking for a new Nokia cell to come out around December of 08.

And a LG in Q4 (November-Feb.)

Also, a phone by Samsung like the Instinct. No idea when this is to come out, but may be called Samsung Ominia.

Also 2 HTC Phones.
The Diamond and Raphael. Also, i dont not know when these will come out.

A New Motorola PDA Called The Napoleon. And another Nokia. As well, i dont no when these will be out.
the Diamond is already out
Storm is OVER
Way too late guys, sorry...
yeah, right. cause no one else is putting out touch phones (eye roll)

Get over yourself buddy and move on.
We missed it??? It was just announced and its over??
lol

RIM...I guess you should give up. This guy says its way too late 🤣
your just mad you dont have an att bold yet lol
Release Date
After reading the "Hands On" article is mentions the release date has not been confirmed yet but reading in another forum it will be in November...are we talking like Thanksgiving time or what?
Called my Verizon rep yesterday and he says we know more than they do on the release date...lol
Seriously, he thought early November
It will be out before Thanksgiving. Just like the "Next Phones" from last year with the Juke, Voyager, Pearl,& Venus.
I was told early November .. Now to figure out the cost... 😉
Why no WIFI?!?!
if this phone had wifi then it would not only be an iphone competitor but it would be an iphone killer.

it's going to have stand alone gps without a data package but no wifi? just another scheme by rim & verizon to get ppl to sign up for their data packages.

i'm still gonna get an iphone soon instead of this. but if they change their mind and add wifi then i'm sold and im sure lots more ppl will be too.
Iphone competitor haha, we over here at Verizon don't need Wi-fi which is why it doesn't have it.

Out network is more than stable enough to support and produce high speed data transfer.

AT&T from past experience needs Wi-fi, especially when de...
(continues)
3G is CITYWIDE, WiFi isn't, there's a response for you.
There are only so many radios or frequencies that can fit in a box sometimes. In order to make it a "world phone" for Verizon, you have to put a hell of a lot of them in there.

Good luck with AT&T and their inferior network...not sure why you are h...
(continues)
Still, I like the option of having WiFi especially since I'm a cheap prick that would rather use my own internet that pay extra every month. I have a Dare right now, but ive seen nothing yet that says this will kill the Iphone. We shall see.
well sdroklee you go and buy an iphone and ill laugh when im reading your post on here complaining about how terrible it is and how you wish you had bought the storm in the first place. this is coming from someone who has already owned the 3g iphone a...
(continues)
Storm vs Dare
How would you gays rate the Dare vs the Storm (Just from intial knowledge of the storm.) Thanks
I have no idea. I'm still waiting for a response on my question; How would you guys compare an apple to an orange? No one has answered me yet.
They are two completely different types of phones that may look similar on the surface.

Dare-smaller screen, has stylus,less responsive touchscreen according to some. Consumer oriented and considered a "featurephone" not a "smartphone"

Storm-Bus...
(continues)
Damn This Phone Is The ****!
This is probably the tightest phone Verizon has ever came out with.

Much Props!
This will depend on whether Verizon continues to SIM lock their GSM-capable phones. It would then depend on whether unlocking is relatively easy or a chore to do. In which case, will Vodafone sell a version not locked that I can bring back and add ...
(continues)
OOOOOO I WISH THIS WAS WITH TMOBILE!!!!!
man this is a good phone seeing as thought i got a blackberry curve but n a couple of weeks will b switching to a t-mobile g1 phone.....man cuz i really love my blackberry even thought i dropped it a couple of times....mmmm ok u guys r lucky
? for you? You don't live in Las Vegas, do you?
Blackberry should do this
They should release an unlocked version of this phone with software to flash to whatever carrier you want. PWN all the carriers! Yeah!
They might, if Verizon can't keep the numbers up to allow for exclusivity.
It should be that way with ALL phones! My phone is unlocked/unbranded 😁
hey rich, get the storm page up and running asap!!!
I think you have all the info and pics you need to start the storm page, so that we can have a forum to post info, before the phone is released.

Thanks for the info and the hands on!

Chris
Question About Video Recording
I use to own a Nokia-N95-3 and the video recording was lovely! I believe it's 30 frames VGA res? For the Storm it says will record video for mms and at half VGA resolutions? Anyone have an idea how good this may be since I dont understand the VGA, QVGA etc.

Thanks!