CTIA 2005
Intro Part 1 Part 2 Part 3 Part 4 Part 5 Wrap-Ups Comments 55
Samsung Int'l Samsung A800 Samsung i730 HSDPA
CTIA this year featured several separate live demos of HSDPA, using real HSDPA phones. One included the LG U8400, although the demo took place in the booth of an infrastructure vendor that was so rude to us, we would prefer not to give them the satisfaction of mentioning their name.
But at the much friendlier Siemens booth, there was a live demo of a Samsung HSDPA phone running on a small but real Siemens HSDPA network set up in the booth.
AD article continues below...
No one at CTIA was demonstrating any kind of multimedia actually running on a phone; the demos were all using the phones as modems with a cable connected to a laptop. The demo at the Siemens booth showed eight simultaneous video streams running over the live HSDPA connection: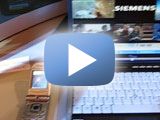 QuickTime format
File size: 1.5 MB
The video streams were a bit choppy, but that's no surprise, since the CTIA show is always chock-full of experimental networks that interfere with each other like crazy. It's actually the worst possible place to demo the speed of a new wireless technology, precisely because that's what everyone else is trying to do. It doesn't help that the convention center is also packed with more people carrying and using cell phones than just about any other spot on earth.
The Samsung "HSDPA phone" was clearly just an SGH-Z107 with an HSDPA chipset shoehorned in. In other words, it's just a prototype created for testing only, not an actual new model.
But LG's U8400 looked like a new design to us, and it was sporting a Cingular logo. Since LG is one of Cingular's publicly-named handset partners for their upcoming 3G launch, (and Samsung is not,) we would argue the LG U8400 is actually the more significant demo, since it seems likely that phone will actually come to market in the U.S.