CTIA 2005
Intro Part 1 Part 2 Part 3 Part 4 Part 5 Wrap-Ups Comments 55
Samsung A970 Samsung A880 Samsung E217 Nokia
Like past years, Samsung is using CTIA to make some major announcements for the U.S. market. As Korean companies love to do, they tried their best to grab as much attention as possible at the show and make a big splash. This year, Samsung's "splash" was quite real. The company had a huge 2-story-tall, computer-controlled digital water fountain that created images with falling water. It was pretty impressive - if you have a fast connection, check out this video of the fountain in action: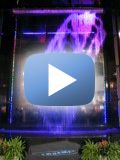 QuickTime format
File size: 1.8 MB
But what about the real "splash" - the cool new phones? Well, Samsung delivered there, too. Samsung broke out the big guns this year with the SCH-A970, a no-holds-barred CDMA phone with nearly every feature under the sun:
The key features are EV-DO high-speed data, a 2 megapixel camera with 2x optical zoom, Bluetooth, and an internal antenna.
As you can see from the photos, it also has a twist-and-flip design. The top half has dual color displays, which can flip out sideways for camera mode. Paired with the side-facing camera, the display allows you to hold the phone camcorder-style. The display can twist 90 degrees in either direction, so you can film something else normally, or twist it the other way and see yourself to frame a self-portrait or self-video. The display does not turn far enough to let you close it with the main display facing out.
Check out the video below to see the A970 twisting display in action: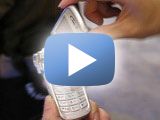 QuickTime format
File size: 1.7 MB
Of course a 2-megapixel camera is a big deal, but perhaps the more impressive feature is the optical zoom. Unlike digital zooms, this will let you zoom in on a subject without sacrificing image size or quality. Normally optical zooms require extra space for the moving lenses and motor, but the unique side-facing camera design lets the mechanism fit into the phone without making it too bulky. The camera is complemented by an LED flash, and of course it captures video as well.
The A970 is expected to be available around mid-year (possibly June). Although Samsung is not discussing which carrier will offer it, we did notice a small "Get It Now" logo on the keypad...