CTIA 2005
Intro Part 1 Part 2 Part 3 Part 4 Part 5 Wrap-Ups Comments 55
Samsung A970 Samsung A880 Samsung E217 Nokia
Nokia played it a little conservative this year, which is par for the course. They just announced all their new GSM phones a few weeks ago, so all they rolled out were a few new CDMA models. Despite the fact that it still isn't out yet, the 6255 is still on the roster. The 3 new models fill in the gaps between that and the entry level candybar style phones in their CDMA lineup.
The 6155 (above) isn't the all-out feature-packed jaw-dropper that the 6255 or many of the other phones announced this week are, but it is a solid flip phone with a decent VGA camera and a very sharp, if a little small, screen. It must be pretty powerful whether it's loaded with features or not, because it played back videos like a champ:
AD article continues below...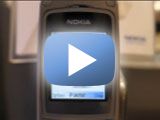 QuickTime format
File size: 785 KB
However, we didn't get to test out video ringtones, which play on the external display.
The 3155 clamshell phone looks like it has changeable covers, but it doesn't. It's just going to ship in a variety of colors and patterns which the carriers can choose from. The 3155 has the same screen as the 6155, but lacks the camera, and location based services, limiting the phone's cool factor.
Remember the days of black and white displays and the Series 30 interface? Step back into history with the 2115i. This phone was designed for pre-paid service in "emerging markets," which usually means Latin America. So imagine our surprise when Virgin Mobile announced they would rename the 2115i as the Shorty and start selling it here in the US this month. Like Series 30 phones from the days of yore, the 2115i has changeable faceplates.