CTIA 2005
Intro Part 1 Part 2 Part 3 Part 4 Part 5 Wrap-Ups Comments 55
Samsung Int'l Samsung A800 Samsung i730 HSDPA
Since I get more questions about the A800 and i730 these days than just about any other phones, I took the opportunity at CTIA to track down and spend some quality time with actual Samsung engineers working on these two projects. I learned some pretty interesting things:
The Samsung SPH-A800 is fairly large, but that space holds an impressive array of features.
AD article continues below...
The banner feature of the A800 is the 2-megapixel camera with auto-focus. This is complemented by a TransFlash card slot for storing photos and video. It's also part of a growing family of phones with PictBridge, which lets you link the phone directly to a printer to print your photos.
However, what may end up being the more significant feature for many people is the gorgeous QVGA display. Unlike some previous Samsung phones, you can set your custom wallpaper to cover the full display area.
The animated menus really show off the display. The default is a standard grid layout with a smoothly-animated "blob" of water to indicate the current selection. (Shown above.) Another option is this 3D animated "stacked rings" menu: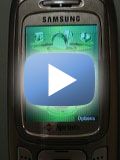 QuickTime format
File size: 979 KB
A multi-format music player with stereo output and playlists is part of the package. Also on the feature list is the same speech-to-text dictation technology as the SGH-P207. And not only can it understand speech, but text seen through the camera as well, via the handy business-card-reader function.
The A800 is also one of the first Samsung phones to use eZiTap from ZiCorp for predictive text entry (instead of the more-common T9). It's a very similar technology, but those used to T9 will need some time to adjust to the differences.