Review: Samsung Moment
Article Comments 18
Oct 27, 2009, 1:13 PM by Eric M. Zeman @phonescooper
Samsung steps into the Android fray with its Moment. This bulky phone has a touch screen, real QWERTY keyboard and Wi-Fi. It earns passing marks on most fronts but we found a few low points, too.
AD article continues below...
Form
Is It Your Type?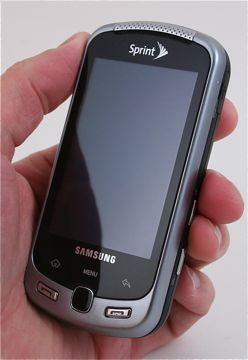 If you're a Sprint customer looking for an Android phone — and require a physical keyboard — the Samsung Moment offers an alternative to the HTC Hero. While it offers a keyboard and trick optical mouse pad, it lags on the software side of things. Whether or not you go with the Moment or Hero depends a lot on your personal preferences. Which type of user are you?
Body
The Samsung Moment is one of the largest phones I've seen from Samsung. It is a brick in every sense of the word — big, blocky and heavy. Whether you put it in your jeans, coat pocket or anywhere, you're going to know it is there. Though it is big, it feels solid as heck. We're talking tank. The hardware comes across as well engineered and well manufactured.
If you ask me, the design of the Moment is a bit on the boring side. Many of Samsung's touch phones have a similar appearance, and the Moment does nothing to set itself apart from the crowded field of Samsung touch phones (nor the other Android handsets, for that matter). Looks aside, the front has some things that are worth liking. The screen is generously sized. Below it, the Home, Menu and Back keys have been incorporated into the front of the capacitive display. In other words, they aren't real physical buttons. This is a change compared to other Android phones. They were responsive and worked well. Below these keys, you'll find two, physical send/end keys in the lower corners of the phone. These two buttons have excellent travel and feedback. Between them is an optical mouse pad for interacting with the screen. The trackpad works pretty well, but I found that it skipped around a bit. It can be used for jumping around on any given screen, as well as swiping from screen to screen on the home pages.
On the left side of the Moment the only control is the volume toggle. It is very easy to find and has excellent travel and feedback. On the right, there are two buttons. Closer to the bottom is the dedicated camera key. It is a two-stage key, and I have to say, the stages are very subtle. It's very easy to over-press and smush the button down all the way. What this means is you might take the picture instead of focusing the shot. The button is easy to find, though. Above it is the voice command key. It is also easy to find and activate. Travel and feedback was good. Above both of these is the hatch for the microUSB port. I can't stress enough how happy I am to see Samsung finally move away from its annoying proprietary data/charging port.
On the top of the Moment, you'll find a huge hatch covering the 3.5mm headset jack (victory dance!). This is a long-overdue feature that Samsung has slowly been rolling out to its devices. I am glad to see it on the Moment. Now, about that hatch. Why include it? It's a hassle.
If you want to get at the microSD card slot, you have to remove the battery cover. What's really disappointing is that you have to pull the battery to access it. Really, Samsung? No hot swapping? That stinks.
The slider mechanism is spring-assisted. The slider feels very solid, and I noticed very little play or give in the slider both when closed and open.
The QWERTY keyboard has four full rows and has offset rows, which I find makes for a much more usable keyboard. The top row is dedicated to numbers and via the function key gives you access to all the special characters. It includes a dedicated search key in the upper left corner, which, when pressed, takes you straight to the Search Box that is built into Android OS. The keys themselves are not very well defined. They have only the slightest contour to them. This makes them a little hard to tell apart when typing quickly on the device. They aren't smooth, but they aren't exactly rough either. They have a nice tactile feel to them. The travel and feedback of the keys is outstanding. They have the perfect amount of "click". I like that some 4-way directional keys are built into the keyboard, but this is redundant with a touch screen phone that also has an optical mouse pad. Still, it makes for fast on screen navigation and negates the need to move your hand from the keyboard to the screen.
In sum, the hardware isn't perfect, but it offers a lot of features.
The Three S's
Screen
AMOLED displays are just amazing. The Moment's screen is outstanding. It is bright, crisp, clear and just fantastic to look at and interact with. It can be read in direct sunlight with ease. Colors appear vibrant, and everything about it just exudes awesomeness. Of course, fingerprints and smudges show up on it big time, too.
Signal
The Moment performed really well at collecting Sprint's EVDO signals and remaining connected to the network. I didn't have any missed or disconnected calls while testing the phone. It rated 4 out of 5 bars most of the time, which is better than most Sprint phones I test in the greater New York City area. The one thing I did notice was that data session speeds were a bit inconsistent. Some times it was really, really fast, other times it lagged and pages loaded slowly. Also, the Moment had trouble with its GPS radio. I kept receiving error messages that the device couldn't find any GPS satellites. That's the first time I've noticed that on any phone I've tested.
Sound
Ringers are definitely loud enough with the Moment. They're not going to shatter your eardrums, but you're not going to miss calls in noisy places, either. I found I had to set the volume near the max when out and about, but if you're at home, you can probably get away with setting it at 50%. Earpiece volume was solid, though I would have preferred it to be a little bit louder. The speakerphone was suitably loud for an office with a closed door or when in a parked car, but I'd skip it in coffee shops. Call quality was very good. There was some noise and fading in and out, but for the most part calls were clear.
Battery
None of the Android phones I've encountered appear to be able to make it through a 24-hour period without needing to be recharged, and the Moment is no different. If you use your phone to check email, Twitter, and do some moderate surfing during the day, expect the battery to be at the 25% level around dinner time. I had it last from 7 AM to about 11 PM, which is my gauge for one day. You're going to need to charge it every night unless you use it sparingly. Going out of town? Bring the charger.
Basics
Menus
Here's where the Moment starts to get boring. Rather than employ Samsung's TouchWiz or any other sort of user interface skin, the Moment runs the basic version of Android 1.5. Sure, there are some customized Sprint-branded apps and widgets, but the basic operation and menu system of the phone matches that of devices such as the HTC G1 and myTouch 3G. Probably the thing I am disappointed about most is that it has only three home screens to customize and not five or seven, as other Android handset are offering. This means less space to put your own stuff.
When you first boot the device, you have to sign into your Google account. It will then automatically configure your Gmail, your Gmail contacts and other Google services. There is no hard syncing directly to a PC. It must be done via Sprint's network. This can take a while, depending on how extensive your inbox and contacts lists are.
You have a basic home screen that has six pre-loaded apps, plus a Google search bar (with voice search!) at the top. Like any standard Android phone, there is a little tab at the very bottom of the screen. Swipe it up and the entire main menu will appear.
Tapping into the Settings menu, Android ditches icons in favor of a simple list of adjustments to make. Each has a pull-down arrow that opens up a folder with the choices for that menu selection. Most of these make sense and it's quick to figure everything out.
When using applications, hitting the Menu key on the front of the Moment will open up a short list of additional options you can use to adjust whatever app it is that you are running.
Lastly, there is a notification bar that runs along the top. Any time you get a new email or other notification, it will sit up there. From any screen on the phone, you can swipe down from that notification bar and it will show you any missed calls, and what unread messages you have.
One thing to point out: There is a very slight lag in almost everything that you do with the Moment. It's less lag than on other Android handsets, for sure, but it's still there.
In all, Android continues to be a highly usable mobile operating system.
Calls/Contacts
Calls
Tap the Dialer button on the Moment's home screen and a software keypad pops up. There are four tabs that run across the top: the dialer itself, the call log, your contacts, and your list of favorites. Each of these is exactly what you expect them to be.
The dialer buttons are nice and large and no problem at all to use for dialing numbers directly. The Moment provides haptic feedback when dialing. The call log shows all your calls heaped into one long list, and different colors next to each call tell you if it is a dialed, received, or missed call. Tapping any of the numbers opens a menu and gives you options for calling, SMSing, or adding the number to your contacts.
Once you are in a call, you can press the menu button to see a list of actions to take such as swapping or merging calls, hanging up, placing the call on hold, and so on. You can also choose to send the call to a Bluetooth headset. Going through the calling program once is all it takes to figure it all out.
Contacts
The Moment pulls in your entire contact list from your Google/Gmail account. Any changes made via the desktop version of Gmail are automatically synced to the Moment, which is a nice feature to have. The opposite is also true. Add a contact directly to the Moment, and it eventually appears in your Gmail contacts list.
It then lists everything alphabetically as you scroll down. It is easy to swipe your finger up and down to cycle through your contacts. There is also a nifty slider tool on the right side of the screen. As you drag your thumb down, it pops up. Shift your thumb over to the slider and you can zoom through the alphabet quickly, stopping wherever you choose.
Pressing a contact quickly will open the contact up. Pressing and holding the contact will give you a short list of options, such as calling or editing that contact's information. Each contact can store tons of information. You can also save them to your "Favorites", which effectively serves as a speed dial function on touch-based phones.
Messaging
The Moment supports Gmail, Exchange, POP3/IMAP email, SMS, MMS, and IM.
In Gmail, many of the desktop features are supported. For example, you have the option of "starring" an email without reading it, a feature lacking on many competing mobile email platforms. Tapping an email quickly opens it, pressing and holding it opens up an options menu. In this menu, you can choose to open it, archive it, mark it unread, add a star, delete it, report spam or set labels.
Opening emails lets you see the full header and everyone the message is addressed to, the message itself, followed by some action items (reply, forward, etc.) at the very bottom of the email. Users can see and open any of the other emails that make up that conversations, just as in the Google Web-mail client. That's something I definitely wish other email clients allowed you to do.
The Moment has both an on-screen QWERTY keyboard that appears when the device is closed and the physical QWERTY keyboard for use when open.
Other than Gmail, the Moment also has two other email clients (yes, we think three separate email clients on the same device is silly, too). It has a normal POP3/IMAP client that supports accounts such as Yahoo and other service providers. It works fine.
The Moment also includes a dedicated Microsoft Exchange email client, called "Work Email." You can set up how often email syncs to conserve battery life.
As for SMS and MMS, the Moment gets the job done. The messaging application is where you'll see threaded SMS conversations, which is simply the best way to interact with SMS. The composition screen for SMS or MMS is the same. For an MMS, you add an attachment to an SMS message, which can be a picture, video or sound clip.
The Moment also has AIM, Google Talk, Windows Live Messenger and Yahoo IM pre-loaded to satiate your instant message cravings.
Extras
Music
Neither Sprint nor Samsung has done anything to spruce up the stock Android music player.
Loading music is a snap. Attaching the Moment to your computer automatically puts it in mass storage mode and it shows up as a hard drive on your PC. You can drag and drop files directly into the Moment's Music folder and you're golden. Part of me wishes Android had a more intuitive syncing program to help with music transfer, but I am generally fine with the drag-and-drop method.
The player itself offers pretty much the same features you get from any phone-based music player. You can sort through music via artist, album, song, playlist, etc. Album art is displayed if it is tagged correctly, and the interface for playing music is simple and easy to use.
With a song playing, there are three software buttons on the screen next to the album art. They let you shuffle, repeat or view the current playlist. The menu button at the bottom lets you do a few more things, such as generate a "party shuffle", add the song to playlists, assign the current track as a ringtone or delete the track.
There is no way to alter or adjust the music with an equalizer, whether user-defined or preset. Music sounds pretty good with wired headphones and just "good" with stereo Bluetooth. It may not be the most robust player on the market, but it offers enough to make it worthwhile.
I am hoping that Android 2.0 makes some serious improvements and/or additions to the Android music player software, as it has been completely unchanged for a full year now.
Thank goodness there's a 3.5mm headset jack so you don't have to bother with an adapter.
Camera
Camera
You can launch the camera from the menu system, but it's faster to just press the dedicated button on the side of Moment. If you need to take a picture quickly to capture a golden Moment (pun intended), prepare for disappointment. The Moment (and Android 1.5) has made no strides in launching the camera app quickly. As with other Android hardware, the camera function is just slow, slow, slow to use. This is surprising because the Moment has an 800MHz processor, which beats the pants off of the 528MHz processor in most previous Android handsets.
The Moment is held sideways for picture taking. Press the on-screen shutter button or the dedicated camera key and the Moment will quickly focus (when in good light) and shoot the picture. It takes about 1-ish seconds. If the lighting is poor, it takes a lot longer to focus.
After you take a picture, you get four options: save, set, share, delete. This is pretty much all you get with the camera, and apparently is another feature left unchanged in Android 1.5. The only settings you can change are where the pictures are stored, and whether or not location information is tagged to the photos. That's it. You can't make any adjustments to the camera's resolution, white balance or other settings. This is a major disappointment, especially since the Motorola CLIQ has added features to the camera.
The Moment records video, and the video recorder application is identical to that of the camera.
Gallery
As for the gallery, you can jump there from the camera or the main menu. The gallery view consists of a grid of thumbnails. With a picture highlighted, you can use the menu button to get at a few options, but it's easier to press and hold, which opens up a larger menu for making changes to the picture.
Pictures can be cropped and rotated, but that's about it. No advanced editing functions here. You can easily add pictures to emails, create MMS messages, set images as wallpapers and so on. Again, it stinks that neither Samsung nor Sprint decided to do anything special with the gallery software as Motorola did with the CLIQ.
Photos/Video
Photos
The Moment has a 3.2 megapixel camera with autofocus and flash. Pictures are OK, but not stupendous. I found most images captured indoors to be soft and grainy. The flash did little, except throw off white balance completely. The Moment will certainly get the job done outdoors, though. It gets colors and focus right, but white balance was inconsistent. I would not use the Moment as a replacement for a stand-alone camera, but it certainly suffices in a pinch.
Video
Video captured with the Moment was marginally better than the video captured with devices such as the G1 or myTouch, but it's not nearly as good as what the Motorola CLIQ is capable of. It was somewhat grainy, showed some digital artifacts, lacked clarity and was sometimes clouded.
Don't get me wrong, the ability to upload directly to YouTube makes the whole video-shooting experience more fun and sharing is great. I just wish the Moment captured video that was a smidgen better. It's so close, but just manages to fall short of "good".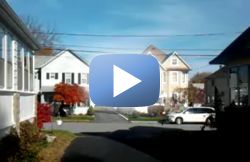 3GPP / MPEG-4 format (viewable with QuickTime)
File size: 2 MB
Browse/Customize
Browse
Android's default web browser is based on WebKit and can render full HTML web sites. The browser is very capable and looks fantastic on the Moment's AMOLED screen. You can use your finger to navigate around screens, or use the optical mouse pad to zoom through them. You can perform basic browsing with the phone in portrait or landscape orientation.
A quick press of the menu key opens up a dock with most of the navigation items you expect, such as Go, Bookmarks, Windows, Refresh, Forward, and more. There is a full list of settings that let you customize how the browser operates (such as enabling / disabling JavaScript, managing passwords and privacy and more). The options are quite extensive.
My favorite feature is that the browser lets you open multiple windows at a time. This lets you jump around between different web sites quickly. The browser also supports Google's MyLocation feature, which will help provide local results when you perform searches.
Customize
You can customize the Moment about as much as you can customize any phone. Wallpapers and ringtones are easily altered. You can rearrange all of the menu items, clutter up the home screen with icons and more. What you can't do is change the basic theme of the Moment, such as the color combinations of the menus and screens. This is one area where I think Android needs to start making strides. Either Google's coding engineers need to do it, or the device makers and network operators need to step it up and put some themes and color options on there.
There are pretty robust ways to control the security of the device, how applications are managed, how the microSD slot is managed, how data is synchronized, how location information is reported and on and on.
Extras
Android Market
There are now about 10,000 applications population the Android market. Many of them improve upon the features of the Moment. According to Google, carrier billing support is on the way, so you won't have to rely on your credit card to pay for apps. Given the unaltered version of Android that's running on the Moment, the Android Market can be your salvation to making the device more personal and interesting to use.
Bluetooth
The Moment has Bluetooth and supports stereo headphones. Pairing was a snap with any sort of headset. Sound quality was quite good. In fact, I was surprised at how good music sounded through stereo Bluetooth headphones. It is worth pointing out — again — that Android does not support a number of other Bluetooth protocols, such as PBA for integration with advanced car kits, no OBEX. It is a shame that these protocols aren't included, and the Android roadmap up to version 1.6 doesn't appear to add them. We're hoping that Android 2.0 will finally include some of these specs, but Google hasn't provided any information about it yet.
Clock
Samsung and Sprint have opted to keep a large clock off of the home screen. The time is always listed in the status bar at the top of the screen. For a quick time check, press the menu key when the Moment is asleep. It will show you the time in a large digital read-out, with the date under it. You can also choose to add a clock to the home screen via the options menus.
GPS
The Moment has GPS and is married closely to Google's Maps for Mobile product. Maps works fantastically in the Android operating system — when the GPS works. My review unit had problems finding GPS satellites from time to time. Even when it did, it took a long time to locate the phone, and wasn't as accurate as other devices I've tested. It supports Latitude, the new location-sharing feature, as well. This lets you see where all your friends are on the map. The feature is opt-in, meaning users have to agree to use it.
Social Networking
If you want to take advantage of social networks, you'll have to do it via the browser or add third-party applications from the Android Market.
Video
Here is a video tour of the Samsung Moment:
Wrap-Up
The Samsung Moment feels like it is Samsung's first Android phone. Samsung took the stock Android operating system and matched it with a form factor that Samsung knows is popular with messaging fanatics — and then didn't do anything else with it.
The hardware performs well enough. With the exception of the GPS radio, everything on the phone worked as it is supposed to with minimal glitches. The controls are easy to use, the manufacturing is solid, and the keyboard provides excellent travel and feedback. On the downside, the Moment is large and heavy.
Android 1.5 is a capable platform, and the Moment will be compatible with Android 1.6 when it becomes available. While it covers all the basics well, there is minimal flash or excitement in using Android.
The Moment is certainly a solid pick for those that definitely want Android and a real keyboard on the Sprint network, but HTC's Hero provides a more enjoyable alternative.
Moment Vs. Hero
Ok so lets discuss the differences

Hero = 5 MP Camera (No Flash)
Momemnt = 3.2 MP Camera (With Flash)

I prefer Flash

Hero = 7 Home Screens
Moment = 3

Advantage Hero... I suppose - 3's enough though

Hero = Touchscreen keyboard
Moment = Large physical keyboard

Advantage = Moment

Screen=

Advantage Moment


... Overall I think the moment is a slightly better phone even though they are both solid.
cons regarding moment- there is no way to set reminders for voicemail, text messages, missed calls, etc. when i have the phone to my ear sometimes i dial on accident with my cheek. there is no way to adjust the sensitivity. these are 2 big issues ...
(continues)
First?
Really sad. Looks like I am going to go with the Hero. Guess an overclocked processor doesn't help out much.
Also, thanks for the really in-depth review. A lot of the other reviews out there really just glossed over everything, and hard to tell if this is a good alternative to the HERO for more reasons then the keyboard.
The Herro is a very good phone. The thing I keep wondering about is Android 2.0 It seems that it will have a lot of the features that make the Sense UI so nice but with better performance. The Basic Google Phones should get 2.0 sooner than those with ...
(continues)
No Moment Here.
The Hero is much more polished than this.
Really I just purchased the moment and I like it but I may try the hero with the 30 day exchange lol.
Texting
So, I am a big text freak. I like to send lots of messages and sometimes the same message to several different people. Is this even possible?
Yes this is possible the biggest favs on this phone is the text thread feature and the community sites FB, Twitter, and Myspace and the 10,000 apps it has!!!
debating
So i currently own the hero and have had it for 2 weeks and all has been good its been way better than my touch pro and a wee bit better than my treo 800w..
i dont use all 7 screens of sense ui and honestly miss the hardware keyboard, even though this software one on the hero is really good..
I also like the idea of the flash on the cam despite the lower res, but the no auto rotate is annoying...
800mhz processor is rad, but with an odd 35mb less ram, it makes it seem almost redunant, but bein nakey android means maybe its compensated since the hero forever runs sense ui and other extra processes that the moment wont...
And its priced the same, so there will be no $chaching$ required for the switch 😁

think i should use my 30 day ret...
(continues)
PC Sync? SD Card transfer? Yahoo email sync? HELP!
Just got this today, and I knew it didn't have pc sync, but the sprint techs said it was easy to transfer music files from my pc.... hmmmmmmm
When I plug in the patch cord supplied, there ins't a removeable file shown like with my instinct. Cannot access my yahoo email account like I could with my instinct. And my SD card does not transfer my music files from my instinct to the moment WTF????? CAN ANYONE CLEAR THIS MYSTERY UP?
Ok to access your yahoo email your going to have to go through your browser and got to yahoo.com and then click on the link that say get y mobile then it should allow you to access it from your browser but your also have to change your browsers home p...
(continues)
Video?
Anyone know what the video playback options are? Does it play mpgs? Can I put a .mpg or .mov or other video file on the sdcard and then watch it on the Moment?

None of the reviews mention if it has a media player capable of watching one's own video content, ie. tv shows, videos, and/or movies.