Review: Samsung Moment
Form Basics Extras Video Wrap-Up Comments 18
Is It Your Type? Body The Three S's
Oct 27, 2009, 1:13 PM by Eric M. Zeman @zeman_e
Samsung steps into the Android fray with its Moment. This bulky phone has a touch screen, real QWERTY keyboard and Wi-Fi. It earns passing marks on most fronts but we found a few low points, too.
AD article continues below...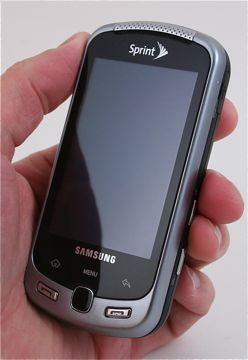 If you're a Sprint customer looking for an Android phone — and require a physical keyboard — the Samsung Moment offers an alternative to the HTC Hero. While it offers a keyboard and trick optical mouse pad, it lags on the software side of things. Whether or not you go with the Moment or Hero depends a lot on your personal preferences. Which type of user are you?
Moment Vs. Hero
Ok so lets discuss the differences

Hero = 5 MP Camera (No Flash)
Momemnt = 3.2 MP Camera (With Flash)

I prefer Flash

Hero = 7 Home Screens
Moment = 3

Advantage Hero... I suppose - 3's enough though

Hero = Touchscreen keyboard
Moment = Large physical keyboard

Advantage = Moment

Screen=

Advantage Moment


... Overall I think the moment is a slightly better phone even though they are both solid.
cons regarding moment- there is no way to set reminders for voicemail, text messages, missed calls, etc. when i have the phone to my ear sometimes i dial on accident with my cheek. there is no way to adjust the sensitivity. these are 2 big issues ...
(continues)
First?
Really sad. Looks like I am going to go with the Hero. Guess an overclocked processor doesn't help out much.
Also, thanks for the really in-depth review. A lot of the other reviews out there really just glossed over everything, and hard to tell if this is a good alternative to the HERO for more reasons then the keyboard.
The Herro is a very good phone. The thing I keep wondering about is Android 2.0 It seems that it will have a lot of the features that make the Sense UI so nice but with better performance. The Basic Google Phones should get 2.0 sooner than those with ...
(continues)
No Moment Here.
The Hero is much more polished than this.
Really I just purchased the moment and I like it but I may try the hero with the 30 day exchange lol.
Texting
So, I am a big text freak. I like to send lots of messages and sometimes the same message to several different people. Is this even possible?
Yes this is possible the biggest favs on this phone is the text thread feature and the community sites FB, Twitter, and Myspace and the 10,000 apps it has!!!
debating
So i currently own the hero and have had it for 2 weeks and all has been good its been way better than my touch pro and a wee bit better than my treo 800w..
i dont use all 7 screens of sense ui and honestly miss the hardware keyboard, even though this software one on the hero is really good..
I also like the idea of the flash on the cam despite the lower res, but the no auto rotate is annoying...
800mhz processor is rad, but with an odd 35mb less ram, it makes it seem almost redunant, but bein nakey android means maybe its compensated since the hero forever runs sense ui and other extra processes that the moment wont...
And its priced the same, so there will be no $chaching$ required for the switch 😁

think i should use my 30 day ret...
(continues)
PC Sync? SD Card transfer? Yahoo email sync? HELP!
Just got this today, and I knew it didn't have pc sync, but the sprint techs said it was easy to transfer music files from my pc.... hmmmmmmm
When I plug in the patch cord supplied, there ins't a removeable file shown like with my instinct. Cannot access my yahoo email account like I could with my instinct. And my SD card does not transfer my music files from my instinct to the moment WTF????? CAN ANYONE CLEAR THIS MYSTERY UP?
Ok to access your yahoo email your going to have to go through your browser and got to yahoo.com and then click on the link that say get y mobile then it should allow you to access it from your browser but your also have to change your browsers home p...
(continues)
Video?
Anyone know what the video playback options are? Does it play mpgs? Can I put a .mpg or .mov or other video file on the sdcard and then watch it on the Moment?

None of the reviews mention if it has a media player capable of watching one's own video content, ie. tv shows, videos, and/or movies.