LG Announces Three New Phones for Verizon
Article Comments 42
Jun 11, 2008, 8:33 AM by Eric M. Zeman
updated Jun 11, 2008, 9:47 AM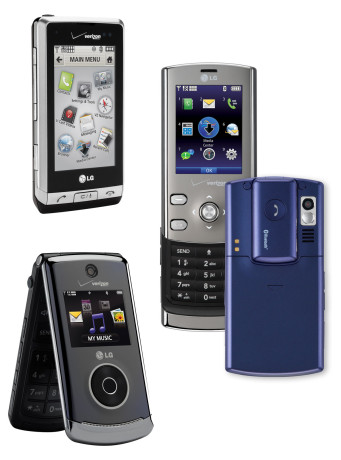 Today LG officially announced three new handsets as part of Verizon Wireless' summer lineup.
Dare: This bar-style touch-based device carries a 3.2 megapixel camera that has improved video recording capabilities. It will have photo editing software, as well as direct access to social networking sites. It will be able to use to Verizon's EVDO network and V CAST services, but LG was short on providing more details.
Decoy: This slider phone has a built-in, removable Bluetooth headset that is incorporated into the phone's design. The headset will charge when it is stored in the phone. It has a five-way joystick for navigation, and has incorporated GPS. It will be available June 16.
Chocolate 3: This latest version of LG's music-centric phone switches from being a slider to being a clamshell. The music control wheel has been relocated to the outside of the phone for access when the phone is closed. It will also have an FM transmitter, stereo speakers, and 1GB of internal memory. It will also support microSD cards up to 8GB in size. It has a 2 megapixel camera, and will be available in July.
No one uses a phone just for a phone anymore
So what is it with people now a days? Seriously? Phones are phones, yes I agree that some of the more "high tech" phones get better reception, but seriously, look at the first cell phone to come out, that thing was very ugly. And phones did not start out with all the equiptment & software they have today, phones never use to be able to take pictures, and play MP3's, and have GPS on them, and video cameras and everything else. Nowadays if a PHONE, which is exactly what it is a PHONE, doesn't have the best MP3 players, and Cameras, and Video Cameras, and everything else, people just aren't happy. 😢
Can you say crippled.......
Who cares how nice they look on the outside, the fact of the matter is verizon cripples their devices. They want a piece of whatever you're doing. I went through 18 defective LG's in 3 months. I wouldn't take another one if you paid me. Well I'd take it but I'd leave it at home or sell it. lol 🤣
For the sake of clarification. Please explain in detail, what exactly is "cripple" about these phones?
Are you an idiot? You must be if you went through 18 phones in 3 months. Why didn't you get a different brand or model. Or why didn't you cancel service after a couple defective units?
Give up the "Verizon phones are crippled" act. Everytime so...
(continues)
nice lie! after 3 they let you get a brand new phone of equal value.
18? OMG... What kind of loser are you. How could you let it go for 17+1 more phone. That's pathetic. what an idiot! I have seen it all.
LG Dare
Is it me or is the LG Dare just like the LG VU (CU920)or Prada? 😕
HTML?
The major questions is will these new phones have HTML browsers in them? Verizon for years kept HTML out of normal phones and only allowed that type of access with PDA's. But the Voyager has changed that. But will this trend continue? It makes more sense for Verizon to allow HTML browsers in their phones, because that will drive data sales. Hopefully the Voyager isn't the first and last phone with HTML.
Decoy -- LOL!!!!
Built in bluetooth headset that charges while in the phone? ROFL! So bad battery life due to CDMA, bad battery life due to bluetooth, bad battery life due to charging the bluetooth.

The idea is neat, the reality is retardation. I guess we'll see the real life iteration of this phone, but I expect this to be captain of the SS Failboat.
the reality is you were born in a town called FAIL


the battery life is amazing, and if you did some research you might not look like a complete moron right now....the bluetooth doesnt charge off the phone, it has to be plugged into a wall outlet ...
(continues)
What about the LG- VX9965 SE?
Anyone know when this phone is due out? I heard around July 4th. It's a flip made of carbon fiber and has a 5 MP Camera and touch sensitive screen for all menu functions. Also has built in flash and 10 GB onboard storage. Stereo speakers and bluetooth. SWEET, SWEET, SWEET.
I also heard it has a fully decked out Alpine Sound system with two 12s and 3 amps powering everything.

Does it also come with chrome trim, full body kit and a lip spoiler?
You can't say we don't have cool phones
So we don't have the cool Nokias or the iPhone, but this certainly strengthens VZW's lineup of high-end cool phones. The Blackberry Thunder (VZW exclusive) can't come soon enough.
These will be cool as long as they have TV.
Im sure BB will make another touchscreen variation.
This is good news. Last year Verizon had nothing new in the showroom for "i-Day." They will still need to be very aggressive with the pricing of these devices (read: free or close to it) in order to keep people from going picking the, ahem, alternat...
(continues)
TV??????????
I hope these phones have TV. Why doesn't Verizon release more TV phones? It's so limited.
Whats also limited is the available areas. I live in the SF Bay Area and there's no tv service here. Only in about 20 markets total. That's lame to
These three phones are not Mediaflo compatible, in addition, the TV services was very limited on programs anyway, I had it for a couple of months and it wasn't really to my liking!
Nice line up
These are all phones people will really want. Not me but people 🙂

Thunder 👀
LG should've added a internal memory of at least 2GB on the Dare for it to be really worth it!