Review: LG Dare
Form Basics Extras Video Wrap Up Comments 13
Is It Your Type? Body The Three S's
Jul 10, 2008, 1:58 PM by Eric M. Zeman @zeman_e
LG's Dare is its best touch-screen phone yet, but it's not perfect. See what shines, and what fizzles.
Advertisements article continues below...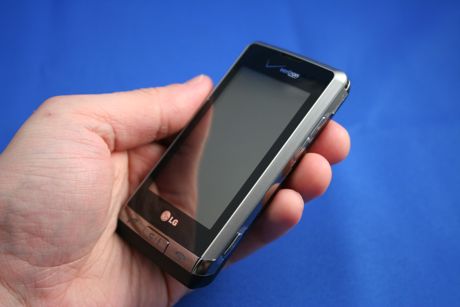 For the finger touch crowd that fancies the Verizon network, the Dare from LG is fun, functional and fully loaded with features. It's compact and does nearly everything you could ask of a multimedia phone.
Gotta say I was not impress with the phone.
I guess i wasn't impress mainly because LG has no support fo Mac at all. Even third party software is useless.

It never sync well with my mp3s. Some would have album art some wouldn't. Music organization wasn't very good either. I like to have at least 100 songs with me. I was not able to create a play list nor get out of album mode. The worst thing is having to scroll through hundreds of songs to get the one you like.


As for the full htlm browser, that's a lie. I barely can see any of my websites on it. I talk to tech support and verizon said if the site is not "mobile web" friendly it most likely not even show up.

Also the touch navigation wasn't that all smooth. Mostly I ended up clicking when i was trying to scroll or clicking...
(continues)
Sounds - Music
Does anyone know how to:

1. Organize the sounds and Music lists alphabetically?

2. Make Sounds into Ring-tones? (As in moving items from the Sounds folder to the Ring-tones folder.)

Thanks for any advice!
Headphone Jack
Just a FYI: you can take out the headphone jack plug and stick into a screw hole under the battery cover.

therefore never losing it. 😕 😛
Some Q's.
Your review doesn't show an example of video being recorded at 640x480. This is supposed to be possible, though it only records at 15fps. (I don't have a dare, so I'm just going on what I saw elsewhere on the web.)

Is the navigation software the same one on the enV? Is it better or worse than the enV?

Does the music syncing software (or any other software the phone requires) run on macs?
It's the same VZ navigator but on a bigger and better screen.
You should just purchase a micro sd card w/ a sd reader and that is the easiest way ive tranferred files to my phone from my mac
the actual frame rates for recording is way higher as well as the interface the envy's interface is very simple compared to the dares. you can customize the shortcuts on the dare by taping set etc so very intuative yes it can sync on macs as well as y...
(continues)
Not sure about the resolution, but the Dare records at 150 fps and has capability for playback at 15 fps.
QWERTY keyboard video?
He left out the one thing I wanted to see! Is it going to be possible to type quickly on it? Does it do the iphone pop-out thing? (Does that even help?) The phone looks sweet, but once the novelty wears off the input efficiency is going to be key.
The keys do "pop-out" when typing on it. It isn't as responsive as the iPhone. I still use the "word" when texting. Efficiency wise, I have had this phone for about 2 weeks and still can't get the full keypad down.
Have had this phone for a week...
and I love it!!! I don't take many pictures, so it taking a couple of second for the shutter to snap isn't a big deal for me.


I have utilized almost every feature/ability this phone has to offer, and I must say, this is easily the best phone I have ever carried from Verizon.


My only gripe, it is taking a little longer to get used to on the full keypad for texting. I find myself using "word" on the keypad in it's upright mode instead of the full keypad in landscape about 80% of my messages.


BTW, nice review!!!
a friend of mine has this phone
i played with it, it nice.

the shutter button is tricky but other than thats its an all around good phone
Irony
On the page Eric was checking his email he had two emails from Apple!
THANKS
Great Review...and I appreciate that unlike most other reviewers you didn't compare every feature to the Iphone. This was a LG DARE review pure and simple...THANKS. 😁