Review: Samsung Alias 2
Form Basics Extras Video Wrap Up Comments 100+
Is It Your Type? Body The Three S's
May 19, 2009, 8:50 PM by Eric M. Zeman @zeman_e
Samsung brings e-ink to the Alias 2 messaging phone. This tricked-out keyboard does a lot, but did they pay enough attention to other features?
AD article continues below...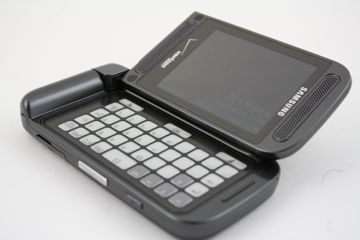 The Samsung U750 Alias 2 is the company's second shot at the dual-hinged messaging phone. The U750 surpasses the original in many ways, especially with its new e-ink keypad. For the SMS/MMS and IM junkie, the U750 offers a quick fix. Those seeking more robust features, however, will notice some glaring omissions.
Backwards compatible battery?
Does anyone know if the 1300ma extended life battery (and cover) from an "original" Alias will fit the Alias 2?
No....the original Alias battery is different. I just bought the extended battery for the Alias 2 and it's 1600ma....and this phone will need every ma it can get! You'll need a new back to the phone as well. Got the back cover from Amazon...Got the ba...
(continues)
Call quality
I have my Alias 2 for a week now, and where I live I get only two to three bars also, but my experience with call quality is much different. I never dropped a call, and the voice quality is excellent. I hear the people talking crystal clear, and they say the same for me. A couple even said they couldn't tell I was on a cell phone. I guess it depends on where you live. I live in Orlando Florida, so that is far away from NJ from where the reviewer said they tried their phone, so that may have something to do with it. I suggest trying it in your area since Verizon has a 30 try it plan. As for the other issues that disappointed the review I personally like the way Verizon has their UI, and features, so again, I think it is a personal pref...
(continues)
The Verizon UI is really horrible. I hate it with a passion and know matter which phone you buy it's never like getting a new phone, just another boring UI with locked down feature..they blocked OBEX on the Alias 2! It just sucks, but that's just my o...
(continues)
Power button
How easy is this to be pressed when in your pocket or purse? taking a picture or making a call isn't too bad but I don't think I would like it if I kept turning my phone off.
I have no problem with the power button. It actually will only turn the phone off when the phone is flipped open. I pressed it, and held it in for about 30 seconds, and it never turned off, but flipped open it turned off when I pressed it for about ...
(continues)