Verizon Wireless Announces Samsung Zeal
Article Comments 4
Nov 9, 2010, 8:09 AM by Eric M. Zeman @zeman_e
updated Nov 9, 2010, 8:31 AM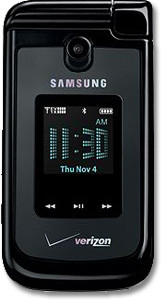 Verizon Wireless today announced the Samsung Zeal, a follow-up device to the Alias 2. Similar to the Alias 2, the Zeal has a dual-hinge design that allows it to open as both a normal clamshell phone and a sideways clamshell phone. The Zeal makes use of an E ink keyboard that changes depending on which way the phone is opened. It offers a standard dial pad when opened vertically, and a QWERTY keyboard when opened sideways. Other features of the Zeal include a 2 megapixel camera, Bluetooth, social networking applications, Microsoft Exchange support, GPS, and support for microSD cards up to 32GB. The Zeal will be available November 11 for $80 after a mail-in rebate.
Perfect...
...except I wish it had a 3MP+ camera. I just might be getting this in 5 months.
This is the Alias 2
Just so everyone knows, this is the Alias 2. Even has the same model number (SCH-U750) just black instead of grey.
Different year, same phone
I bought the Alias 2 last summer and fell in love with it! I couldn't wait for the new one to come out but this all looks and sounds the same. I will say it looks sleeker. I could care less for the Microsoft Exchange function.
I don't know what you'd really change on the phone. Contrary to popular belief, you don't need much more than 2MP on a cell phone camera, and it's got support for 32GB SD cards. Beyond that, maybe Flash support, but the browsers on the Casios have Fla...
(continues)