Review: Samsung Propel
Article Comments 6
Dec 22, 2008, 1:54 PM by Stewart Wolpin
Our full review and video tour of Samsung's new QWERTY phone with an unusual square form factor. Find out if this stylish slider is a messaging maestro.
AD article continues below...
Form
Is It Your Type?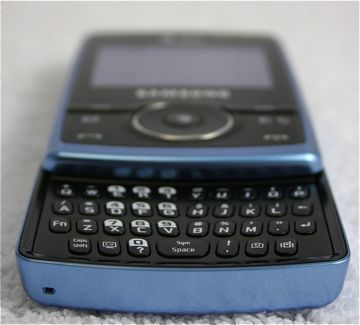 Samsung should have named its new full-featured 3G-enabled Propel, officially the SGH-a767, "Portrait," since that's the position you always hold the phone in. Instead of the dual ergonomic arrangement of combining a standard candybar cellphone in portrait mode and a slideout/flip down QWERTY in landscape mode ala LG's enV, Samsung's Rant, Pantech's Duo, et al, Samsung has made the Propel slightly wider with a wide LCD screen and full slide down BlackBerry-like keyboard so you never have to rotate the phone. It's an ingenious design solution. Innovative ergonomics are nice, of course, but there's both more and less to the Propel than meets the portrait eye.
Body
Propel's face is, of course, dominated by its squarish 2.2-inch LCD screen. Below the screen is a generously-sized circular navigation array. On either side of the array are three keys; stacked on the left are a soft menu key, a messaging access key and the Send key; on the right, a soft menu key, a back/clear key, and the End key. While the keys are tiled and adjacent, they are large enough to avoid accidentally hitting the wrong one.
At 2.33 inches wide the Propel is the perfect width for a breast or inside sports jacket pocket – it won't tip over and sink to the nearly unreachable bottom like other skinny phones. By making the phone wider, there's more room for a wider screen and a wider QWERTY keyboard without having to turn the phone on its side.
Propel also feels more natural in your hand for use with both applications and conversations, more like a BlackBerry than the usual cellphone.
Varying control keys, jacks and slots are arrayed around the phone's perimeter; on the left side are the volume toggle and the microSD slot, on the right is Samsung's proprietary power/headphone jack – there is no separate 3.5mm or 2.5mm headphone jack – and an application shortcut key. The volume and shortcut keys stick out just enough to find by feel but not far enough to catch on the inside of a pocket.
Pushing this application shortcut key displays a horizontal row of six icons – phone, messaging, Web, music, game and "end all," which closes any and all background apps, such as music. There's a direct access camera key on the bottom row of the keyboard.
Pressing the End key doesn't end an application, but shifts you to the home screen. You return to the background application via the side application shortcut key.
The 1.3 MP camera itself, alongside a vanity mirror, is located behind the top slider/screen screen section of the Propel and is revealed when you slide the screen section up. At the top rear of the Propel's QWERTY/base section is a small mono speaker.
A push with your thumb easily slides the screen up to reveal a full QWERTY keyboard similar to a full-size BlackBerry's, complete with dual half-white number keys imbedded within the left side alpha keys (E-R-T=1-2-3, etc.).
Like BlackBerry and Treo keyboard keys, Propel's QWERTY keys are rounded rather than tile, so even though they're tightly packed, they are moderately thumbable unless you've got chubby thumbs.
Conversely, "dialing" a phone number on such small keys is disconcerting. This paradox – small keys are fine for the more complex task of text input but are awkward for the simpler task of tapping out a 10-digit phone number – is a matter of experience and learned muscle memory. We're used to tapping out messages on small keys and we're used to dialing on large keys.
The Three S's
Screen
One of Propel's major problems is its low-tech screen. It's wide enough – 2.2 inches diagonal, but more square than oblong, but offers virtually no off-angle viewing; images and video are polarized and/or solarized if tilted just a bit off-angle. The screen also doesn't reflect sunlight well; it bleaches nearly completely in direct sunlight, which makes accurate picture composing outdoors challenging.
In darker conditions, the screen is bright and big enough, but at just 220 x 176 pixels (about half the pixels of other 2-inch screens), videos such as those streamed from AT&T Wireless' CV service look as if there's a mesh screen laid over them. YouTube videos look a little better, but there's still more of a screen effect than usual.
Signal
Call connections were robust. We experienced only one dropped call during our tests, and there's no way to know whether that was Propel's fault or the fault of the other phone/service.
Propel runs around 15-20 seconds behind iPhone in retaining/re-acquiring AT&T's 3G signal when going into/emerging from dead zones such as tunnels and basements.
Sound
Voices lean toward the muddy side and are tinny and hollow. The earpiece produces enough volume to mostly overcome these deficiencies. But Propel ranks below average in sound quality.
Speakerphone
Propel's rear speaker produces a thin sound, especially noticeable on music. It pumps out more volume than an earpiece but not as much as other phones with separate speakers.
Even though the speaker is on the rear of the phone, it borders the top and its bulky grill allows plenty of sound to escape when the phone is lying on its back. In fact, music actually sounds a little fuller with the speaker facing down, possibly from the sound reflecting off the table or desk top.
Battery
Propel's battery is rated at 5 hours talk time, which is a bit above average, but we consistently got a half hour more talk time than rated. The phone is rated at 10.4 days standby, which is a hair below average. If you're planning on a weekend trip filled with chatting and/or music listening, definitely bring the charger.
Basics
Menus
In addition to the shortcut key for frequently used functions, Propel has nine main menu items, all with easy to identify icons and easy to navigate in either a 3 x 3 icon grid or as a numbered list. You also can choose a pop-up menu option which automatically displays sub-menu lists in a pop-up window when you highlight a main menu item. These pop-ups are handy as you're learning your way around the phone.
Calls/Contacts
As noted, Propel's tiny dial pad numbers integrated BlackBerry-like into the QWERTY keyboard make dialing a little awkward. It's the one drawback to Propel's otherwise wonderful design. Fortunately, Propel's software recognizes phone numbers imbedded in text messages for calling or saving.
Thanks to the QWERTY keyboard and easy-to-fill fields and forms, new contacts are easy to add. The space for entering email addresses even has a hard encoded "@" sign, saving a second or two of keyboard symbol hunting and pecking.
Propel's address book is one of the best organized I've run across. You get two tabs, one for individual listings and one for groups. There's also a handy search field that begins to narrow down the choices as soon as you start typing a name – type an "S" and only the "S" listings remain.
Aside from the usual phone and email data, you can assign a group, a photo, ringtone and instant messaging address. You get one field for each type of entry, but you can add additional fields for any category from the Options menu.
While there is a generous area for notes, there's no specific fields for snail mail address, a curious omission.
Messaging
Pre-configured Java-based push POP3/IMAP email options are offered for Yahoo!, AOL, AIM, Hotmail, Comcast, Earthlink, Juno, MindSpring and NetZero. There also are pre-configured settings for AIM, Windows Live and Yahoo!
In a massive oversight, there's no pre-configured option for Gmail, and there doesn't seem to be a way to add an email domain not on the list, such .Mac for Apple or any other personalized domain.
You can set the phone to alert you when new mail comes in.
Texting is eased by the QWERTY keyboard, although the space bar is a little small. You can address messages to up to 10 recipients. Text conversations are threaded but with no delineation between sender and sendee, just line after line of plain white-on-black text with a right caret at the start of the line of a received message.
Extras
Music
Other than the lack of a 3.5mm jack, which is becoming an increasingly annoying epidemic among recent Samsung models, Propel's music player is superior. The lack of a 3.5mm jack is exacerbated by AT&T's infuriating decision not to include any headphones with the phone.
Music tracks load easily via drag-and-drop or using Windows Media Player. However, you will be prompted to reformat a microSD card you use from a previous phone. If you're using a microSD card from a previous phone filled with music files, off-load your tune files first and drag-and-drop them back onto the Propel once it reformats the card.
My biggest music playback complaint: you can't put tracks into Shuffle mode until a track is playing, which means you have to choose a track to start first.
The music play screen seems sparse, even though the only thing missing is album artwork. Otherwise you get all the important track information, as well as easy soft menu access to your varying libraries and playlists. In the Options menu you get an equalizer and other options, as well as an unusual Properties selection, which gives you handy data information such as file size, file format, and date and time created.
The music player stays active as you shift to some applications such as Web surfing, but not all; you are prompted to disable the music while picture taking, for instance. When you exit the camera, the music automatically restarts.
Active track information is displayed on the bottom of the home screen and the nav array stays active for skip forward, skip back and pause.
AT&T's Napster-partnered music store is a bit clunky – every page takes around 30 seconds to load, and music downloads take a couple of minutes, depending on track length. The service is herky-jerky and time-consuming enough to make it quite frustrating to use.
Propel also includes the subscription-based XM radio. Signals are received through the cell network, though, not from actual XM satellites. Before the service boots, you are warned the service swallows up a lot of data minutes, which means you better have an unlimited data plan. Caveat emptor.
Camera
You have to slide the screen up – the camera lens is on the rear of the screen section – to take pictures; there's a small dedicated camera key on the bottom row of the keyboard to activate the camera.
Since the Propel is designed to always stay in portrait position and since the screen is nearly square, there's almost never a reason to rotate it to take a picture.
Propel's poor screen, however, makes framing difficult in anything but optimal conditions. Even a slight tilt makes the screen/viewfinder nearly useless.
Menu icons for varying camera options are aligned along the top of the screen. Exposure is controlled via left/right toggling of the navigation array, the 3x zoom via up/down. On the bottom right of the screen is a shot counter.
As with most cellcams, the zoom is only available at VGA or half VGA resolution, and increases/decreases in .25x increments.
Photos/Video
Considering its mere 1.3 MP imager and lack of flash, Propel takes surprisingly robust 1280 x 960 pixel pictures both indoors and out. Indoor pictures shot in well-lit rooms are relatively well-defined and don't suffer as much from blur as other 1.3 MP cellcams, and crisp outdoor shots offer plenty of natural color.
The 15 FPS 176 x 144 videos are sharp and detailed at normal near-thumbnail size with increasing pixelization and digital artifacts at larger sizes, but they're still cleaner than similarly spec'd videos taken with other cellcams.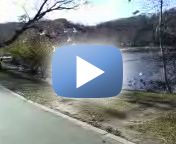 3GPP / MPEG-4 format (viewable with QuickTime)
File size: 585 KB
Browse/Customize
Browse
Propel uses an HTML-capable browser and, depending on graphics content, most Web pages quickly load within five seconds on AT&T's HSDPA 3G network. This includes including AT&T's Media Net home page and sites with mobile versions such as CNN, The New York Times, YouTube and ESPN. Full sites such as Wikipedia take between 8-10 seconds, still comparatively zippy.
You use the up/down/left/right to easily navigate pages, and the handy keyboard to input new URLs. If text is too small – and it will be – you can easily zoom in using the Page Size zoom toggle in the Options menu.
Customize
You can use any picture in the phone's memory or memory card as your splash screen wallpaper, but like most recent Samsung feature phones, the real fun comes when you start to futz with the Dialing Display options.
The approximately 15-point high default "small" dialing font is already readily readable, but you can boost the font to medium (around 24 points) and then to large (around 28 points), and you can choose a serif or sans serif font. You also can change the font color from default white-on-black to amber/orange-on-black and choose from 20 color background colors.
You also can change the navigation array direct-access application choices. The default settings are up=messaging, down=address book, left=My Stuff and right=instant messaging.
Other
Apps
Propel is equipped with AT&T Navigator, a free service. While not as sleek as iPhone's navigation/mapping application – it took more than a minute for the phone to acquire my GPS coordinates, and even then it placed me a block south of my actual location – AT&T Nav on the Propel offers voice-prompted turn-by-turn directions and speak search.
Speak search works best in a quiet environment. My first attempt with some music playing in background transcribed "New York, New York" into a choice between "Oark, AR" and "Orrick, MO." A second, more clearly enunciated pronouncement yielded more accurate results. It also had trouble understanding "McDonald's" and "Subway."
But with a QWERTY keyboard at your disposal, there's really no reason to wrestle with the speak search. Even better, the intuitive Propel knows when you're typing numbers to start an address and letters after the space following the number. Once typed in, Propel found listed local locations in around 8 seconds.
Bluetooth
I had no problems pairing the Propel with Bluetooth headsets and syncing the Propel with both a Vista PC and a Mac, with only the usual code input timing issues (phones often are ready to receive the PC-generated password code before the PC has generated it or vice versa, and often one or the other times-out waiting for it). I was able to browse, transmit and extract files while browsing the Propel from both PC and Mac.
Clock
The clock is displayed digitally in large white characters on the home screen. There are no options for displaying analog time or for changing the font size of the time. The time is displayed on all menu pages but disappears once an application is launched – there isn't even a current time display on the music playback screens.
You don't have to worry about unlocking the phone to check the time. The position of the time is above the pop-up "keypad locked" warning if you hit the side shortcut key. You can also wake up the screen by sliding up the screen top or tapping the voice toggle key.
Video
Here is a short video tour of the Samsung Propel. You can watch it here:
Or visit YouTube for more viewing and sharing options.
Wrap Up
Propel has a great (and hopefully soon-to-be-imitated) form factor, a handy QWERTY keyboard, an above average music player and camera, above-average talk-time battery life, speedy Web access, and plenty of other extras, all for a bargain price. Propel is perfect if you're less a talker than texter and you can't stand multi-tapping. But you get what you pay for – or, more accurately, you don't get what you pay for if you like to converse and/or listen to music. Poor voice quality, the poor LCD screen, no way to program a non-listed email domain, no included earbuds and no 3.5mm jack are all unfortunate deal breakers.
Great Review
the phone seems ok but I'm really glad you put the part in there about the compatibility to MAC- you should do that for all the reviews!
I'm currently using this device. I really have nothing bad to say about this device. Before the Propel I was using two blackberry's...I find the Propel very easy to use. Out of the all the quick messaging devices that At&t has in their line-up this...
(continues)
First Review?
I know this is way off topic, but I couldn't help but notice this review was done by Stewart Wolpin. Is he new to Phonescoop? I never heard of him before.
Must be... he said that ATT Navigator was a free service... try $10 bucks a month
Pales in comparison to the Motorola HINT
Motorola HINT is a similar form factor; but even more compelling and feature rich.
agreed...
...'In a massive oversight, there's no pre-configured option for Gmail, and there doesn't seem to be a way to add an email domain not on the list, such .Mac for Apple or any other personalized domain...'