Review: Samsung Propel
Form Basics Extras Video Wrap Up Comments 6
Is It Your Type? Body The Three S's
Dec 22, 2008, 1:54 PM by Stewart Wolpin
Our full review and video tour of Samsung's new QWERTY phone with an unusual square form factor. Find out if this stylish slider is a messaging maestro.
AD article continues below...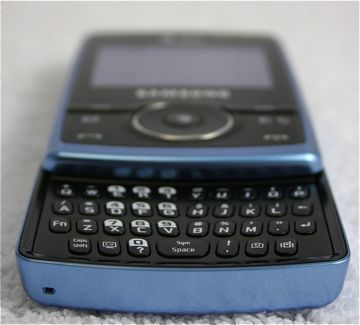 Samsung should have named its new full-featured 3G-enabled Propel, officially the SGH-a767, "Portrait," since that's the position you always hold the phone in. Instead of the dual ergonomic arrangement of combining a standard candybar cellphone in portrait mode and a slideout/flip down QWERTY in landscape mode ala LG's enV, Samsung's Rant, Pantech's Duo, et al, Samsung has made the Propel slightly wider with a wide LCD screen and full slide down BlackBerry-like keyboard so you never have to rotate the phone. It's an ingenious design solution. Innovative ergonomics are nice, of course, but there's both more and less to the Propel than meets the portrait eye.
Great Review
the phone seems ok but I'm really glad you put the part in there about the compatibility to MAC- you should do that for all the reviews!
I'm currently using this device. I really have nothing bad to say about this device. Before the Propel I was using two blackberry's...I find the Propel very easy to use. Out of the all the quick messaging devices that At&t has in their line-up this...
(continues)
First Review?
I know this is way off topic, but I couldn't help but notice this review was done by Stewart Wolpin. Is he new to Phonescoop? I never heard of him before.
Must be... he said that ATT Navigator was a free service... try $10 bucks a month
Pales in comparison to the Motorola HINT
Motorola HINT is a similar form factor; but even more compelling and feature rich.
agreed...
...'In a massive oversight, there's no pre-configured option for Gmail, and there doesn't seem to be a way to add an email domain not on the list, such .Mac for Apple or any other personalized domain...'