Hands On with the moto g stylus 5G (2023)
Article Comments
May 30, 2023, 8:00 AM by Rich Brome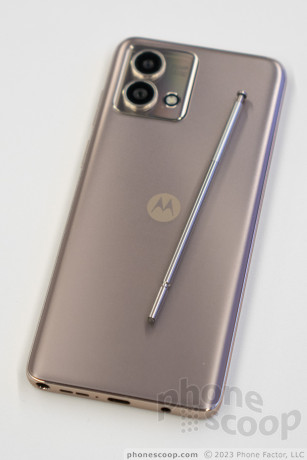 The Moto g stylus 5G has long been one of the few popular mid-range phones in the US. It's a tricky category, but Motorola usually gets it right. So for this year's model, they're not changing much. The 4G model changed a lot this year, but the 5G model is probably closer to what you were expecting, if you follow such things. So what's new, and what's it like in person? Read on for our hands-on report and first impressions.
Article
The only major change compared to last year's model is a smaller display, which in turn helps this be a smaller phone overall. I think the new size is a perfect size for most people. (Last year's was a bit big.)
The bezels are pleasantly thin, and the phone feels quite thin overall. These are some of the many differences between this model and the 4G model this year. This 5G model also feels decidedly more "premium" when you hold it.
The display is also noticeably better. Viewing angles are much better than on Motorola's lower-end 2023 phones. And this is a Full-HD+ panel, so it's sharper as well. Whereas the new 4G model is all about that low price, this is a phone with fewer compromises.
The processor has been updated to a newer mid-range chip, and Motorola says the camera has been upgraded as well, with 56% larger pixels. That should improve image quality, especially in low light or when taking hi-res photos. You'll also find 20-watt fast charging, which is better than on the lower-end phones in Moto's lineup.
This seems like a solid mid-range phone. It's probably just worth the $400 that Motorola wants for it, but it may cost less from carriers, making it a solid deal.
No messages