Hands On with the 2023 moto g 5G & moto g stylus
Article Comments
May 2, 2023, 3:14 PM by Rich Brome
updated May 2, 2023, 3:14 PM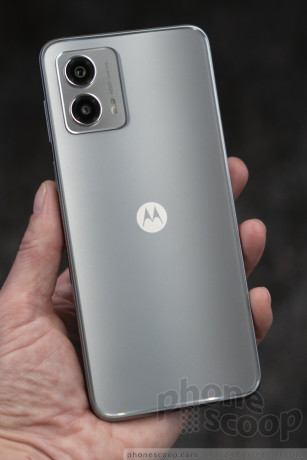 Motorola has two new phones its affordable "g" series, and while at first glance they may seem like basic updates to last year's models, there's more to the story. Motorola has repositioned its 4G moto g stylus to address a different market segment this year, so it has some major differences compared to last year's model. And while the two phones look similar in photos, there are some major differences that become apparent in person. Read all about it in our hands-on report.
moto g 5G
Let's start with what these phones have in common. They both have a 6.5-inch LCD display with 90 Hz or better refresh, and a 5,000 mAh battery with 15-watt charging. Motorola has apparently decided that's the sweet spot and default for its phones these days. That's a good battery spec, but note that the display is a big change for the g stylus, which clocked in at 6.8 inches last year. Stylus phones used to be synonymous with huge screens, but Motorola is going a different direction here. (More on that in a bit.)
Both also have stereo speakers with Dolby Atmos, something Motorola told us they are making a priority on all of their phones based on user feedback. (My feedback is please don't give people more reason to obnoxiously blast their TikTok and Instagram audio in public. But they didn't ask me. [end get-off-my-lawn old-man rant])
They also both have a headset jack and expandable storage, which is common on phones in this price range.
Hardware
Every phone maker seems to offer a "cheap" 5G phone that's around $250. The moto g 5G (2023) is Motorola's entry for 2023.
While Motorola has upped the display refresh to 120 Hz (from 90) and added stereo speakers, they've knocked the front camera down from 13 megapixel to 8. That's a shame. But that may be a small part of why they can offer it for $250 unlocked. (Motorola had the gall to charge $400 for last year's model unlocked, which was ridiculous.)
The new model is technically smaller and lighter than last year's model, but the boxy design makes it feel larger. It feels thick, in particular, and not all that light, either. The front is quite flat, as is the back and even the sides. (You can stand it upright on a table like you can with an iPhone.) I much prefer rounded sides and back for hand comfort and how they make a phone feel thinner.
With that said, it doesn't feel too large, and it does feel solid and well-made. The "Harbor Gray" is just silver, and the "Ink Blue" just looks like black to me. In either color, the shimmering matte back looks nice and feels nice. I appreciate that the camera hump doesn't stick out too much.
Speaking of the back, Motorola has added a new gesture where it can detect double-tapping on the back of the phone to activate a shortcut of your choice.
Software
Motorola does a good job of adding a lot of extras to the software without ruining the look and feel of Android. This phone is no exception.
One unique feature is the "Sidebar", a little floating toolbar that summons floating mini-apps. This is a unique take on multi-tasking. I'm not sure I like it, but some might, and if you don't like, you can turn it off and never see it again.
The Moto app exists mostly to advertise all the extra features Motorola has added beyond what comes with Android. But it can be a handy way to access certain controls.
Motorola has offered a good camera app for some time, and they've smartly chosen to not change a thing here. I like that you can have it automatically open to the mode you used last. So if you use Portrait mode a lot, for example, you don't have switch to that mode every time you open the camera.
Summary
This seems like a competent affordable-5G phone. The extras like a 48 megapixel main camera and 120 Hz display are what make it a good value, and you get Motorola's good reputation for both hardware and software. I wish it had a more rounded design, but that's a personal preference.
Carriers sure seem to think this will be a hot seller. It's been picked up by basically every carrier except Verizon. Note that carriers will likely sell it for less than the $250 Motorola wants for the unlocked model. All versions have 4 GB of RAM. The unlocked model comes with 128 GB storage, while carriers will offer it with either 128 or 64 GB.
moto g stylus
The moto g stylus (2023) is quite a different phone from last year's model. As I mentioned earlier, the screen is noticeably smaller; stylus does not equal huge screen anymore. But there are other "downgrades" as well, in areas like display resolution and cameras.
Why? What hasn't changed is that this phone is about offering a 4G phone with something extra. This phone exists because carriers like Cricket and Consumer Cellular are not rushing to get everyone on 5G the way the bigger brands are. What has changed is that, in 2023, if you're paying $250 or more for a phone, you expect it to have 5G. So it makes sense that Motorola did what was necessary to bring price down to $200 (unlocked).
I like that the g stylus has a much more rounded design than the boxy moto g 5G, although the phone still feels on the thick side. The back has a nice shimmer effect and a silky matte texture that looks and feels nice. I wish the bezels around the display were a tad thinner. Still, it feels well-made. I appreciate that the camera hump doesn't stick out too much.
The "Midnight Blue" color isn't very "midnight" to my eye. When the shimmery back catches the light it can be quite a bright blue, and the sides are a lighter shade of blue. The Glam Pink is close to a rose gold, but pinker.
I worry that the fingerprint reader embedded in the lock button (same on the moto g 5G) is too small to be fast and reliable, but I haven't tested it, so it could be fine.
Naturally, pulling out the stylus triggers a little pop-up menu of stylus-related shortcuts. Motorola claims to have improved the latency when using the stylus. I tried the notes app briefly and the stylus seems to work well. The stylus itself is quite long but also quite thin.
There's not much to say about the software that I didn't already just say about the moto g 5G. The stylus software is all that's different, and it hasn't changed much since last year.
Summary
If you're looking for a $200 phone with something extra and don't care about 5G, this is probably worth a look. The extras you get aren't just the stylus, but the 50 megapixel main camera and 90 Hz display refresh.
But if you're upgrading from a previous moto g stylus or other stylus phone, beware that the screen may be smaller than your old phone, and this may have other specs that aren't as good. If that's you, I suggest waiting to see if Motorola comes out with a 5G stylus model in a few months. Based on past years, that seems likely, and that model may offer a better upgrade path for existing stylus-phone lovers.
Perhaps that's why Cricket is the largest carrier that will offer this one (probably for less than $200).
No messages