Review: Motorola krave ZN4
Article Comments 91
Oct 14, 2008, 9:11 AM by Stewart Wolpin & Eric Zeman
updated Oct 14, 2008, 6:18 PM
Our in-depth review of the Motorola Krave ZN4 for Verizon Wireless. See how this unique new finger-touch entry stacks up. Full review added.
Advertisements article continues below...
Form
Is It Your Type?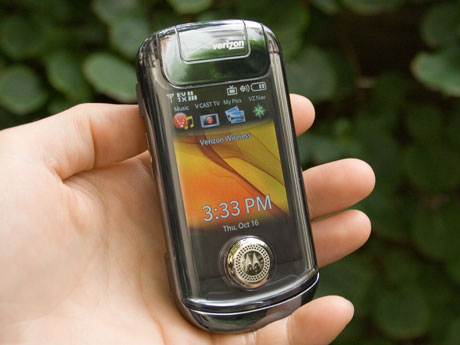 Your first reaction to the startling innovative protective touchscreen, or touch cover, on the Motorola Krave, Motorola's first iPhone-like touchscreen phone, is likely to be "How'd they do that?!" That's right, the Krave, a Verizon EV-DO powered model with Verizon's V CAST TV, actually has two touchscreens Рthe iPhone/Samsung Instinct/LG Voyager/HTC Touch-like 2.8-inch touchscreen, and a clear protective touch-sensitive "touch cover." Touch this clear flip screen and the Krave's main LCD screen underneath reacts. Plus, embedded in the touch cover is the Krave's earpiece. Flip the touch cover up and you hear your caller's voice even though there's no visible wire connecting the speaker to the phone's main body. This clear touch cover is awe-inspiringly clever, even more magical than the suddenly pass̩ finger-swipe scroll. The question is, is it too clever for its own Рand your Рgood?
Body
Beneath its touch cover, the Krave is a rather pedantic touchscreen cellphone; in size and feel, it's a bit smaller than both the Samsung Instinct and one of Verizon's other touchscreen models, the LG Dare.
Krave's front face is dominated by an extra long (or, when turned horizontal, extra wide) 240 x 400 pixel 2.8-inch touch screen. Above the screen is a small white backlit Home key on the left and a small red backlit Power key. Both these keys are covered when the touch cover is down.
All the Krave's other keys are located around its perimeter. One the left side are its microUSB power jack, the volume up/down toggle and a 3.5mm stereo headphone jack; both the jacks are annoyingly covered with rubber flaps. On the right side are the direct access camera control/shutter release, the microSD card slot, the voice control key, and an MP3 player-like sliding lock switch that disables the touch cover's touch capability. When slid up/off, the touch cover becomes just a protective screen.
The volume toggle increases or lowers the ringtone volume, but for some reason works only with the touch cover flipped up.
Even though Krave's primary earpiece is located at the top end of the touch cover (when its flipped up) just as it is on any flip phone, there's also a speaker in the Krave's chin for speakerphone and music listening. The touch cover earpiece is actually double-sided, enabling it to funnel through music from the chin speaker when the cover is down, and acts as an acoustic port for Motorola's Crystal Talk technology when flipped up.
While the touch cover lets you reach out and touch the touchscreen, it is completely in the way when you use the touch QWERTY keyboard, which only presents itself when the phone is rotated to horizontal. When the touch cover is up, there's no way to situate the phone in your left hand to comfortably tap keys with your left thumb. You can't remove the touch cover, and you can't operate the keyboard when the cover is down because closing it ends whatever application you happen to be in. There is no solution to these annoyingly awkward ergonomics other than tapping out text with one finger on your right hand, which defeats the whole purpose of a thumbpad. In portrait mode, you get a standard alphanumeric dial pad, so you do have the option of using iTAP predictive text input for plain text input. But this is not a positive choice, more like the lesser of two evils. For one thing, iTAP is nearly useless for adding names to your address book input. Since there is a QWERTY keypad, you shouldn't be backed into this less productive alternative.
When holding the phone to your ear during a call, the raised touch cover gives a bit; it feels like if you press it too hard to your face it might actually give way. It won't, but you'll keep your finger up to brace it, adding even more fingerprint smudges to it.
On the Krave's rubberized rear is the 2 MP camera lens, smartly recessed since your palm or finger is bound to rub across it as you handle the phone.
The 3 S's
Screen
Krave's oblong 2.8-inch touchscreen measures 240 x 400 pixels, making its aspect ratio slightly longer/wider than most phone's more standard 240 x 320 pixel screens. Think of these extra 80 pixels of screen real estate as the cellphone screen equivalent of legal-sized paper.
With or without the extra pixels, Krave's screen is about as bright and images and text as detailed as any other high-end Verizon phone we've used.
The touch cover completely covers the front surface of the Krave save the chin. While the touch cover is crystal clear and does not marr the brightness or resolution of the main screen, the main screen somehow seems brighter when it's naked. No matter how clean and clear a window is, it's still a window.
Not only does the touch cover cover the Home and Power keys, but a little more than half of the embedded speaker also obscures a bit of the bottom of the main screen. This lost screen area mostly affects what you can do with the camera with the touch cover down, as you'll see.
Since both the touch cover and the main screen get touched by your finger, you now have two screens to keep clean. Smudges on the touch cover will obviously affect your view of the lower screen.
Signal
As with most Verizon phones I've used in New York City, signal was exceptional in all uses, and survived much further into a subway tunnel than I expected. When it lost EV-DO signal, Krave retained 1xRTT signal for an additional 30 seconds or so as we zoomed into a station.
Given the short period of time I had the phone, however, I wasn't able to make enough calls in enough differing environments to adequately judge signal reception.
Sound
As with most Motorola phones, sound in every usage was uniformly excellent. Its Crystal Talk technology gives voices plenty of landline timbre and resonance with only the occasional incidence of cellphone-y underwater-like warble.
The chin speaker, although mono, also provides plenty of small room-filling sound both for conversation and for music in case you lack some other speaker-equipped music source.
Ringtones, both the included synthesized choices and downloadable True Tune MP3 ringtones, rang out loud and clear as well. You cannot use your own songs as ringtones.
Battery
At press time we had not received a complete spec sheet so we don't know the precise talk, standby or music play battery life. In our unofficial and decidely unscientific tests, however, music played continually for nearly 16 hours.
Touch
At first, touching the touch cover and seeing the main screen underneath react is both spooky and cool. Logically, just based on what you see, there's no reason why this should work, but it does. I did not detect any difference in reaction to touching the protective screen or the main screen directly. You even can feel the Krave's haptic feedback through the touch cover.
The slide lock switch on the right side of the Krave disables the touch capability. Since the screen is quite sensitive, you'll engage the lock before you slip the phone into a pocket or bag. And you may decide after a few days use that you want to keep the screen's touch capabilities disabled permanently.
As sure as you're reading this, you'll whip out the phone, touch the cover screen to activate the music or check your messages, and nothing will happen. You will furrow your brow, tap it again, harder. And tap it again and again, harder and harder, cursing louder and louder – until you suddenly realize you have to slide the lock switch to re-activate the touch capability. Eventually, you'll get tired of forgetting to slide the switch to re-activate the cover's touch capabilities and just leave it off, and simply flip the cover up and start touching the main screen like any other touchscreen phone.
Even though both cover and LCD screen are touch sensitive, neither is as reliable as we would like. On several occasions I tapped an icon on either the touch cover or the main screen and nothing happened and the screen would freeze. After a few moments, the screen unfroze and Krave executed the delayed function. And every once in a while, I hit one menu item but an adjacent menu item popped up instead.
Basics
Menus
Krave's menus are essentially variations on a theme of Verizon's default white or red on black/maroon Brew-based interface.
You get one set of four shortcut menu options when the touch cover is down, and a different set of four when you lift it, both sets arrayed just beneath the status bar. To me, these different sets of shortcut menu options defeat the purpose of the touch cover – shouldn't I just be able to operate the phone the same way regardless of whether the touch cover is up or down?
For instance, when the touch cover is up, you get shortcut menu icons for messaging, phone dialpad, menu and contacts. When the touch cover is down, you get icons for the music player, V CAST TV, My Pics and VZ Nav, Verizon's GPS navigation software ($9.99/month). In the middle of the screen are icons for text message waiting, voice mail waiting and missed calls.
You cannot access any other menu item when the touch cover is down, a navigation design decision that makes no sense to me.
There doesn't seem to be way to customize which applications icons appear in which touch cover position, a stunning omission. Why can't I have access to my phone book or the Web regardless of what position the touch cover is in?
When you flip up the touch cover, you still have to press the Menu icon to get the full array of 12 main menu items arranged in the familiar three-by-four icon grid. Why this full menu simply doesn't appear as soon as you flip the touch cover also mystifies me. Flip the touch cover down, and you automatically revert to the default home screen with its differing set of shortcuts.
On all screens is a "back" arrow (a left-pointing caret symbol) to navigate back through an application's menus or out of the application, usually located in the upper left corner of a screen but occasionally on the bottom left.
Calls/Contacts
Tapping the dialpad icon on the home screen (with the touch cover up) delivers an alphanumeric dialpad with white keys. Switching the dial font size from normal to large in the settings menu did not seem to change the size of the dialpad or the tapped number display one iota.
You have to flip up the touch cover to answer the phone. When you bring the phone to your ear, the screen goes blank and its touch capabilities turned off. When you bring the phone down away from your face, the screen lights back up. You then have to hit a seemingly redundant on-screen "touch to unlock" screen button before you can end the call.
Contacts fields include all the usual data – multiple phone number and email choices, a picture and personalized ringtone selection. There's also room for a fax number but no space for snail mail addresses. If there are multiple phone numbers or email addresses, there's a radio button to indicate the default choice to appear beneath the name in the finger swipe scrollable contact list.
When you add a name, you have to rotate the phone sideways for the QWERTY keyboard to appear; in portrait mode you get only an alphanumeric dialpad. But when typing names on the QWERTY, not only don't you get auto caps on first and last names (most phones move to auto cap after a space), but the keyboard stays in uppercase instead automatically reverting to lower case after you tap the first letter.
Messaging
Krave includes POP3 and IMAP email with pre-configurations for Yahoo! Mail, Hotmail, AOL, AIM and Verizon.net (no pre-configurations for Gmail), as well as mobile POP3 email options for Yahoo! Mail, Windows Live, Gmail and AOL mail that let your friends check their email without creating a permanent account on the phone. There are no push email capabilities.
Loading my AOL and dot Mac IMAP accounts required only a user name and a password. Inboxes for both accounts filled within a couple of minutes with no additional requests for security information, as is often the case with other phones.
Also included are AIM, Windows Live and Yahoo! Messenger instant messaging services, and plain picture and text messaging. One of Krave's cooler tricks is you can finger swipe sideways to move from one text message or instant message to the next. Chat also is enabled, but no specific services are included.
As when inputting information into contact list fields, you have to rotate the Krave to horizontal to get the QWERTY keypad. When typing message text, you still don't get automatic first letter caps, no period after a double tap of the space bar, and after a cap first letter no auto lowercase for subsequent letters. I can't tell you how often I wrote two or three words in all caps before I realized I'd forgotten to tap the Shift key after the first letter of a sentence.
Extras
Music
Motorola has some experience, good and bad, with music phones, and has learned from its few mistakes with the Krave.
Loading songs in the Krave is relatively painless. You'll have to drag-and-drop AAC and MP3 tracks onto an 8 GB microSD card since there is no included USB cable (yes, you can use Bluetooth, but the wireless transfer is far more time consuming than using Windows' drag-and-drop Explore function).
Once your music is loaded, pressing the V Music icon brings up the V CAST Music main menu with varying track list delineation options – artist, album, playlists, etc. Shuffle play is the last item on the list. Unfortunately, the Krave takes 10-to-15 seconds or so to "read the music database" before these music menus appears, then annother 10-to-15 seconds before the music actually starts to play.
All the relevant info you'd want is on screen as a track plays – track name and artist name on a single non-scrolling line (if the song title is too long, you lose the end of the title and artist name), how many tracks have played and how many total tracks there are, track time elapsed and total track time, volume level, a progress slide bar below the album cover art, and pause/play/skip forward/skip backward touch controls. With the screen open, you also get loop, queue, play option and shuffle touch icons which inexplicably disappear when you close the clear cover. When you tap on the album art, you get a scrollable queue of tracks.
Sound is excellent with plenty of volume, but don't forget to buy earphones – Verizon has stopped including free ones. You'll have to buy earphones speficially designed for the Krave; iPhone earphones will work if all you want to do is listen to music, but you'll lose call answer/call end and music pause/skip controls.
Unfortunately, music won't play while you're using other applications. As soon as you navigate away from the music page, the music ends. However, after answering the phone or responding to alerts, the music restarts.
Camera
Krave is equipped with a 2 MP camera with no flash and no self-portrait mirror. Shutter response lag is about two seconds.
Tap the screen and gray touch control icons appear. On the right is the +/- 8x continual zoom; arrayed on the left side are a video/still icon, access to your picture album, and an exit button. When you turn the phone to portrait mode, the icons automatically switch positions.
The viewfinder does not fill the entire screen, just a 240 x 320 pixel section. The extra 80 pixels is blank, some of it covered by part of the earpiece when the touch cover is down.
When the touch cover is up, the 80 pixels next to the viewfinder in camera mode is just enough room to display thumbnails of the last pictures you took, up to three. Tap a thumbnail to zoom the picture to full screen.
Photos/Video
Krave's camera captures above average 2 MP pictures in direct sunlight, with plenty of popping color and detail that falls just a bit below a standalone digital camera.
Pictures taken in any kind of overcast or shadow are also above average for a cellcam, losing a bit of their color and depth of field vitality. Images also aren't as blurry or fuzzy as you'd get with a lot of other cellcams, as long as you hold the camera in position until your captured image pops on screen.
The QVGA 12 frame per second 3GPP2 videos are about average, wish means barely watchable, although a bit more herky jerky than we're used to.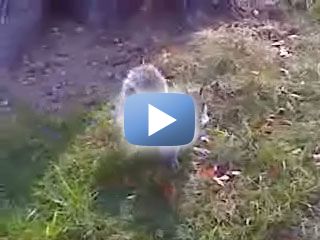 3GPP2 / MPEG-4 format (viewable with QuickTime)
File size: 296 KB
Browse/Customize
Browse
Krave employs a WAP 2.0 browser that is almost impossible to use, primarily because the screen is too small for true touch capabilities.
Instead of being able to touch a link to navigate, there's a large cursor that looks like an engagement ring with a small pyramid-shaped gem as the cursor tip. You move the "ring" cursor around by touch until the tip lands on the link you want to activate. The middle of the ring fills in a light blue, which you then tap to activate the link. The center of the ring turns red when the link is activated.
Except the ring doesn't always want to stay where you put it. When you lift your finger up, it seems to move a millimeter or so from where you thought you placed it, requiring you do make continual minor adjustments. Even if you point the ring gem right on a link and the ring fills blue, touching the blue doesn't always activate the link. And sometimes tapping the blue ring moves it off the link. Unfortunately, there is no other option to navigate around other than this maddening ring curor thing. This was possibly the most frustrating Web browsing experience I've ever had.
You can increase the size of the tiny text in 10% increments up to 200% (although I'm not sure why there should be options below 100% since it's barely readable at full size) if you switch the display mode to widescreen in the browser menu (not by rotating the phone to horizontal). But this enlarged text mode presents problems of its own. Text does not word wrap so you have to move the page left and right to read across. if you rotate the phone from landscape to portrait or vice versa, the zoomed text reverts to its regular size. If you move to a different page, the zoomed text reverts to its regular size. And you still have to use the ring cursor.
Speed-wise, the Krave is not quite as fast at filling Web pages as I'd come to expect from an EV-DO Rev. 0 phone. Booting the browser opens Verizon's Web home page, with its tiny barely readable type, in about 10 seconds. Subsequent pages such as CNN.com, ESPN.com and the New York Times Web page loaded in around 7 to 10 seconds, about twice as slow as other Verizon EV-DO Rev. 0 phones I've used.
Krave includes an accelerometer, so Web pages auto rotate when the phone is turned from vertical to horizontal, but text size does not change.
Customize
You get just the customization basics: choose from 15 pre-set wallpapers and themes, or you can use a photo of your choosing; you can adjust the clock size and the dial type size (although I could detect no difference between the regular and large dial font options); you can select from the included synthesized ringtones; and, you can add a personalized banner (e.g. "My Krave").
You can't re-arrange or move any menu shortcut icons or change how the main menu icons are displayed.
Extras
Apps
In addition to its music capabilities, Krave includes V CAST TV, the Qualcomm MediaFLO broadcast TV. V CAST TV can only be activated from the main screen, touch cover up, but once activated can be viewed and controlled with the touch cover down. Video appears quickly when you boot up or change channels; rotating the phone to horizontal fills the 240 x 320 portion of the screen.
As with most phones, Krave's voice command is nearly useless. I set it to high sensitivity and went through the phone's 15-step adaptation session in a tomb-quiet room, and it didn't understand any of the names I tested. When I loudly and clearly enunciated a number, it gave me a list of five possible numbers, some of the same only with a "1-" in front. I haven't met a voice command that made dialing easier than just tapping out the damn number myself.
Krave is one of the growing number of phones with visual voicemail capabilities.
Krave also enables you to set a four-digit code to unlock the phone to increase your peace of mind in case your phone is lost or stolen. You can set the phone to lock automatically, but you'll have to input the four-digit code every time you want to use the phone. Also included is an audio readout – you can set the phone to speak when you touch keys or to call out the CallerID on an incoming call.
Also included in the tools menu are a calendar, notepad, a regular and a tip calculator.
Bluetooth
A Bluetooth menu icon is thankfully easy to get to on the top row of the main menu grid, not buried within a settings or connectivity menu. The first items in the Bluetooth menu are to turn the Bluetooth on or off and to turn the discovery mode on.
Syncing both a 2.0 and 2.1 earpiece and both a Mac and Windows Vista PC was relatively clean. The Krave's Bluetooth discovery mode stays on for a minute. Beside each item in your paired device list is a large button to easily connect or disconnect a given device.
I was easily able to send photos from the camera to a PC via Bluetooth and to browse the Krave's folders to pull photos as well.
Clock
You have six different home screen clock display options: analog, large analog, digital 12-hour, large digital 12-hour, digital 24-hour, large digital 24-hour – as well as "off." The time is always displayed and appears in the status bar regardless of what application you're in.
The alarm clock has a generous three alarms.
There's also a world clock. Finger slide a Mercator projection of the world around to choose a continent; touch a continent and choose from a list of cities to build a list. You can even choose Daylight Savings Time for each individual city.
Video
We had a chance to play with the new Motorola Krave ZN4. It offers touch-based input and some solid features for a media-focused device.
You can watch the video here:
Or visit YouTube for more viewing and sharing options.
Wrap-Up
Krave's touch sensitive cover is really cool and clever but it really doesn't add anything to the phone's functionality other than being able to avoid opening it for a few tasks. The best things about the Krave are its music player, its easy to use camera and its wide range of messaging options, even if these messaging capabilities are short-sheeted by the awkward QWERTY keyboard. But the horrible Web browser, the limited options available with the flip closed and the lack of being able to move and re-arrange application and function shortcuts were deal-breakers for me. Many of these problems aren't insurmountable – a software update could solve many of Krave's customization shortcomings. It just seems to me the Krave needed a little more time in the oven.
Oh what it could've been...
I was so excited when I heard the news about this phone. It sounded like the best of both worlds being a touch screen & a flip. I had owned the LG Dare for about 3 weeks & although I liked Almost everything about it, it just felt way too thin & fragile. I also found I could not hold it comfortably while having a conversation for long periods of time. My hand would kind of cramp up in a way because I'm used to holding something thicker yet skinnier in width. It was like holding your camera up to your ear, awkward for me anyway. A flip phone has more body to hold onto with a more natural positioning for your hand to hold. The ZN4 seemed like a winner till I found out there were no dedicated call/end buttons like the Dare. A def plus to have in...
(continues)
Awful Design
would have been better without the glass or maybe the glass could have flipped to the other side but for it to just stick out like that oh no. Nice concept the glass protects touch screen but implemented wrong.
This was actually based off of their previous model from a year or two ago. I like the flip glass.
Which EV-DO?
Is EV-DO Rev. 0 mentioned on the Phone Scoop main page under news for this phone release mean the same thing as the EV-DO Rev. A that the author mentions in the review?
It is EVDO Rel. 0. Sorry for the confusion.
Mind telling us how to use this as a phone?
the utube video was groovy, yet how am i going to make calls on this.
Dial the number you want or pull up the number in the phone book and press the green button. 😉
why
This looks awful. Why does vzw have to preload their own software into every phone?? It's boring stop doing it. Why do they lock the phone down??? You can't even share your pics with your pc via bluetooth. Why?????
Battery Life?
Hey. Can you give us an estimate on the battery? I haven't owned a touch screen phone and, well, would it have the battery life of a RAZR or the battery life of an extended Blackberry battery?
VERY COOL!
I like it. It's a hybrid between flip phone and touch screen phone.