Verizon Kraves the Motorola ZN4
Article Comments 100+
Oct 14, 2008, 8:30 AM by Eric M. Zeman
updated Oct 14, 2008, 2:04 PM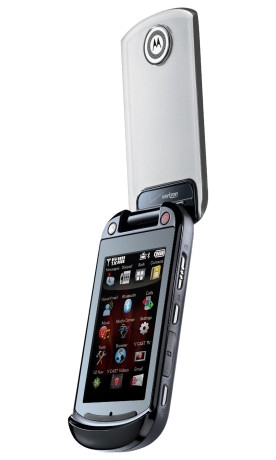 Today Motorola and Verizon Wireless announced a new touch-based device called the Krave ZN4. The Krave features a flip design and a new touch user interface. Users can interact with the Krave's screen with the clear flip up or down. When down, it shows a media-focused menu, and when open, it shows a calling and messaging-focused menu. It uses touch capacitance screen technology, has a 3.5mm headset jack, a 2 megapixel fixed-focus camera, stereo Bluetooth and EV-DO Rev. 0 radios. There is an accelerometer and the phone will automatically rotate between landscape and portrait modes as the phone is turned. It also has a microSD slot and supports cards up to 8GB. It is available starting today for $150 after rebates and new agreement.
source: Verizon
Sprint?
Anyone know if this will be coming to Sprint......ever? 😎
Where have you been for the last 2 years? Sprint lets Verizon snap up all of the good CDMA exclusives.
Naytess said:
Anyone know if this will be coming to Sprint......ever? 😎
This phone was just announced. I am sure that no one on here is going to know if this phone will come to Sprint.
Hummm Looks Interesting except for.....
But why cant Verizon ever bring a device to home run. All these features are great but they decided to included Evdo Rev0. I seems like all phones should include Evdo RevA. But never the less the phone does have potential. Cant wait to see some reviews.
Unless it has a full HTML browser or supports Tethering, I don't see why the extra boost in speed would be a necessity.

Let's hope motorola took care of their battery issues, and the white screen of death.
Can you say...
...Motorola and touch based interface = potential disaster?
Actually, Motorola has some good touch based phones in the A series (A780, A1200, A1600 ect) which are based on Linux and closely resemble this model. They certainly arent new to touchscreen, just dont sell any here in the US.
http://www.gsmarena.c »
...
(continues)
V Cast internet or data plan?
Which internet/data plan will this phone use?
Nationwide Plan required
Vcast/Mobile Web html browser
Interesting design....
But doesn't the top half of the flip seem like wasted space?
not when you see people looking at the phone who's old phone looks like it's made out of mud.

The flip is a smart idea. Not only will it provide some protection, but it is a familiar design. A lot of customers stay away from the Dare/voyager/EnV2...
(continues)
The top houses the earpiece and also doubles as a screen protector. I find this pretty cool. My concern and question would be the ease of texting with this device.
I thought maybe the top part twists/rotates.
Can you text with the lid closed
with the full qwerty keyboard? I thought I heard you couldn't, which seems a bit awkward to have to wrap your hand around the lid to text.
Been playing with it for a few days now. You can text with lid close, but it is a little awkward.