Review: Motorola krave ZN4
Form Basics Extras Video Wrap-Up Comments 15
Is It Your Type? Body The 3 S's
Oct 14, 2008, 9:11 AM by Stewart Wolpin & Eric Zeman
updated Oct 14, 2008, 6:18 PM
Our in-depth review of the Motorola Krave ZN4 for Verizon Wireless. See how this unique new finger-touch entry stacks up. Full review added.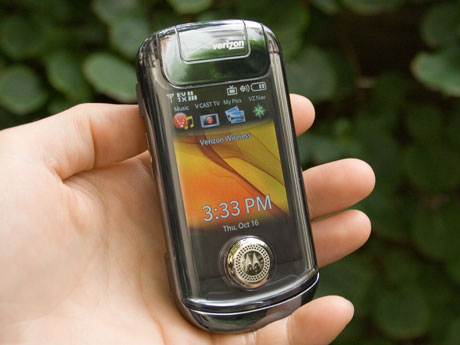 Your first reaction to the startling innovative protective touchscreen, or touch cover, on the Motorola Krave, Motorola's first iPhone-like touchscreen phone, is likely to be "How'd they do that?!" That's right, the Krave, a Verizon EV-DO powered model with Verizon's V CAST TV, actually has two touchscreens Рthe iPhone/Samsung Instinct/LG Voyager/HTC Touch-like 2.8-inch touchscreen, and a clear protective touch-sensitive "touch cover." Touch this clear flip screen and the Krave's main LCD screen underneath reacts. Plus, embedded in the touch cover is the Krave's earpiece. Flip the touch cover up and you hear your caller's voice even though there's no visible wire connecting the speaker to the phone's main body. This clear touch cover is awe-inspiringly clever, even more magical than the suddenly pass̩ finger-swipe scroll. The question is, is it too clever for its own Рand your Рgood?
Oh what it could've been...
I was so excited when I heard the news about this phone. It sounded like the best of both worlds being a touch screen & a flip. I had owned the LG Dare for about 3 weeks & although I liked Almost everything about it, it just felt way too thin & fragile. I also found I could not hold it comfortably while having a conversation for long periods of time. My hand would kind of cramp up in a way because I'm used to holding something thicker yet skinnier in width. It was like holding your camera up to your ear, awkward for me anyway. A flip phone has more body to hold onto with a more natural positioning for your hand to hold. The ZN4 seemed like a winner till I found out there were no dedicated call/end buttons like the Dare. A def plus to have in...
(continues)
Awful Design
would have been better without the glass or maybe the glass could have flipped to the other side but for it to just stick out like that oh no. Nice concept the glass protects touch screen but implemented wrong.
This was actually based off of their previous model from a year or two ago. I like the flip glass.
Which EV-DO?
Is EV-DO Rev. 0 mentioned on the Phone Scoop main page under news for this phone release mean the same thing as the EV-DO Rev. A that the author mentions in the review?
It is EVDO Rel. 0. Sorry for the confusion.
Mind telling us how to use this as a phone?
the utube video was groovy, yet how am i going to make calls on this.
Dial the number you want or pull up the number in the phone book and press the green button. 😉
why
This looks awful. Why does vzw have to preload their own software into every phone?? It's boring stop doing it. Why do they lock the phone down??? You can't even share your pics with your pc via bluetooth. Why?????
Battery Life?
Hey. Can you give us an estimate on the battery? I haven't owned a touch screen phone and, well, would it have the battery life of a RAZR or the battery life of an extended Blackberry battery?
VERY COOL!
I like it. It's a hybrid between flip phone and touch screen phone.