Snapdragon 8 Gen 1 is Qualcomm's New Flagship Chip
Article Comments
Nov 30, 2021, 6:00 PM by Rich Brome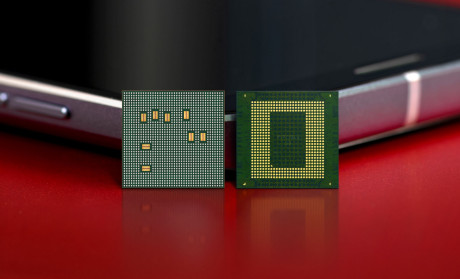 Qualcomm has announced the Snapdragon 8 Gen 1, the company's flagship chipset to power 2022's top-end phones. The chip is the successor to the Snapdragon 888, but uses the new single-digit + generation naming scheme the company recently announced. The new chip uses a cutting-edge 4nm manufacturing process that offers 1.7x better power efficiency. Compared to the 888, it offers up to 4x better AI performance and 30% faster graphics rendering. A new Snapdragon Sight brand encompasses the improved triple ISP that powers camera functions. It can process 3.2 gigapixels per second at 18 bits, which means it can process 4,096x more camera data compared to the 888. It supports 18-bit RAW photos, 8K HDR video capture, and a new night mode that collects 5x as much image data. A new low-power ISP enables always-on camera features like touchless face unlock. The new chip also supports Bluetooth LE Audio, including new LE Audio functionality like broadcast audio, wireless stereo recording, and voice back-channel for gaming. The 5G modem supports 3GPP Release 16, including support for downlink speeds up to 10 Gbps, as well as uplink carrier aggregation for faster upload speeds. Qualcomm is also applying AI processing to new areas, from camera auto-focus to boosting the cellular signal. Qualcomm expects the first phones using the Snapdragon 8 Gen 1 to launch before the end of this year. Motorola, OnePlus, and Sony are among the companies that have already committed to launching phones using the Snapdragon 8 Gen 1. Read on for additional details.
source: Qualcomm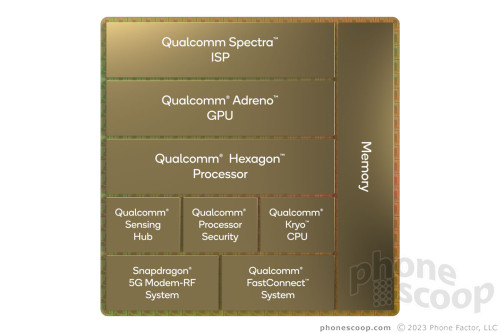 Some other interesting facts about the Snapdragon 8 Gen 1:
The Snapdragon 8 Gen 1 uses the same Arm v9 CPU architecture as MediaTek's competing Dimensity 9000 chip, including one Cortex X2 prime core, three A710 performance cores, and four A510 efficiency cores.
It has several new dedicated "engines" to provide hardware acceleration for specific camera features, including:
...an Ultrawide engine to correct distortion and chromatic aberration that are common in the corners of wide-angle photos.
...a Bokeh engine that can add portrait effects to 4K video.
...a Super-Resolution engine that can provide high-quality digital zoom, including for video.
...a Mega Multi-Frame engine that provides better night mode performance by combining a 30-frame burst of low-light photos (5x more than before) into one high-quality photo.
It can capture still photos up to 64 megapixel while recording 8K HDR video.
The new 18-bit ISP supports an additional 4 stops of dynamic range.
For gaming, a new Adreno Frame Motion Engine offers up to double frame rates, or dramatically lower power consumption with the same frame rate.
The new Adreno GPU is not only 30% faster, but 25% more power-efficient as well.
The improved graphics also offer "desktop-level" volumetric rendering, for realistic fog and smoke.
Thanks to a new Trust Management Engine, this is the first platform in the world to be fully compliant with Android Ready SE (Secure Element), enabling more secure digital car keys and drivers' licenses.
It supports aptX Lossless, for CD-quality lossless audio over Bluetooth.
The new 7th Gen. AI Engine features a 2x faster tensor accelerator and benefits from 2x larger shared memory.
The X65 modem supports up to 1,000 MHz of mmWave bandwidth and 300 MHz of sub-6 GHz bandwidth.
It can support phone displays with 144 Hz refresh at up to QHD+ resolution.
It supports up to 16 GB of LPDDR5 memory at up to 3,200 MHz.
The new 3rd Gen. Sensing Hub has a "newly architected low-power AI system."
New AI technology from Hugging Face combines natural language processing with sentiment analysis — running on Qualcomm's 7th Gen. AI Engine — to analyze the content of incoming notifications and prioritize them, bringing urgent items your attention.
DISCLOSURE: Qualcomm paid for the author's travel and accommodation for the Snapdragon Summit event where this product was announced.
No messages