Samsung Galaxy S10 5G Available for Pre-Order on Verizon
Article Comments 4
Apr 25, 2019, 9:16 AM by Rich Brome @rbrome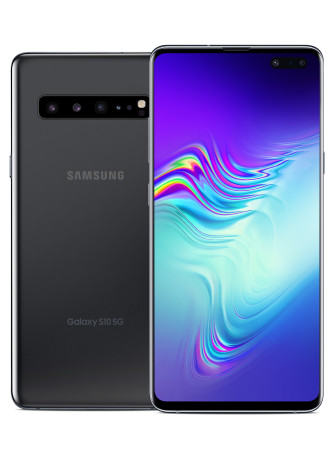 Verizon has started accepting pre-orders for the Samsung Galaxy S10 5G, its first phone with integrated 5G. The phone will hit stores on May 16th. Verizon will offer the S10 5G in the Samsung-announced configuration with 256 GB of storage for $1,300, plus a new option with 512 GB of storage for $1,400. (The S10 5G does not have a memory card slot to add storage.) Verizon has a limited-time exclusive on the S10 5G in the US, and will retain an exclusive on the Majestic Black color. Verizon will also offer the phone in Crown Silver. The company is offering several promo deals to those who pre-order the phone, including free 5G service (normally $10/month), free Samsung Galaxy Buds, and a Samsung Wireless Charging Battery Pack. In addition, customers can trade in an old phone for up to $450 in savings, and new customers switching to Verizon get a $200 prepaid MasterCard. The S10 5G is similar with the S10+, but with a larger screen, larger battery, and advanced depth cameras on the front and back. Verizon plans to offer 5G service in the downtown areas of over 30 major US cities by the end of the year. Chicago and Minneapolis have already launched, and Verizon announced the next 20 cities today. Because Verizon's initial 5G network uses the 28 GHz band in the mmWave range, it can offer very high speeds, but the range of each cell is limited to a few hundred feet and does not reach indoors well.
source: Verizon
Yea Right
A phone that 90% of us won't be able to use for probably a year or more. AND a new model from Samsung. How much success has that been for them lately.
5G
Watch all the subscribers running back to all the Verizon stores complaining about connectivity issues.
It's all about posterity and calling first dibs. Why don't they first work on any of the remaining issues with 4G before diving into 5G?????