Review: Asus ROG Phone
Hardware Software Gaming Wrap-Up Comments
Dec 14, 2018, 3:45 PM by Eric M. Zeman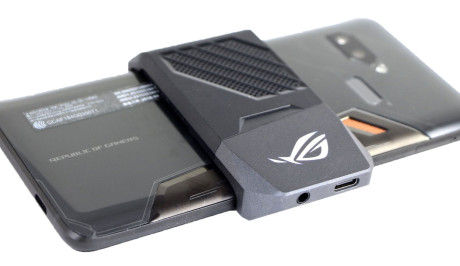 Asus has for the most part contented itself with sticking to entry-level and mid-range smartphones. The ROG Phone is a dramatic leap for the company. This dedicated gaming device has one of the best spec sheets in the industry — and killer hardware to boot. If you're the type to strap in for hours of gameplay, the Asus ROG Phone may be the weapon you need to blast your way to the finish line. Here is Phone Scoop's in-depth report.
Is It Your Type?
The Asus ROG (Republic of Gamers) Phone is, as the name suggests, meant for gamers. With a gaming-optimized screen, top-end processor, and heat-management system to keep the processor at top speed, the ROG Phone is your path to the top of the leaderboard.
Body
Gaming hardware often has a heavily-styled, sci-fi look to it. Consider the PC rigs from Alienware or Razer and you know what I'm talking about. Hard angles, colorful lights, and odd contours abound. Asus' phone designers decided to partner up with the company's own Republic of Gamers (ROG) sub-brand in order to appeal to the hardcore gaming crowd with the design of its latest device, the ROG Phone.
The ROG Phone is defined by its modern lines, textures, angles, and shades, which shoot all over the place. It's a busy design. I like the color selection, which includes black, gray, and copper. It looks like a prop from Battlestar Galactica. The ROG Phone is the most interesting phone to ever come from Asus.
Asus opted for a metal frame and painted it glossy black. Curved glass meets the shiny, chamfered edge of the frame. An unspecified version of Gorilla Glass forms the rear panel, which has a nice curve to it. A huge section of the glass has been carved out to accommodate the phone's cooling system, which we'll describe in detail later.
The ROG Phone is a big, big phone. Thanks to the 6-inch screen, it has a tall (6.25 in.) and wide (3 in.) footprint. It's fairly thick, too; thicker than today's delicate, glass slabs. This phone is not for those with dainty hands. At more than 7 ounces, I would label the ROG Phone "heavy." The phone will fit into larger pockets easily enough thanks to the smooth surfaces, and yet it will always be obvious to you as you move around.
Most every high-end phone today has a glass front, glass back, and metal frame. Asus might have done better with a polycarbonate rear panel, as this phone needs to be semi-rugged for the abuse it will surely take. Still, nothing about the phone comes off as cheap, and it all appears to be assembled tightly. Asus claims the phone features "battle-hardened construction" and is water-resistant, (but to what degree remains unknown at the moment.)
The front face is Gorilla Glass 6, which has twice the drop resistance when compared to Gorilla Glass 5. There are two, narrow trapezoidal cutouts at the top and bottom to accommodate stereo speakers. The speakers are covered by copper-colored grilles, which I totally dig.
The two main buttons — screen lock and volume toggle — are on the right edge of the phone. Both buttons have sharp profiles and are easy to find and use, though I wish one of them were textured or ridged. Travel and feedback is quite good.
The left side houses a semi-proprietary port that connects the ROG Phone to Asus' accessories. Basically, this connector is formed by two side-by-side USB-C ports. It is protected by a rubber plug. Without any sort of tether, I'd bet this rubber stopper will get lost easily. It's not stated, but I assume you need the plug for the phone to attain its water resistant status. Moreover, I once accidentally pushed the plug in too far, and needed a knife to dig it out. Ugh.
Side Port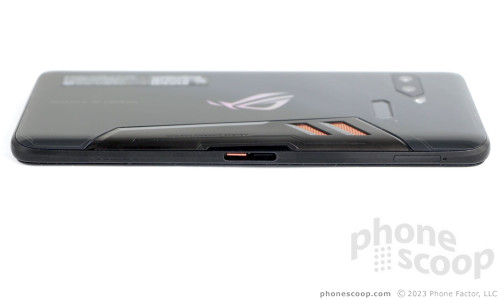 Side Port
Having a side-mounted USB-C port is important when gaming. It allows you to plug the device in to a power source and use the phone comfortably when playing in landscape orientation.
You'll find the headphone jack and another USB-C port on the bottom. The SIM tray is way up on the left edge. The phone can handle two SIM cards, but not a memory card.
There's a lot going on with the rear panel; it's a busy, busy place. Much of the rear is covered in glass with gray coloring and circuit-like accents running here and there. About 20% of the surface is dedicated to the phone's cooling system. It's an angular piece of plastic that's fitted into a matching cut in the glass. Two copper-colored grills stand out visually. These allow air to circulate through the chassis to help keep the processor cooler.
Vents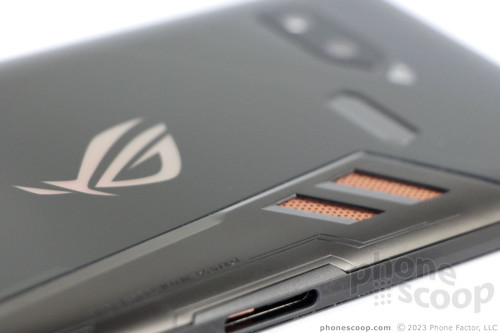 Vents
In most phones, a heavy gaming session will push the processor to its limit, at which point a protection system throttles back the processor to keep it from overheating. That slowdown can ruin a serious gaming session. That's why any good gaming phone will have extra cooling features, to keep the processor from reaching the point where it needs to slow itself down.
For those really serious gaming sessions, the ROG Phone ships with a fan accessory that hooks into the accessory port on the side and stretches across the rear panel. The fan runs air over the copper grates for additional ventilation and cooling. This accessory includes its own 3.5mm headphone jack and USB-C port.
I think Asus drew upon Tron for some design inspiration. The angular fingerprint reader, shaped as a parallelogram, is not centered. It's too far to one side for my tastes. Moreover, the sensor is recessed deeply and this makes it harder to touch effectively.
Camera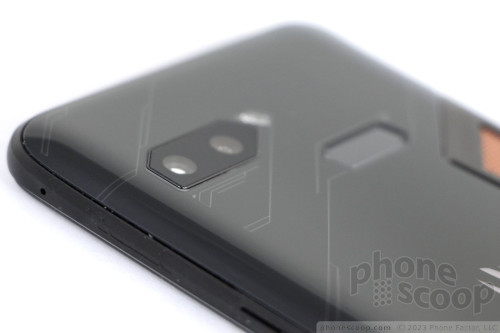 Camera
The "Aura" is the main feature of the rear panel. Taken from Asus' other gaming devices, the ROG Phone features a pulsing LED on the back that changes colors. It's meant to let people personalize their phone a bit. It doubles as a notification and alert light. The Aura can be fully controlled by software. It's fun, but can also distracting. It will light up your bedroom at night if you leave it on.
The Asus ROG Phone feels straight out of a really fun future. I want to ride on the spaceship it fell out of.
Screen
The display, more so than the Aura, should be one of the major draws for gamers to this phone. The 6-inch AMOLED screen has a 2:1 aspect ratio with full HD+ resolution. It boasts a 10,000:1 contrast ratio for incredibly deep blacks and a 90 Hz refresh rate so games look their best. (By way of comparison, the LCD display of Razer's gaming phone has a 120 Hz refresh rate.) The ROG Phone's display includes a discrete image processing chip to support HDR playback.
The screen looks really, really good. It's bright, has a huge range of colors and contrast, and is easily sharp enough for modern content. I played some Fortnite and watched lots of HD video. My eyes enjoyed all of it. The content I sampled appeared rich and smooth. Viewing angles are excellent.
Display controls are extensive. You can manage the brightness, the color, icon size, grid density, screen saver, refresh rate, blue filter (night) mode, and much more.
Signal
The ROG Phone supports a fair number of LTE bands, but it's best suited for AT&T in the U.S. Verizon LTE (bands 4/13) is aboard, but the ROG Phone failed to accept a Verizon SIM card. There's no Band 66/71 for T-Mobile, so you'll only get basic LTE service there.
The phone accepted my AT&T SIM card no problem and remained attached to the network as I drove around. Calls connected on the first dial and remained connected in a moving car no trouble.
Asus went all out with the LTE. The phone supports Cat 18 LTE, which can theoretically deliver speeds up to 1.2 Gbps on the download. The closest I got to that was about 100 Mbps. Whatever the speed test results, the ROG Phone felt fast as I browsed the web, perused Twitter, and scrolled through Instagram. The phone definitely handles regular use just fine.
Sound
In order to deliver high-quality sound during games, the ROG features 24-bit high-resolution audio at 192 KHz. It supports DTS Headphone and 7.1 virtual surround sound via the headphone jack, in addition to Bluetooth aptX HD.
Whether you're relying on the built-in stereo speakers, the headphone jack, or Bluetooth, the ROG Phone delivers the goods. Games sound great, movies sound excellent, and music is pleasingly full. The ROG rivals LG's high-end audio performance. I was impressed with audio playback all around.
If you plan to make voice calls, you'll by happy to learn the ROG is a fine voice device. Calls made via the earpiece are mostly clear and are definitely loud. I didn't have any trouble hearing calls in loud spaces, such as coffee shops. The earpiece delivers cutting sound. Those I spoke to through the ROG said I sounded loud and clear.
The speakerphone is incredibly loud. You'll be able to hear calls just about anywhere, and they sound decent enough.
Ringers and alerts go off like bombs destroying your enemies in far-off war zones.
Battery
The ROG Phone's battery life is a tale of two devices, a Dr. Jekyll and Mr. Hyde story if you will.
When used normally as a modern phone — with no gaming — you can expect to see 1.5 days of battery life. The 4,000mAh battery crushes its way through a full day and rolls right into the next without taking a break. You can spend hours wasting time on YouTube and Twitter and still not have to worry about the battery running dry.
When used as a gaming device with today's top games, you've got just a bit over 7 hours at most. The phone chewed through 20% of the battery in about 25 minutes when I was playing Fortnite over WiFi.
If, during some heated and intense play, you get down to your last health points (aka, let the battery run out), you're not in total danger. Using the included charger, the ROG Phone can go from 0% to 60% in just 30 minutes. Asus calls this HyperCharge.
There is a ton of software to help you balance power needs and battery life. The most important is called PowerMaster. It lets you scan the battery for high-usage apps that might be running in the background, switch between battery modes, teach you about battery-saving options, and more.
No wireless charging here.
Bluetooth, GPS, NFC, WiFi
The ROG Phone has all the radios: Bluetooth 5.0, GPS, NFC, WiFi, and even WiGig.
I tested the ROG Phone with my best Bluetooth accessories and came away impressed. Videos and games with good source sound managed to sound rich and enveloping via noise-cancelling headphones. Music streamed to a high-end Bluetooth speaker sounded excellent. Most importantly, I didn't notice any lag between the phone and my Bluetooth headphones when playing games. (Seriously, this could be a matter of life or death on the grid.) Calls I made through Bluetooth headsets were solid, as were calls routed through the phone's speaker and my car's hands-free system. In all: good stuff.
GPS navigation works very well.
The NFC radio was very helpful in pairing select Bluetooth accessories. It supports Google Pay, as well.
The regular WiFi radio rips. I was not able to test the 60 GHz WiGig radio.
There's an FM radio as well; as with most phones, it requires wired headphones to work.
No messages