Review: Asus ROG Phone
Hardware Software Gaming Wrap-Up Comments
The Asus ROG Phone is a beast. It's way too much for most people. Who is this phone for? Gamers and only gamers. Why? Regular people simply don't need a phone this powerful for everyday activities. Does it score a body blow for gamers?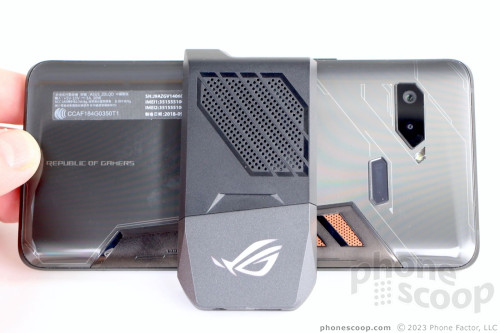 The hardware is great. It's more interesting to look at than just about every other black slab on the market right now. The ROG has an excellent screen, decent voice quality, and respectable data performance. Toss in the insanely awesome speakers and you have quite a media package.
Advertisements article continues below...
The under-the-hood hardware is just as important. The overclocked processor, speedy GPU, and huge amount of RAM allow the ROG to blow past most other phones I've assessed. It's more than powerful enough to handle today's top games. I appreciate the extra lengths taken by Asus to give the ROG Phone an ecosystem of accessories — which drastically outpaces the Razer gaming phone.
The battery is excellent for daily use, but manages to drain in mere hours when gaming. Asus clearly thought ahead with the duplicated charging ports and fast charging.
The sci-fi Asus skin is a bit cartoonish, but nothing really gets in the way of general usability. The camera app is as good as any other on an Android phone, but the results don't match the best from Apple, Samsung, or Google.
It's costly. The base model with 128 GB of storage costs $899. Because the phone is sold directly by Asus and Amazon, that means no monthly financing. You'll have to cover the whole cost up front. Want the accessories? Expect to pay hundreds more for them.
I like the ROG Phone a lot, but I can only recommend it to people who value gaming performance above everything else.