Review: ZTE Blade Max View
Hardware Software Wrap-Up Comments
Dec 3, 2018, 7:00 AM by Eric M. Zeman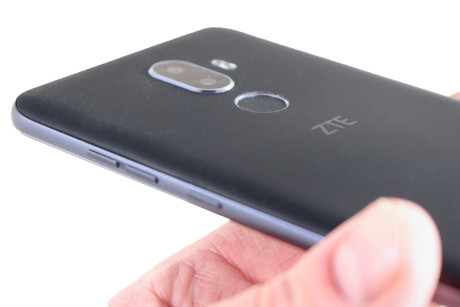 ZTE is looking to the Blade Max View, an inexpensive Android phone with a huge screen and a massive battery, to help it regain its place in the U.S. market. The phone follows ZTE's mantra of offering affordable devices with good performance, but the Blade Max View is held back by a few core features. Is is worth taking another look at ZTE? Find out in Phone Scoop's in-depth report.
Advertisements article continues below...
Is It Your Type?
ZTE is pitching the Blade Max View as an inexpensive alternative to costly carrier fare. The phone works on AT&T, T-Mobile, and Verizon, so if you want an unlocked device with modern appointments on the cheap, the Max View is a reasonable option.
Body
The Blade Max View sees ZTE bring its low-cost phones up to speed with competing devices. Chiefly, this means the Max View has adopted the 2:1 screen shape, giving the phone a tall and narrow look.
The Max View is a slim black slab. It's got a Gorilla Glass front, a metal frame, and a plastic back. The black glass is curved along the edges, which I like. The dark gray metal frame is round and smooth all the way around, and a bit thinner on the sides. The rear panel is black with a matte finish and some chrome accents will occasionally catch the light. In other words, the phone looks like most others; it doesn't do much to stand out from the crowd. I'm not calling it boring, but it's not exciting, either.
This phone is really tall at 6.42 inches, nearly as tall as the Samsung Galaxy Note9. Thank goodness its waist measures just 2.95 inches side-to-side, which helps when gripping the phone. The phone is lighter than other phones this size, likely thanks to the plastic (rather than glass or metal) rear cover. It's well-balanced; I had no trouble holding or using it over the course of several days. It should fit into most pockets, though it might peek out of shallow pockets.
Materials could be better. The glass and metal are fine, but the plastic rear panel feels and looks just a bit cheap. In fact, when you press, you can feel some space between the plastic and the battery underneath. I haven't encountered this kind of flex on a phone in a long time. The components are otherwise put together tightly.
The phone is not water-resistant, nor is it particularly rugged. At least there's no glass back to break.
A 6-inch display fills in most of the phone's face. There's a bit of a forehead and a bit of a chin, but the side bezels are acceptably thin. The user-facing camera and sensors are more or less invisible.
ZTE put all the buttons on the right edge. The screen lock key is the lower of the three buttons. It has a great profile, a ridged texture, and excellent travel and feedback. ZTE opted for individual volume keys rather than a toggle. These keys have good profiles, smooth texture, and very good action.
A combined SIM and memory card tray is high up on the left edge. You'll need a tool to eject it. It works fine. A 3.5mm headphone jack is positioned on top, while the USB-C port is located along the bottom edge.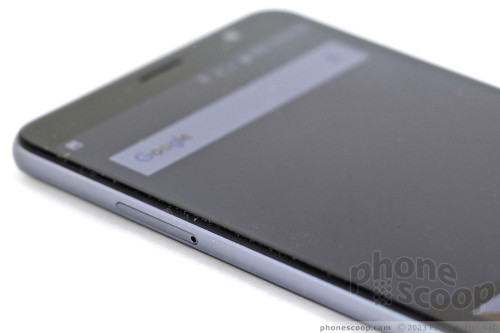 The matte black rear panel has an odd texture. It's not quite coarse, but it's really far from smooth. The plastic feels a bit cheap to me. The worst part is that the surface collects finger oil and grime that's hard to rub off. I've never before seen so many fingerprints on a matte surface. A fingerprint reader is pushed fairly high up. It's indented so your finger can find it easily. The dual-camera module is just above the fingerprint reader and is slightly raised.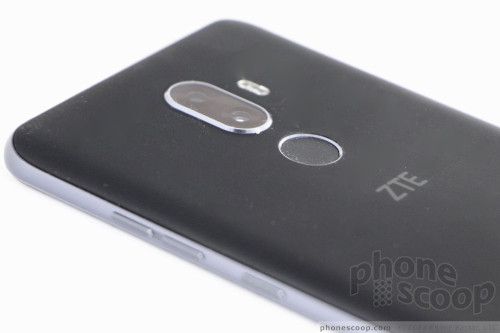 Despite the give between the plastic and the battery beneath, you cannot remove the back cover; there's no access to the battery.
I'll forgive the oddities of the back panel based on the classy look of the rest of the phone. Plus the Blade Max View has a larger screen, and larger battery, than most phones at this price point.
Screen
ZTE's 6-inch panel offers full HD+ resolution (2,160 by 1,080) in a 2:1 aspect ratio. This is the same size, shape, and resolution common in pricier phones. It's an LCD screen and it looks great. I was very pleased with the resolution, color, and brightness. The accurate tones give everything a realistic look when gazing at pictures or watching video. The screen pumps out an insane amount of light. It was easy to see indoors and out. Viewing angles are excellent.
The phone doesn't offer any fancy screen controls; it's pretty basic.
Signal
ZTE sells the phone unlocked. It offers basic support for AT&T and T-Mobile, and better support for Verizon. (Sorry, Sprint customers.) In fact, the phone is certified by Verizon to run on its network. That's good news.
I checked the Blade Max View's performance on AT&T and T-Mobile and wasn't overly impressed. It sometimes took two tries to connect calls, and data speeds were just barely good enough. The phone was slow to load basic web pages, apps took forever to download from the Play Store, and scrolling through social media was frustrating.
This all changed for the better when I popped a Verizon SIM into the phone. Calls connected on the first dial, the phone maintained connections in a moving car, and data speeds were much improved. Still, I won't call the phone fast.
It's clear to me that only Verizon customers should consider this phone.
Sound
Calls are plenty loud, but clarity could be better. The earpiece packs a punch. I had no trouble hearing calls in coffee shops or moving cars. There was some occasional distortion that made a few callers hard to hear. As for tone, it leans towards cold rather than warm. Those I spoke to through the Max View said I sounded pretty good.
The speakerphone does a great job ensuring you can hear calls no matter where you are. It blares out of the bottom edge with intensity. That intensity, however, causes a lot of distortion and breakup.
The ringers are very loud and the vibrate alert is very strong.
Battery
Battery life is, in a word: amazing. The Max View has a 4,000mAh battery, which is an enormous power cell for any phone, let alone one at this price point. The phone breezes through two whole days without breaking a sweat. It often had some juice left the morning of the third day. If battery life is the most important feature to you, the Max View should be on your short list.
It has only the basic battery saver tool that's part of the Android operating system.
The phone supports Quick Charge 2.0. If you plug it in to a compatible charger for 15 minutes the battery will jump about 15%. Leave it plugged in for 30 minutes and you'll see a 25% improvement. It could be faster.
Bluetooth, GPS, NFC, WiFi
The secondary radios on board behave as I expect them to on a sub-$200 phone.
A Bluetooth 4.2 radio connects the Max View to headphones, speakers, and in-car systems. Pairing was simple enough. Maintaining a connection was a bit less consistent. The phone handled a speaker no problem, but waffled in and out with a pair of headphones. The connection in my car appeared to be strong. Calls were choppy at best, and music sounded dull.
The GPS radio located the phone quickly enough, but the phone just barely kept pace when used as a real-time navigation tool.
No NFC radio means no Google Pay for you.
The WiFi was a lifesaver at home. I leaned on it pretty heavily when I needed to download an app or an update.
A stereo FM radio is available, as well. It requires wired headphones and works splendidly. I like that the app quickly scans and finds all the local channels, making them easy to jump to.
No messages