Review: ZTE Blade Max View
Hardware Software Wrap-Up Comments
Lock Screen
The Max View has a mostly barren Android lock screen. Press the lock button to wake the display and see the clock and notifications. A basic Active Display tool, buried in the display settings, will flash incoming notifications on the lock screen for a few seconds. As per the norm, you can choose to reveal all notifications, keep some details hidden, or turn off notifications altogether.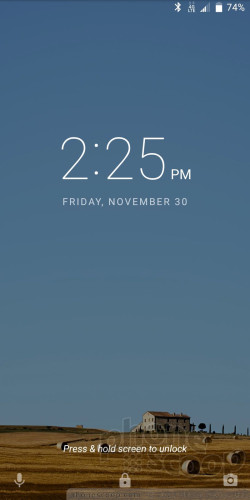 Shortcuts to the camera and voice search are in the lower corners of the lock screen. These cannot be changed.
Advertisements article continues below...
Several options are available for securing the phone. The best option is the rear-mounted fingerprint reader. I had no trouble training prints and unlocking the phone.
Home Screen
Stunningly, the Max View runs Android 7 Nougat. ZTE is promising an update to Android 8 Oreo in December. We'll see. The good news is that ZTE hardly touched the user interface; it's mostly standard Android as designed by Google.
The home screens, app drawer, settings menu, and Quick Settings shade all rely on the standard Android experience. They're easy to sort through and master.
ZTE allows you to adjust one important feature: the on-screen controls are back, home, multitask by default, but you can swap back and multitask if you're used to the Samsung layout. The Max View makes it fairly easy to adjust the font and icon sizes, which allows you to fit more content on the screen.
The Max View has a Snapdragon 435 processor clocked at 1.4 GHz with 3 GB of RAM. The phone has just enough horsepower. I feel even the slightest drop in clock speed or RAM would cripple this phone. It sometimes felt slow or bogged down, particularly with apps such as Google Maps and the camera. It could use some more juice.
Camera
There's no real quick way to open the camera (such as double-pressing the volume button). You can open it via the lock screen, which takes at least two steps. Bummer. The camera takes about 1 second to open.
The app should feel familiar to most anyone who's used a smartphone camera before. I like that you can set both the flash and HDR to auto. The Max View has four shooting modes: video, photo, portrait, and bokeh. (Portrait mode is for people while bokeh is for objects.) Each mode functions about how you might expect.
Secondary modes include manual, panorama, timelapse, and mono.
The manual mode lets you to take just a little more control. It allows you to adjust white balance, ISO, exposure, and time-lapse intervals. Sadly, there's no way to adjust focus or shutter speed. The manual mode includes a tool to help ensure the shot is level.
The mono mode could be fun. By default, it takes black-and-white images. However, you can select to retain specific colors, such as red, blue, and green. Sliders let you control how much of each color is allowed into the photo, so you can let all the red and just a little green or blue. It's artistic.
The selfie camera includes an adjustable brightness tool to help make up for the lack of a flash. You can also set it to snap a photo automatically when you smile. The selfie cam has its own settings, which provide access to a mirror image, hardware controls, and a timer.
The Max View's camera is straightforward. Most people will master it quickly.
Photos/Video
The main camera has a 16-megapixel sensor with an aperture of f/2.0. It's helped by a 2-megapixel camera that captures depth and contrast information.
The Max View produces mediocre quality photos. If the exposure isn't weird, the color will be, or if focus is sharp, the exposure will be off. Shots I took indoors are soft and display an annoying amount of grain. The flash makes everything look yellow. Shots taken outdoors fare better. Exposure and focus will be more on point, though white balance tends to be all over.
Using manual mode doesn't really help. Pix taken with the special modes, such as bokeh, are on par with those from other phones in this price range.
The 8-megapixel selfie camera won't do your self-image any favors. It produces soft, grainy, unflattering shots. You can dial up the display's brightness to serve as a flash, but it acts more like a video light and simply washes you out. The beautification tools barely have any impact.
The phone captures video up to 1080p (full HD). I found the stuff I shot outside looked respectable. Shooting video indoors is pretty much useless.
I would not recommend the Max View as your main camera. It might be acceptable for kids.