Review: Google Pixel 3
Hardware Software Wrap-Up Comments 1
Oct 15, 2018, 11:00 AM by Eric M. Zeman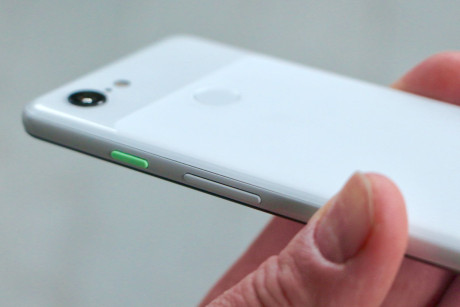 The Pixel 3 from Google is an intelligent phone that wants to help you. The Google Assistant is baked into every facet of the Pixel 3, and together with Android 9 Pie it will learn who you are, what you like to do, and what you need as you move throughout your day. Here is Phone Scoop's in-depth review of Google's most complete product.
Advertisements article continues below...
Is It Your Type?
Google relies on its Pixel phones to showcase their latest software sorcery, while offering a top-notch imaging experience. This is a phone for Android super-fans and purists.
Body
The Pixel 3 represents a clear evolution of Google's hardware design language. It's still identifiable as part of the Pixel family, and yet it stands out as a more cohesive phone with a stronger personality than its predecessors. It's simple and authentic.
We should mention early on the the Pixel 3 and Pixel 3 XL are identical save for the size, screen, and battery. All other internal specs are the same. The only "improvement" you'll see with the 3 XL is a larger display and longer battery life.
The original Pixel and Pixel 2 married metal and glass in an obvious way with a smaller piece of glass that fit into the larger metal frame. Most of the rear panel of those two phones is metal. The Pixel 3's entire rear surface is now a smooth piece of glass with mixed matte and glossy finishes that mimic the look of older Pixels. An aluminum frame forms the chassis, but it's covered with thick, glossy paint that looks and feels like ceramic. I appreciate the curvature of the frame. The front, too, is all glass. Everything about the shape is smooth, rounded, and creamy.
While the rear panels come in white, black, and "Not Pink", the front of all three models is black. I am a fan of the black and white options, but not the pink so much. (To each, his/her own.) I appreciate that the white model has a mint green power key, and the not pink model has an orange power key.
The smaller Pixel 3 is likely the perfect-sized phone for many people. It stands 5.73 inches tall and sits 2.69 inches wide. The narrow body makes it much easier to hold and use when compared to the larger 3 XL, or even the iPhone Xs. It's a comfortable 7.9mm deep, which gives the Pixel 3 a sleek profile. It's about the same size as the Galaxy S9. The phone drops into pockets frictionlessly. You hardly know it's there.
The materials and manufacture are all excellent. Both the front and rear panels are made of Gorilla Glass 5. It's not impervious to damage, so you may want to consider a case. The Pixel 3 may look simple, but it's put together tightly, from high-quality components. The device is protected from dust and water (with an IP68 rating). That means you can drop it in the pool, where it can sit in up to 1.5m (~5 feet) of water for about 30 minutes. I let it sit in a bucket of water and held it under the faucet and it's just fine.
You'll find a prettier face on the Pixel 3 than the 3 XL. Black glass stretches from top to bottom. There are two slits — one near the top and one near the bottom — for the stereo speakers. You can just barely spot the two user-facing cameras in the forehead. Speaking of which, the Pixel 3 has slim side bezels, but a noticeable forehead and chin. These help to exaggerate the elongated look of the phone. At least there's no notch. (While I don't mind notches in general, the notch on the Pixel 3 XL is particularly unappealing. That's why I prefer the look of the Pixel 3.) Thanks to the curved 2.5D glass, there's nothing protecting the screen if you place the phone face down.
The only two physical buttons are on the phone's right edge. The power button is the higher of the two. It has an excellent profile and even better travel and feedback. The green hue on our white review unit makes it easy to spot. The volume toggle is a bit small for my tastes, though its feedback is as good as the screen lock key.
Green Button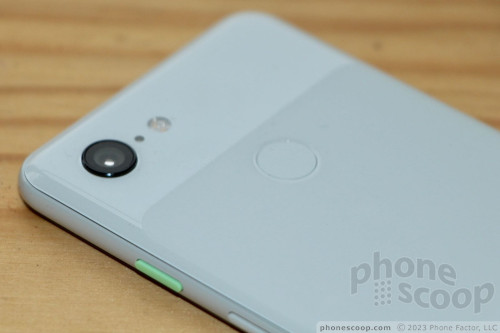 Green Button
A USB-C port graces the bottom edge of the phone. There's no 3.5mm headphone jack. Yes, Google includes an adapter in the box. And yes, Google includes a set of USB-C based ear buds. They're actually pretty decent and allow you to interact with Google Assistant, which is a bonus. But it's still annoying that there's no standard jack.
The SIM card tray is also on the bottom. I can't recall the last time I saw a SIM card tray thusly located. The phone doesn't support memory cards.
USB-C and SIM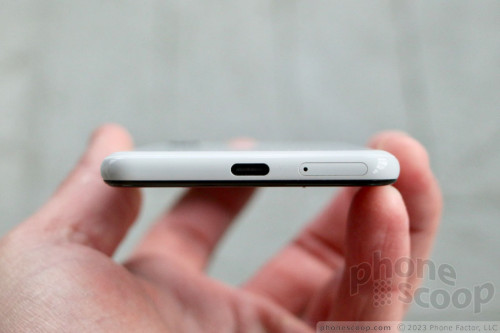 USB-C and SIM
I am particularly impressed by the rear glass. Rather than mix metal and glass, Google went with a single piece of glass that has been etched along the lower portion to give it a matte texture that's more grippy than the polished and smooth upper portion. It feels amazing. This visual trickery also ensures that the Pixel 3 still bears some family resemblance with the older Pixels.
The camera module protrudes a bit from the rear panel, which means the phone won't sit perfectly still on flat surfaces. There's no accessing the embedded battery.
The Pixel 3 isn't perfect, but it's a far more elegant and approachable phone than older Pixel and Nexus models. It also holds up well to competing flagships in terms of quality.
Screen
The Pixel 3 has a 5.5-inch screen, which I find to be too small. Competing phones now put more screen into a body this size. Most devices I prefer now have screens 6 inches and up. The Pixel 3's screen is smaller than those of the iPhone X and Galaxy S9 (both 5.8 inches).
Size isn't everything. This OLED panel has full HD+ resolution with a 2:1 aspect ratio and support for HDR. It's very good, and absolutely destroys the display on last year's Pixels.
The resolution gives the Pixel 3 a pixel density of 439ppi, which is good enough. It means everything you see on the screen is sharp and well-defined. Colors are fantastic. The HDR support and high contrast ratio mean colors pop and blacks are inky. If you have access to HDR content, you'll notice the difference. Brightness is also excellent. I was able to use the screen outdoors under sunny skies without issue. Viewing angles are superb; there's no blue shift nor brightness loss when you tilt the phone.
Options for managing the display include several preset color profiles, aggressive auto-brightness control, and blue light filter / night time settings.
If 5.5 inches doesn't cut it for you, the Pixel 3 XL's display measures 6.3 inches and offers considerably more real estate (despite the notch).
Signal
Google opted for Cat 16 LTE aboard, which supports theoretical maximum download speeds of up to 1Gbps (and 75Mbps uploads). It includes CDMA for use on Verizon, and most of the newest bands for AT&T (29, 30) and T-Mobile (66, 71). We tested it on AT&T and Verizon.
The phone performed very well on both networks. Calls and text messages all reached me with no problem. In fact, the Pixel 3 was a champ at keeping calls connected in moving cars. Data performance was consistent and quick. I saw blazing fast speeds, with the "slowest" peak downloads in the 40Mbps range. No one can complain about that.
The Pixel 3 is stellar for streaming audio and video over the network.
Speed Test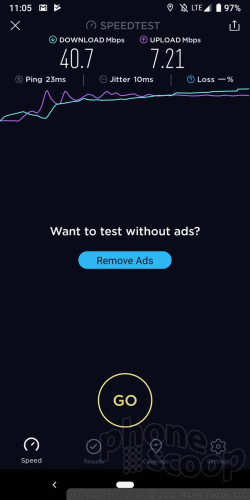 Speed Test
Sound
The Pixel 3 is a good voice phone. Calls in the earpiece are plenty loud and generally free of distortion. I noticed a small amount of popping here and there, but nothing too annoying. Voices sounded sharp and edgy, making them stand out when in loud spaces. People I spoke to through the Pixel 3 said I sounded fine.
If you manage to activate WiFi calling on AT&T, you'll note a significant increase in call clarity. It's crazy how clear these calls are.
Calls pushed to the speakers do well, though they are more prone to distortion when the volume is set all the way up. You can use the speakerphone effectively in your home, office, and in the car. I found it performed well in outdoor spaces too, such as windy city sidewalks.
Ringers and alerts are more than adequate at grabbing your attention. The vibrate alert could be a little stronger.
The Pixel has dual front-firing speakers for stereo sound. This is a feature I've come to really appreciate on phones. It's great for when you're watching video content with a stereo soundtrack. The speakers are loud enough for your living room or kitchen, but they start to get lost outside. You might be able to spread sound around a small/medium deck. The quality is fine considering how small the Pixel 3 is.
Battery
The battery is one component that's significantly different between the 3 and 3 XL.There's only room for a 2,915mAh capacity battery in the Pixel 3, where the 3 XL can accommodate a 3,430mAh power supply. How does the smaller battery in the 3 do? Admirably.
Over several days of testing I found I was rarely able to get the phone to drop below the 50% mark. I used it extensively for five days and it powered through hours of use without blinking. It's worth noting that Android 9 Pie includes an adaptive battery tool called Ambient Battery that puts unused background apps to sleep so they stop sapping power. Further, the phone goes into hibernation overnight. You can get eight hours of sleep and wake up to find your Pixel 3 has used only a few percentage points of battery. I would say you can bank on a full day of use with no problem.
If you do find yourself lacking power, you can take advantage of the low-power mode to conserve battery life. Unlike older tools that limited you to either 5% or 15% as the low-battery threshold, the Pixel 3 allows you to dial in exactly when low-power mode kicks in. Want the battery saver to turn on when the battery reaches 7%? 11%? Go for it.
For the first time, the Pixel series supports wireless charging. The 3 can grab power from any Qi-based charger. If you use the Google-designed Pixel Stand (read our separate review here), you'll see the phone power up rapidly. It takes about 100 minutes to get a full charge, and you should see a huge bump in just 15 minutes.
Bluetooth, GPS, NFC, WiFi
The Pixel 3's Bluetooth 5.0+LE radio connected to a wide range of accessories. It had no trouble managing headphones for calls or music. Calls made via Bluetooth headsets bordered on excellent. Calls routed to my car's hands-free system were better than average. Music sounded very good through Bluetooth headphones and speakers. The phone also managed to maintain a connection to an Android smartwatch throughout the day.
The GPS radio was quick and accurate. The Pixel 3 often pinpointed me within a blink or two and was precise to within about 10 feet. The phone was a fine navigation tool.
With NFC aboard, you can use the Pixel 3 to make mobile payments via Google Pay. I found it worked well at my local QuickChek. The NFC radio also helps pairing with some Bluetooth accessories.
The Pixel 3's WiFi radio is very, very good. It falls under the new "WiFi 5" category and supports both 2.4 GHz and 5 GHz connections.
Editors Choice?
With these scores and the detailed review I would have thought this phone would have been an editors choice. What prevented this phone from becoming a stellar pick? I am looking to buy a new phone to replace my Moto G4 and really want a good camera and easy functionality. Essentially, I am looking for the best of Pixel 3XL and OnePlus 6T. Currently am leaning toward the Pixel because of the camera but the small amount of RAM is a concern.